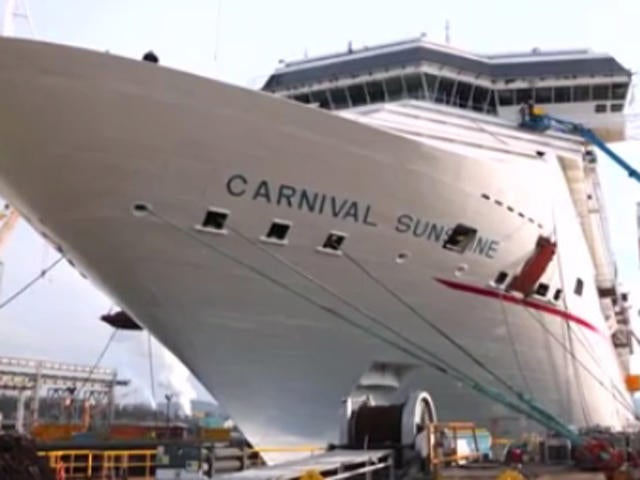 Carnival cruise ship tilts hard to one side, terrifying passengers
A Carnival cruise ship tipped to one side Sunday night, sending loose items sliding and falling all around and sparking panic among passengers, reports CBS New York. The station calls it a case of chaos on the high seas.
The Carnival Sunshine leaned mere hours after leaving Port Canaveral, Florida for the Caribbean.
The cruise line says a "technical issue" caused the bumpy start to the voyage.
Passenger Kyla Williams told CBS New York her husband had to hold her up so she wouldn't fall. "I was shifting, falling out of my seat," she said. "This was very much the ship rolling to one side and everything falling down from that, and it was something you'll never forget."
Passenger David Crews, of Long Island, New York told CBS Orlando affiliate WKMG-TV, "I didn't think anything of it, since it's not uncommon for ships to rock back and forth. But it didn't rock back. It kept leaning.
"Plates and silverware started sliding off the tables. Then the tables themselves started to slide. Glasses and plates started to fall and shatter. At this point, it was pure chaos. Screams. Cries. Panic."
Another passenger wrote on social media that water ran into elevators, and all her clothes were soaked by exploding cans falling from shelves.
"Get me off!!!!" the user exclaimed on Twitter.
Carnival says the boat leveled out after about a minute, then continued on its route.
Video from the ship shows employees trying to clean up the mess as passengers clutched at life jackets later that night.
The day after the incident, guests got a letter from the captain explaining what had happened and offering each person a $50 on-board credit "so you can enjoy something on us."
The following day, a passenger wrote on social media "$50 credit is not enough. I did not sleep at all we got no explanation until this morning. My cruise is ruined. I cannot wait to get off this ship. I'm terrified."
CBS New York sent that passenger's complaint straight to the cruise line, which said in response, "We appreciated our guests understanding of this disruption and provided compensation as a gesture of goodwill."
The Carnival Sunshine is one of the oldest ships in Carnival's fleet. It was born as the Carnival Destiny in 1996, the world's largest cruise ship at the time, but was renamed after an extensive renovation several years later.
WKMG has learned some guests cut their trip short, preferring to fly home early when the ship docked after the incident in the Dominican Republic on Tuesday.
Thanks for reading CBS NEWS.
Create your free account or log in
for more features.