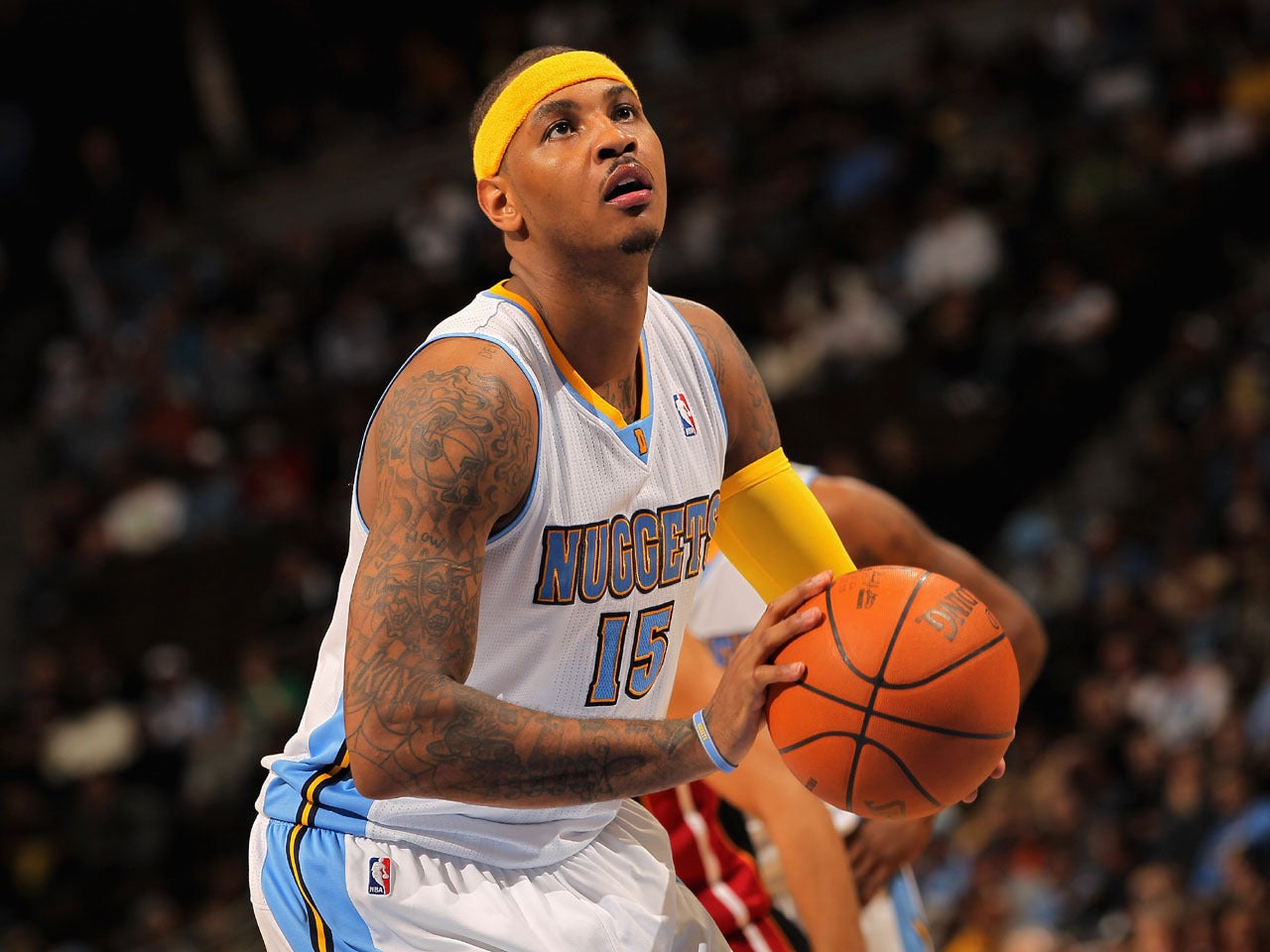 Carmelo Anthony trade to New York Knicks is done
(CBS/AP) Denver Nuggets All-Star forward Carmelo Anthony has been traded to the New York Knicks, reports CBSSports.com.
The Knicks and Nuggets agreed Monday night on a trade sending Carnelo Anthony to New York, three league sources told CBSSports.com. "It's done," one of the sources said.
The deal that would end the season-long trade saga involving Denver's All-Star forward and send him to his desired destination can't be finalized until Tuesday during a conference call with the NBA office. Assuming it goes through, it puts Anthony alongside Amare Stoudemire in a potentially explosive frontcourt -- at a heavy cost to the Knicks.
The person provided no other details of who was in the deal, which was first reported Monday by the Denver Post. The person spoke to the AP on condition of anonymity because he was not authorized to comment publicly on the trade.
The Post, citing a league source, said the Knicks would send Wilson Chandler, Raymond Felton, Danilo Gallinari, Timofey Mozgov and a 2014 first-round draft pick to the Nuggets, who would get additional picks and cash.
Along with Anthony, New York would acquire Chauncey Billups, Shelden Williams, Anthony Carter and Renaldo Balkman, according to the Post.
ESPN later reported it was a three-way deal with Minnesota, which would acquire Eddy Curry and Anthony Randolph from the Knicks for Corey Brewer.
The Nuggets have explored an Anthony trade since he refused to sign the three-year contract extension worth nearly $65 million they offered him last summer. They appeared on the verge of sending him to the New Jersey Nets on multiple occasions, but the Knicks increased their offer enough to land Anthony, who was believed to prefer New York all along.
The Knicks would hope he could be in uniform Wednesday when they host the Milwaukee Bucks.
Denver coach George Karl said there was "some sadness" to the deal, which sends away not only Anthony but Billups, the popular Denver native. But he added it was "time to move on, reinvent."
Anthony led the Nuggets to the playoffs in each of his first seven seasons in Denver after winning a national title at Syracuse as a freshman and had them positioned for another playoff run this year. But Denver advanced out of the first round just once in that time.
He stood to become the headliner of the 2011 free agent class, but didn't want to risk free agency knowing a new collective bargaining agreement could cost him millions. But once he refused the extension with the Nuggets -- plus put his Denver mansion on the market last year -- the Nuggets' new front office team of general manager Masai Ujiri and team president Josh Kroenke had to begin trade talks so they wouldn't risk losing him and getting nothing in return as the Cavaliers did with LeBron James and the Toronto Raptors did with Chris Bosh last year.
There were persistent rumors Anthony wouldn't take the extension if traded to the Nets, which was a prerequisite for them agreeing to a trade. He instead gets his apparent wish to join a Knicks team that is in sixth place in the Eastern Conference and in position for its first playoff berth since 2004.
But they'll make their postseason run without the core of the team. Felton, Gallinari, Mozgov and Chandler were four of New York's top six players, and there is some thought the Knicks gave up too much to get Anthony, a sensational scorer headed to a team that doesn't necessarily need more scoring.
However, the Knicks felt they couldn't pass on the opportunity to land a 26-year-old superstar once he became available. Assuming he extends with the Knicks, Anthony and Stoudemire would be under contract for four more seasons, though the uncertain salary cap situation could wreck New York's plans to be spenders over the next two summers.
The Nets wanted Anthony, hoping the Brooklyn native would be the face of their franchise when they open their new Barclays Center in 2012. But though he never publicly confirmed the speculation that he wouldn't have extended with the Nets, he did note Friday during the All-Star weekend in Los Angeles that the Knicks were further along after acquiring Stoudemire -- his good friend -- last summer.
Anthony met with both Nets owner Mikhail Prokhorov and Madison Square Garden chairman James Dolan over the weekend and hoped there would be a resolution before he returned to the Nuggets. That indeed happened -- he was excused from practice Monday so he could remain in California to appear on Conan O'Brien's show.
The Nuggets made out well, considering they could have lost Anthony for nothing in the summer. The Nets' offer, centered around rookie Derrick Favors and draft picks, would have meant a rebuilding situation, while the players they acquire from New York could keep them in postseason contention in the Western Conference. The Nuggets host Memphis on Tuesday night.
Karl said he'll miss Billups, a hometown favorite and consummate professional who helped Denver reach the Western Conference finals in 2009-10, when the Nuggets nearly eliminated the eventual champion Lakers.
"I think Chauncey will go down as one of the greatest winners," Karl said. "His record of seven or eight conference finals is, I mean, that's incredible. I think that's who he is, that's what he stands for. He brought one of them to us. Last year we had a miserable ending. I think there's many people, including myself, that will be sad for Chauncey. I know he loves Denver and we love him, but things happen. There's decisions that have to be made.
"I'm 100 percent behind the decision we made, even though it will be dangerous and there won't be the veteran point guard back there," Karl added. "Felton, I thought was having a great season this year. But I think Ty (Lawson) and Felton are going to have a great challenge to live up to what Chauncey has given us in past years."
Thanks for reading CBS NEWS.
Create your free account or log in
for more features.