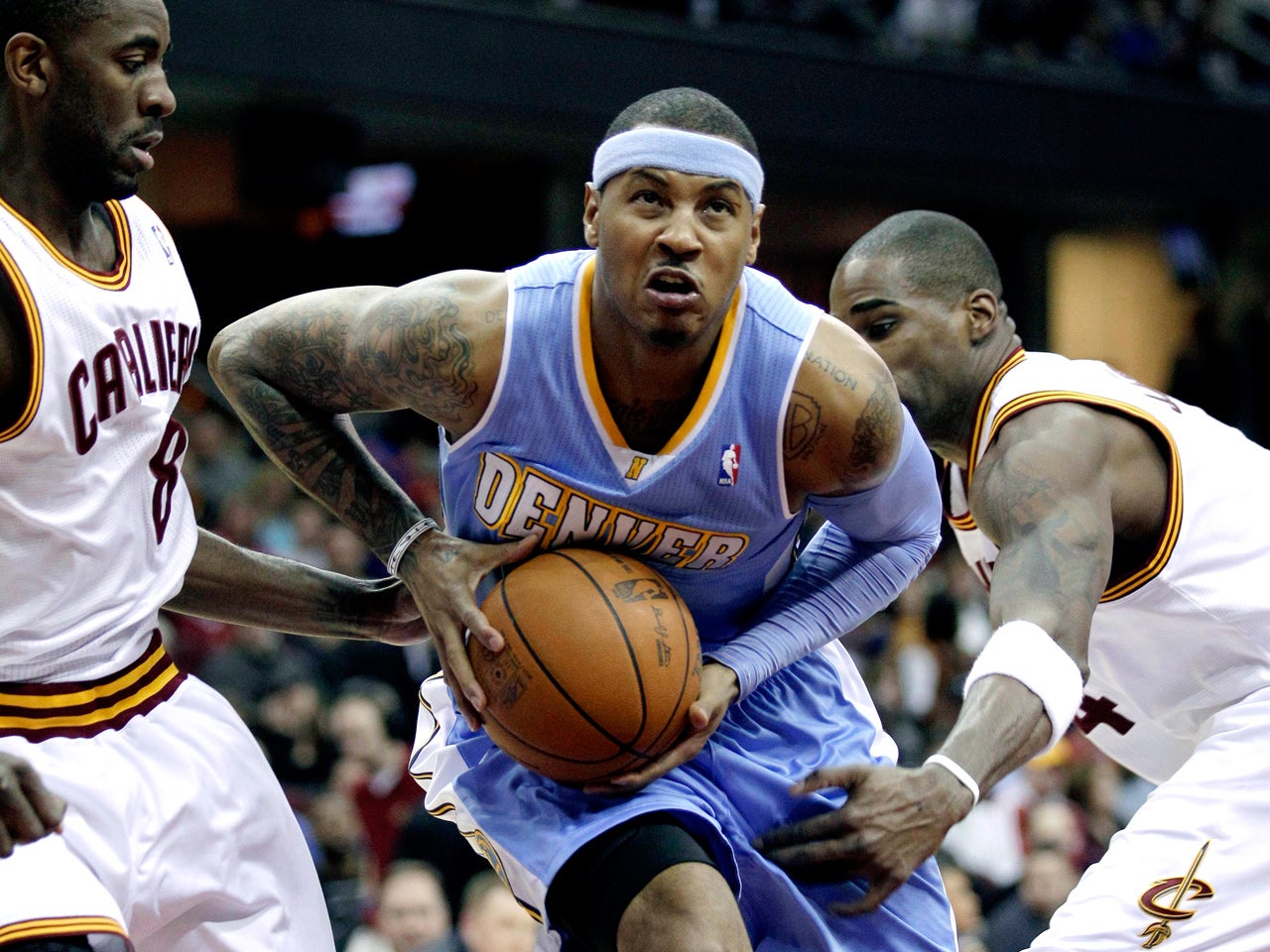 Carmelo Anthony to the New York Knicks: Grading the trade
This story originally appeared on CBSSports.com. It was written by Ben Golliver.
It's official: The Denver Nuggets have agreed to trade Carmelo Anthony to the New York Knicks on Monday night, with Ken Berger reporting that the deal will go through the NBA's approval process on Tuesday.
Here's the framework of the trade. You can also take a look in the Trade Machine.
New York Knicks get: Carmelo Anthony, Chauncey Billups, Anthony Carter, Shelden Williams, Renaldo Balkman from the Denver Nuggets plus Corey Brewer from the Minnesota Timberwolves.
Denver Nuggets get: Timofey Mozgov, Wilson Chandler, Danilo Gallinari and Raymond Felton from the Knicks plus New York's first round pick in 2014 and Golden State's second round picks in 2012 and 2013 and $3 million from the Knicks.
Minnesota Timberwolves get: Anthony Randolph and Eddy Curry plus $3 million from the New York Knicks.
Let's take a look at some of the winners and losers and hand out some grades for this trade.
Carmelo Anthony: A+
Throughout the last six months of trade rumors, Anthony wanted three things: To get his three-year contract extension done before the trade deadline, to play for the New York Knicks and to compete for a championship. He had to achieve those goals while taking the least hit to his public reputation as possible, lest he fall into the pit of resentment that swallowed LeBron James.
With this trade complete, Anthony obviously accomplished the first two of his three objectives: He got paid and he's the Big Apple's latest high-profile resident, returning to his birthplace and the country's biggest media market. As for the championship contention? That's another matter. The Knicks paid a pretty penny, both now and in the future, to acquire his services, and Anthony and his fellow All-Star, Amar'e Stoudemire, will shoulder a heavy burden down the stretch of this season and into next year as well, at the very least.
Looking out over the duration of the extension Anthony signed, though, the deep-pocketed, big-market Knicks are just as likely, if not more likely, to be championship contenders than Anthony's aging Nuggets. At worst, it's a lateral move from that perspective. Accomplishing 2.5 of your top 3 objectives, given the complexities involved in making a trade of this magnitude, is a home run.
As for his reputation, Anthony's ability to face the tough questions on a daily basis while still performing on the court and keeping the drama on his end to a minimum has saved him a lot of flak. The general reaction to tonight's news has been "Thank God, it's over!" rather than "I hate this rich, spoiled superstar who hijacked his team all year!" As we've seen with the Miami Heat this season, that counts for something.
Denver Nuggets: A
Nobody involved in this negotiation was placed in a tougher spot than the Denver Nuggets and GM Masai Ujiri. The risk/reward analysis for the Nuggets was the scariest of all the involved parties: Had Anthony walked for nothing it would have decimated the team's future. With this deal, the Nuggets accomplished many important goals and elegantly succeeded in avoiding the worst-case scenario.
First, and perhaps most importantly, they acquired talent. Even better, it's cheap talent with flexible and affordable contracts. In Felton, they have a solid starting point guard they can either keep or flip, should they decide to turn the keys over to Ty Lawson. In Mozgov, they've got a serviceable, young big man locked in to an affordable contract through 2012-2013. In Chandler, they have Melo-light, a productive, scoring small forward, who is also an expiring contract. In Gallinari, they get a smooth shooting, long, agile stretch forward with solid upside. That group has helped make the Knicks a playoff team in the East and should allow the Nuggets, who are currently the West's 7th seed, to remain in the playoff picture down the stretch. There's not a bad contract among those four players, and the Nuggets saved enough money overall to try to retain Chandler this summer if they want to.
Really, their books look great. The Nuggets succeeded in moving point guard Chauncey Billups' pricey contract, something I've advocated for months. It was arguably the critical component of a rebuild and it wasn't an easy call, as Billups is a hometown hero. Unfortunately, his massive contract was simply an anchor on the re-tooling process, and escaping the $14.2 million owed to him next season significantly increases Denver's flexibility moving forward. Moving Carter, Williams and Balkman helps Denver get further under the luxury tax line, and doesn't meaningfully impact their ability to compete in the short term. Essentially, Denver takes on $16 million in salary commitments while shedding roughly $34 million. That roughly $18 million savings off this year's books puts Denver roughly $4 million under the luxury tax line, netting its ownership a nice pay day instead of requiring it to write a monster check at the end of the season. If you have to trade your franchise superstar, you want to get the maximum financial benefit from doing it. The only way the Nuggets could have improved this aspect would have been to move Al Harrington's contract as well, but that probably wasn't a realistic possibility, given the four years left on it at the midlevel number.
Finally, the Nuggets stockpiled picks, too. An extra first round pick and the two second round picks aren't as an attractive warchest as the four first round picks that the New Jersey Nets were rumored to have been offering, but it's still a solid haul, especially if we're acting under the assumption that Anthony was never willing to sign anywhere except with the Knicks. The picks amount to icing on the cake, but in this case every bit of extra icing matters a lot to an organization that's taking it's largest shift in direction since Anthony was drafted in 2003.
That a first-time GM was able to generate such a return underscores how poorly planned and executed Cleveland's and Toronto's efforts to keep LeBron James and Chris Bosh were last season. Coming to terms with trading a superstar is a difficult process, but denial simply isn't an option. Of the three teams' fanbases, there's no question Nuggets fans are the most at ease in the wake of their superstar's departure. There's talent, hope and flexibility going forward, and knowledgeable fans should certainly appreciate that, even if the sting of Anthony's departure still lingers. There's a workable future, immediately and next year. That's more than can be said for the Raptors and Cavaliers.
New York Knicks: B+
The initial wave of reaction to the deal has slaughtered the Knicks for overpaying for Anthony. Their package certainly seems huge in comparison to nothing, the price they would have paid had Anthony been willing to guarantee that he would sign with the Knicks this summer as a free agent. But there is a price to be paid for expediency and a price to be paid for certainty, and the package the Knicks paid seems more than reasonable to lock in a marketable, big-name, perennial All-Star with proven playoff success for three years.
Championship teams now need three stars, and the Knicks are now one of a select handful of teams to have two. They're also well-positioned to recruit a third, pending major changes to the NBA's Collective Bargaining Agreement of course. They have a steady, tested point guard in place, one who knows how to get the most out of Anthony, and they acquired a solid player in Brewer, who, although nothing special, helps make up for the wave of role players that departed. Importantly, they also retained rookie forward Landry Fields, a prototypical glue player who will become even more important now that the team has two stars. In other words, they improved their top-end talent, built one of the most dynamic scoring one-two punches in the league and managed to do it while gutting things a lot less than you might think at first glance.
The toughest pill to swallow is Billups' contract, but he's not yet on his last legs. Remember also that Felton was not a long-term solution at point guard, so the fact that Billups isn't either shouldn't be considered a deal-breaker.
It's worth noting that Anthony is a nice hedge against potential injury concerns for Amar'e Stoudemire. Plagued by issues with his knees and eye in the past, there's always been trepidation around Stoudemire's future and the massive $100 million guaranteed contract paid out to him last summer. In Anthony, the Knicks have acquired disaster insurance, ensuring that they will remain in the playoff picture regardless of what may happen down the line with Stoudemire.
With an owner as rich as James Dolan, the money the Knicks paid out to both the Denver Nuggets and the Minnesota Timberwolves is of little consequence in this deal. Sacrificing three draft picks is tough to swallow, especially because the Knicks already moved so many assets to get in position to sign Stoudemire last summer. It appears, though, that the Knicks are heading towards the Miami Heat strategy of being a top free agent destination and recruiting available veterans to hop aboard a title-contending ship. While this move might not make the Knicks a contender this year, it certainly added to the glamour factor that Stoudemire helped bring back last summer.
Minnesota Timberwolves: B
The Minnesota Timberwolves looked to repeat a marginally successful recent strategy, taking a chance on an under-utilized and misunderstood role player that obviously needs a change of scenery. The Timberwolves previously tried to revive the careers of Darko Milicic and Michael Beasley and they look to do that again with Anthony Randolph, a slender stretch forward that lacks a position and hasn't shown much other than some tantalizing Summer League potential.
The risk and cost here is minimal (zero?) as the Timberwolves are once again a bottom-dweller with nothing to lose. Randolph is on an affordable rookie deal and should finally get a decent chance to show what he is capable of. Randolph has only known up-tempo teams, playing in Golden State under Don Nelson and in New York under Mike D'Antoni, and the Timberwolves are the only team to play at a faster pace than the Knicks, so there shouldn't be much of an adjustment period. The big question is whether the Timberwolves have the support system and structure in place to help Randolph capitalize on his potential, or if he will get lost in a sea of despair like so many other inconsistent players who find themselves on young, bad teams.
Taking on the Eddy Curry contract is simply a procedural, paperwork deal, as the Knicks are sending along the money to buy him out. The Timberwolves were one of a select few teams with the cap space available to absorb that contract, creating enough room for the Knicks to bring in both Anthony and Billups.
Other Winners and Losers
Winners
Corey Brewer: A candidate for Most Improved Player last year finally gets off a dysfunctional team, the only NBA home he's ever known. Who could blame him if he's popping bottles tonight?
NBA Bloggers: Arguably the biggest winners of this entire episode, those paid to track and react to the latest Carmelo Anthony trade machinations may be the only people happier than Anthony and Brewer tonight.
J.R. Smith & J.R. Smith's Agent: Denver's reserve scorer should see his role increase as the Nuggets look to replace the 41.7 points per game that are departing in Anthony and Billups. He should get a lot more minutes and shots over the next few months before he becomes a free agent this summer. Pretty great timing.
Northwest Division: The Oklahoma City Thunder and Portland Trail Blazers have to be thrilled with Anthony heading to the Eastern Conference, as the Nuggets' era of bully-ball is significantly diminished, clearing the road for the next wave of Northwest power teams. With the Utah Jazz falling off and dealing with Carmelo-like problems with Deron Williams, the league's toughest division all of a sudden isn't looking quite as formidable.
Losers
Denver's Veterans: Guys like Kenyon Martin, Nene and Chris Andersen just watched a deep playoff run walk out the door, throwing their team's future up in the air. Andersen's long-term contract makes him difficult to move, but Martin and Nene have to be wondering what their personal futures hold.
Minnesota's Fans: The Timberwolves held a valuable trade asset - loads of cap space - and were only able to turn it into an untested, young, moody power forward. Unless another deal is coming down the pipeline this week, this feels less like real hope and more like false hope, and that's the last thing long-suffering Wolves fans need.
Danilo Gallinari: The Italian forward goes from being an up-and-coming international star in a metropolitan market playing for his father's former teammate to the Denver Nuggets, who have been known for their physical, pounding style rather than Gallinari's smoother approach. It will be very interesting to watch how he handles the transition.
Small-Market Teams: It's impossible to think back on how this trade played out and conclude that it's anything but bad news for the league's smaller-market teams. Another major star headed to another major market, potentially foreshadowing similar moves in years to come. Unless the NBA's new CBA adds a franchise tag designation, there's nothing to suggest that this trend is slowing or reversing any time soon.
Check out more CBSSports.com coverage of the Carmelo Anthony trade:
Ken Berger's report on the breaking deal
Matt Moore on whether this is good or bad for Carmelo Anthony.
Royce Young discusses the impact the deal has on the Knicks.
Thanks for reading CBS NEWS.
Create your free account or log in
for more features.