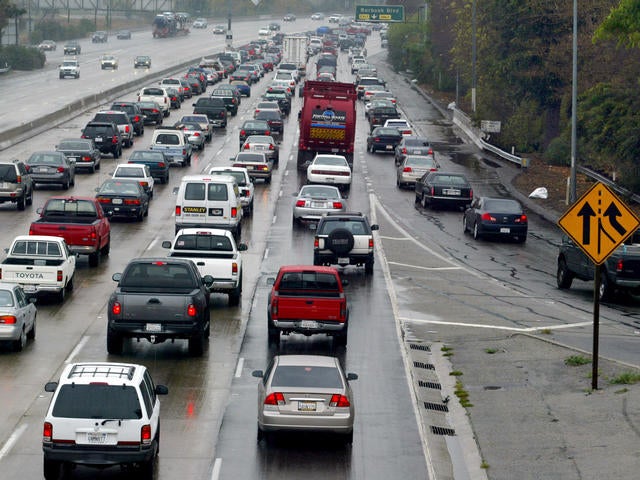 "Carmageddon": 64-mile L.A. traffic jam?
If you think traffic is bad now in Los Angeles, wait 'til this weekend, when Interstate 405 -- the ultra-busy freeway known as "the 405" -- is shut down.
Many in car-crazy L.A. are predicting "Carmageddon" - a phrased coined when someone combined "car" with "Armageddon." It is, reports CBS News Correspondent Bill Whitaker, on the lips of almost everybody in Southern California.
The 405, dubbed the nation's busiest freeway, is usually packed, as 500,000 cars travel the 10 miles linking West Los Angeles to the highly-populated San Fernando Valley.
Precisely because that stretch is so heavily-traveled, it needs to be widened. And to be widened, it needs to be completely shut down.
"Even if we get the message out to half the people," says Mike Miles of the California Department of Transportation (Caltrans), "that still means 250,000 people are going to try to use that road."
So, says Whitaker, from Friday night to Monday morning, traffic could be backed-up as much as 64 miles, as thousands of commuters who rely on the freeway find other ways to get around.
Even actor Erik Estrada, who played a motorcycle-riding highway patrolman on TV, is helping to get the word out, saying in a commercial known as a public service announcement, "Avoid the area, or just stay home!"
Dr. Wally Ghuarbi, Chief of Emergency Medicine at nearby Santa Monica-UCLA Medical Center, says he'll be spending the weekend in his office - where he'll sleep.
The hospital's support staff will also be roughing it, sleeping on cots in a nearby, as-yet-unoccupied medical office tower.
"I'm staying four days," says Evelyn Agyin, a clinical care partner at Santa Monica-UCLA. "It's gonna be like a vacation."
And many hope to capitalize on the expected traffic nightmare.
"We thought it was fun to kind of poke fun at, maybe make a little money along the way," says David Anderson, of Imprint Revolution, which is producing t-shirts with "I survived the 405" on them.
While the freeway will be empty, the skies won't be.
For just $4, Jet Blue says it will fly you people right over the mess, and for $400, a local helicopter company will give two people birds-eye-views. "We've booked about 15 tours so far," says Vaughn Lusparyan of Adventure Helicopter Tours. "We're expecting anywhere from 80 to 100. "
The last time Los Angeles was warned to expect this level of gridlock was during the 1984 Olympics. At that time, so many people were scared off the roads, traffic was a breeze, recalls Whitaker, adding, "Maybe that happy history will repeat itself, and it will be - calm-aggedon, instead."
Thanks for reading CBS NEWS.
Create your free account or log in
for more features.