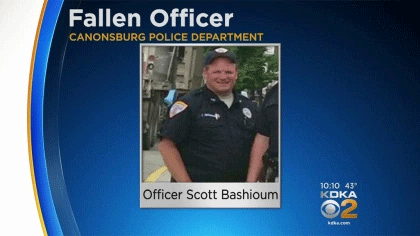 Pa. cop dead, another wounded after being "ambushed;" gunman dead
CANONSBURG, Pa. -- One of two western Pennsylvania police officers "ambushed" and shot while responding to a domestic situation has died, authorities said Thursday. The suspect has also died, reports CBS Pittsburgh station KDKA-TV.
According to police, the incident happened around 3:30 a.m. Police were initially called to the area for a domestic dispute. As the two police officers approached the home, the suspect, Michael Cwiklinski, allegedly opened fire.
"Upon their arrival, the two officers were ambushed. They were shot with an unknown type of firearm," Trooper Melinda Bonderanka said.
Police sources told KDKA that Dalia Sabae, the woman inside the home, was later found dead. She was reportedly six months pregnant and had a protection from abuse order against Cwiklinski.
Police confirmed around 9 a.m. that Cwiklinski was also dead. Sources told the station he had turned the gun on himself.
Both officers were taken to Canonsburg Hospital, but one was then flown to Allegheny General Hospital in Pittsburgh. Officer Scott Leslie Bashioum, 52, was pronounced dead at Canonsburg Hospital shortly after 4 a.m.
KDKA reports that the injured officer has been identified as James Saieva, of Houston. He suffered a gunshot wound to the stomach and underwent surgery this morning. He was last listed in stable condition at Allegheny General Hospital and his injuries are not believed to be life-threatening.
"When it first started, one was bleeding badly. The shooter had everyone pinned down when they were trying to get him. I don't know where he was shot," a firefighter said. "I had my porch light on and he came and told us to turn the light off and stay put. Then, five minutes later, they came to the front door and asked us if we would leave ASAP."
"It woke me from bed about 3:30, 4 o'clock this morning. I could hear what I thought was firecrackers and then I heard somebody say, 'My partner's down,' or something like that. Then, all hell broke loose," a neighbor said.
The Canon-McMillan School District canceled classes Thursday because of the heavy police presence, and the nearby Chartiers-Houston School District was operating on a two-hour delay.
Thanks for reading CBS NEWS.
Create your free account or log in
for more features.