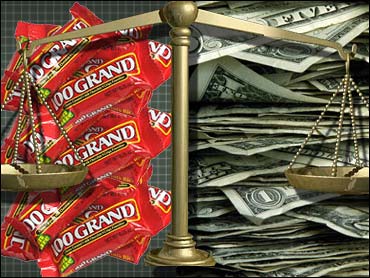 Candy Bar Prize No Sweet Reward
A woman who won a radio contest that promised the winner "100 grand" sued after the station gave her a candy bar -- a Nestle's 100 Grand -- instead of $100,000.
Norreasha Gill filed a complaint Wednesday in Fayette District Court against Atlanta-based Cumulus Media, which owns WLTO-FM in Lexington. Gill, 28, says the station and its parent company breached a contract to pay $100,000 to the contest winner.
Night host DJ Slick sponsored the station's contest to "win 100 grand," Gill said in the lawsuit. Gill won by listening to the radio show for several hours and being the 10th caller at a specified time.
She went to the radio station the next morning to pick up her prize, but was asked to return later. When she got home, she found that the station manager had left a message explaining she had won a 100 Grand candy bar, not money.
Later, he offered her $5,000, Gill said.
"I said I wanted $95,000 more," she said. "Nobody would watch and listen for two hours for a candy bar."

DJ Slick did not return an e-mail from the Herald-Leader, but he said on his Web site that he had left his job. WLTO and Cumulus declined to comment, identify DJ Slick by his given name or say whether he was fired.
Experts said the radio station could face action by the Federal Communications Commission, which licenses radio stations.
FCC regulations say contest descriptions can't be false or deceptive and that stations must conduct contests as advertised. Stations in two other states have been fined for contests that told listeners they'd won cash prizes without specifying they were in the Italian or Turkish lira, not the U.S. dollar.
Before her family went to sleep that night, Gill says, she promised her children ages 1, 5 and 11 that they'd have a minivan, a shopping spree, a savings account and a home with a back yard.
"What hurts me is they were going to get me in front of my children, all dressed up, and hand me a candy bar, after all those promises I made to them," she told the Lexington Herald-Leader. "You just don't do that to people."

Thanks for reading CBS NEWS.
Create your free account or log in
for more features.