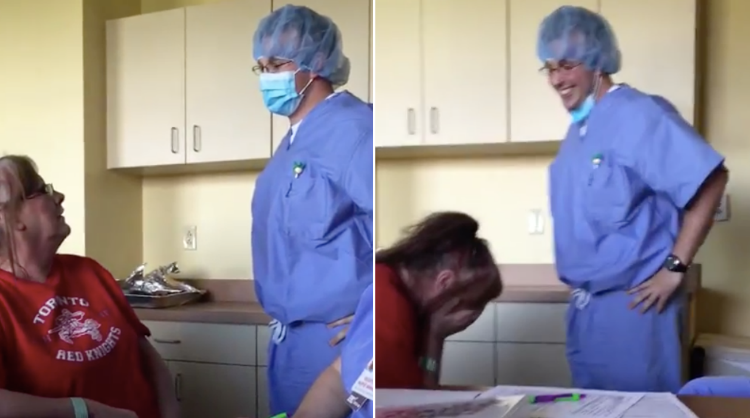 Cancer patient gets huge surprise when "doctor" removes surgical mask
Two weeks ago, Mary Glasure's life changed with one devastating word: cancer.
After undergoing several different body scans, the Ohio mom of seven was preparing for even more "horrible news."
With most of her children by her side, Glasure anxiously waited in a small room at the Tony Teramana Cancer Center, ready to begin counseling on chemotherapy -- the next step in her battle against breast cancer.
That's when a man with bright blue scrubs and a surgical mask walked through the door.
"I couldn't understand what he was saying to me," Glasure told CBS News. "I was thinking: Oh my God, now what?"
The man made a quick entrance, turned to Glasure and sternly said, "I have a lunch appointment to get to; let's hurry up."
Confused, Glasure threw up her hands and chuckled, "Uh, okay..."
But when the doctor pulled the mask from his face, Glasure's nervous laughter turned to sobs.
Her son, Marine Cpl. Corey Hoffmaster, stood before her with arms wide open.
"I didn't even know my own son!" a shocked Glasure said. "When he took his mask off, I just went nuts."
"Hi, mama," greeted Hoffmaster with a big bear hug.
Hoffmaster, who is stationed in Yuma, Arizona, hadn't been back to his hometown of Toronto, Ohio, in two years.
"We were all in tears; it was pretty amazing," Hoffmaster's brother, Cody Glasure, described.
The military man hasn't waited this long to come home since he enlisted five years ago.
When he was told his mother had cancer, Hoffmaster knew he couldn't wait any longer.
"I was hoping he would come home," Mary said. "I wanted him to be here in person."
So, he schemed with his three sisters and three brothers to give his mom a surprise that would turn the tough day around -- and it worked.
After a 10-day stay with his family, Hoffmaster teared up as he said goodbye on Monday.
"I'm still in shock that he did that," his brother said. "It was just a crazy and very emotional and amazing moment."
Thanks for reading CBS NEWS.
Create your free account or log in
for more features.