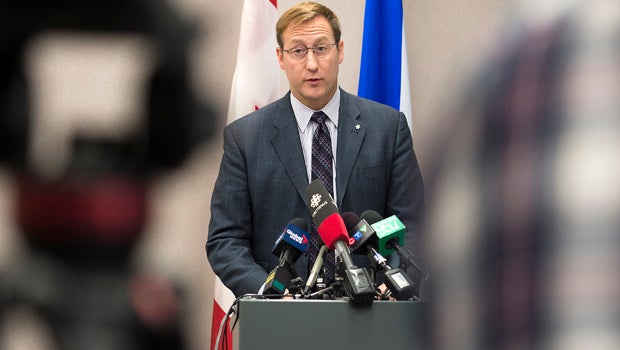 "Mass casualties were a real possibility" in Canada plot
TORONTO -- Canadian authorities said Saturday that a foiled Valentine's Day mass murder plot in Halifax was not related to Islamic terrorism.
"This appeared to be a group of murderous misfits that were coming here, or were living here, and prepared to wreak havoc and mayhem on our community," Canadian Justice Minister Peter MacKay said. "It would have been devastating. Mass casualties were a real possibility."
MacKay said all the suspects have been arrested or are dead. He said police would release more information publicly later Saturday. He credited police for their quick action.
A senior police official told The Associated Press that the two suspects were planning to go to a mall and kill as many people as they could before committing suicide.
Brian Brennan, commanding officer of the Royal Canadian Mounted Police in Nova Scotia, wouldn't confirm that information.
"What we are saying is that it was a public venue where a large number of civilians would gather," he told CBS Radio News.
Brennan said authorities weren't sure why the suspects planned to carry out the attack on Valentine's Day.
"A lot of policework remains to be done to sort of find all those connections," Brennan said. "We don't know of anything significant about the day as of yet."
The senior police official told the AP on Saturday that police acted quickly after receiving information from the public on the Crime Stoppers tip line. The official spoke anonymously because he was not authorized to speak publicly.
A 19-year-old male suspect shot himself to death after police surrounded his home, the official said. A 23-year-old woman from Geneva, Illinois, was arrested at Halifax airport and confessed to the plot, the official said, adding that she had prepared a number of pronouncements to be tweeted after her death.
The official said the suspects used a chat stream and were apparently obsessed with death and had many photos of mass killings.
At the home of the male suspect, police saw two people leave the house who they determined were his parents and pulled them over on a traffic check. They then called the suspect.
The man told police that he didn't have any guns, but shot himself as he was on his way out of the house, the official told the AP.
The official said police worked with Canadian border officials to find the female suspect on her flight as she was making her way from Chicago.
Police said Friday they first received information a day earlier about a potentially significant weapons-related threat. Police said two other Nova Scotia men, ages 20 and 17, were also involved, although investigators are still trying to determine what their roles were. The police official said the 17-year-old male was wanted for threatening to shoot up a high school and had an outstanding warrant.
Canadian Public Safety Minister Steven Blaney applauded the work of police in Canada and Geneva, Illinois and well as border officials in a statement. The Geneva police department said in a statement they were contacted by Canadian police and had no contact with the American woman before her arrest.
Thanks for reading CBS NEWS.
Create your free account or log in
for more features.