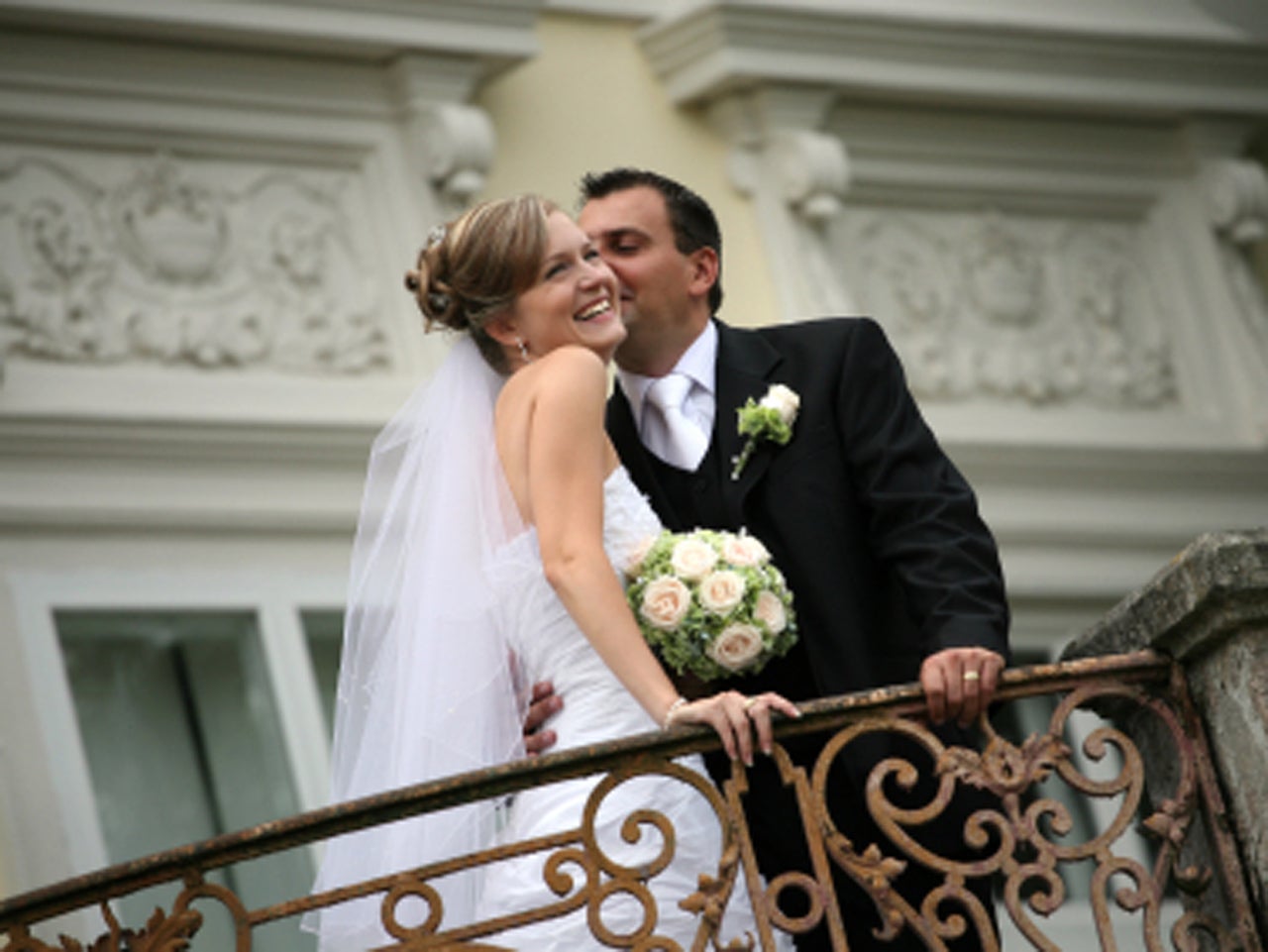 Can wedding therapy be "preventative psychology" for your marriage?
You've got the ring and the dress. You've set the date, and perfected the seating chart. But, before you walk down the aisle, you might want to make an appointment for you and your fiance to stop by a wedding therapist.
There may not be deal-breaking issues preventing your union, but psychotherapist Annie Block Pearl warns that joining lives with someone -- even if you've previously lived with them -- means major changes that could lead to problems past your wedding day.
"I realized that people, when they get married, they get involved with the gown, with the planning, with the flowers and how everything is going to look, and don't think as much as the incredible transformation they are going through in their lives," she told CBSNews.com.
Pearl emphasizes that wedding therapy -- which is a branch of couples counseling -- isn't just for people who are constantly fighting. Instead, she likes to call it "premarital counseling," since the t-word carries such a negative connotation. Clients range from people who are embarking on the marriage journey for the first time to people who have had multiple marriages and don't want to make the same mistakes as they did with their previous spouses.
Where a wedding therapist comes in is to help couples manage and negotiate what they want both for the big day and for the rest of their lives. Couples need to understand that they are going to still be two separate people, but they will have to collaborate together. While it's easily said, it doesn't mean that the situation is simple.
"What people don't tell you in advance is that planning a wedding and combining lives tends to be an extraordinarily stressful thing," New York clinical psychologist and wedding therapist Jocelyn Charnas told CBSNews.com. "Nine times out of 10, it comes with stress and anxiety, and it can be very difficult to manage that."
Part of what makes getting married so difficult is that two people are bringing their own personal cultures and rituals and are expected to become one unit, Pearl explained. Families impart their own traditions and history, and partners need to compromise and find a new way that combines both people's beliefs. Charnas said this is especially hard today, since a lot of couples are getting married later. They've been their parents' children for a long time, meaning those values are very deeply ingrained. "They're in their mid-30s, and they're making this decision to separate individually for the first time," she explained.
"When you marry someone, you don't just marry them: You really marry who they come from as well," Pearl added. "You need to embrace their family's role in their life. It's not a transition that occurs naturally and easily."
Often times, people will take out their stress and anxieties over these issues by over managing their weddings. Charnas has had couples fight over the difference of one word in the wedding invitations, and she tries to get them to understand that it's not about the minutia but perhaps other issues they want to address.
What it boils down to for most couples is that they need to get a reality check on their expectations. It's important to know what each person wants from a husband or wife, what kind of lifestyle they want, what kind of family they want, where they seem themselves living and what they see for themselves in the future.
"Even if they've lived together for a while, they still may not be concurrent with one another with these pictures," Pearl explained.
She pointed out the example of her mother, who told her that one of Pearl's friends wasn't going to have a successful marriage because "she's not making dinner for her husband every night." While that is what Pearl's mother expected the role of a wife to be, it wasn't the vision the newlywed couple saw for themselves.
Pearl said the number one topic that most couples often need to work out revolves around children. While most people will discuss whether they want kids before the big day, couples sometimes don't bring up how many children they want or at what age they want to have them. Whose religion they and their potential offspring are going to follow or if they even want to have a religion is a close second.
Charnas said money and finances -- from who is going to pay for the wedding to how much is appropriate to spend on a wedding to later concerns including joint accounts -- tends to be the number one issue for her clients. Family planning is their second major concern.
"You'd be surprised how many couples don't have those conversations before they get married," Charnas admitted.
Both therapists emphasize that the goal of wedding therapy isn't to solve problems, but more importantly to stop potential issues from growing into big deals. Charnas pointed out that the problem isn't if couples fight -- because all couples will fight -- but how they deal with the issues they have a divergent opinion on. Wedding therapy gives couples a solid foundation on how to sort through their differences.
"Think of it as preventative medicine," she said. "We go to the dentist not only when we have a tooth ache, but twice a year to get our teeth cleaned. Think of it as preventative psychology."
Thanks for reading CBS NEWS.
Create your free account or log in
for more features.