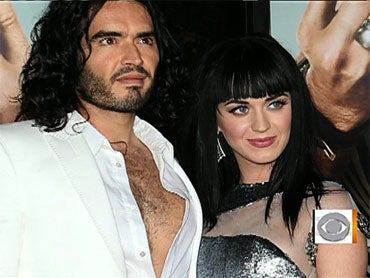 Ladies, there's an attraction we can't deny when it comes to the bad boys. But how often, and how likely is it that a good girl can turn a bad boy's naughty streak around?
Tuesday morning on "The Early Show", Cooper Laurence, relationship expert and author of "The Cult of Celebrity," and Matt Titus, creator of "The MANagement Plan" and author of "Why Hasn't He Called," joined Erica Hill to debate whether going after the bad guy, is a good idea.
Hollywood is no stranger to boys behaving badly, from scuffles with the paparazzi to short stints of jail time, the question we ask is: Can these men be tamed?
How does it work for the ladies behind these bad boy antics? Well sometimes it just takes some female finesse to show these men the light. It sure worked for actor Robert Downey Jr. who credits his wife Susan with saving him from the brink of drug addiction.
Titus, who spoke from experience, definitely believes that a man will change for a woman he cares about because he himself went from a bad boy to a good one after he met his wife. Titus said he believes that when it comes to relationships, it all comes down to how you "manage your man."
"But I believe that there was not another woman on earth that was like her because of how she behaved towards me," said Titus."She didn't sleep with me for the first 90 days of knowing her. I became to my eyes inconsequential to her life. She was fine with me or without me. She maintained mystery. She made me feel like I didn't know what she was doing or where she was because she retained her independence. She was intelligent and masterful in the way that she dealt with me."
Another great example of a bad boy gone good is Warren Beatty, a well known playboy who now walks the straight and narrow since he met his wife Annett Bening.
But more often than not, the attraction to the bad boy turns into headlines of cautionary tales. Even Sandra Bullock could not tame bad boy Jesse James -- the two finalized their divorce just last week.
Laurence on the opposite end versus Titus, does not believe that a woman can change a man, she believes in circumstances when it comes to a man finally giving up the bad boy ways.
"You don't want to play games. A guy has to want to change. Robert Downey Jr. was a great example. He wanted to change because his career and life was at stake," explained Laurence. "So he wanted to change and he had somebody stand by him."
Titus offers a man's point of view. He explained that there are many ways to control where you want the relationship to go, but you have to accept the fact that initially, a man only wants one thing when he approaches you: sex.
"In the beginning of a relationship that's the only reason why a guy is interested. That is his major intention," said Titus.
But what keeps him coming back is the way a women challenges him. "He knows the sex is good and he actually starts to like her," said Titus.
But Laurence says that it is ridiculous to think the only way to get a man is withholding sex, because it should come down to more than just the physical aspect. Laurence doesn't think it's a bad idea to get involved with a bad boy, but she just wants women out there to be realistic.
"If you're honest (with yourself) from the beginning. If a man says, look, I like to be with women, you're going to be one of many and she says,' OK that's OK with me,' that's fine. But the problem is men don't do that, they lie about it."
To that, Titus responds that Laurence is a bit jaded; he insists that changing a bad boy's ways is always a possibility, as long as the woman is up to the challenge.
"The longer the leash, the closer the dog or the guy will stay. There's no question," said Titus. "So a woman should challenge a man to say you think you're ready for me, you wait to have sex with me until I feel I'm comfortable. I'm not going to be concerned with where you are."
Thanks for reading CBS NEWS.
Create your free account or log in
for more features.