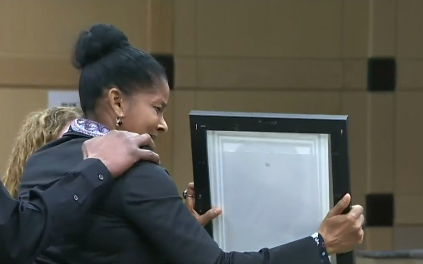 Shooting victim confronts man who pleaded guilty to trying to kill her
MIRAMAR, Fla. -- A shooting victim confronted the man who pleaded guilty in a case in which he was accused of shooting her and killing her teen daughter years ago, CBS Miami reports.
"You leave me to die, but I'm not dead, Kevin Pratt. I am alive. I'm here to tell them what you did to me," said Camille Hamilton after seven and a half years. "I can't sleep at night without looking in your face. It's like you're standing over me, you wish I was dead, but Kevin Pratt, I'm alive and I'm here."
Pratt was also charged with killing Hamilton's 15-year-old daughter Nekitta, along with Faith Bisa-sor and her 16-year-old son Davion Bishop. The massacre happened in Miramar, in August 2009.
"This is my child. This was my only child. You took Nekitta. She was only 15," said Hamilton while holding a picture of her daughter.
Pratt accepted a plea deal Tuesday. Because of numerous problems with the case, prosecutors made a stunning offer: 10 years in prison in exchange for guilty pleas to three counts of second-degree murder and one count of attempted murder.
With time served, he'll be out in less than five years.
Just minutes after admitting guilt, Pratt said something very different as Hamilton begged him for an apology.
"Tell me you're sorry, you can't. You take away everything. Nekitta was only 15! She was a little girl," said Hamilton.
"I didn't do it M'am," responded Pratt.
"I don't want to hear it," said Hamilton.
Pratt is no stranger to prison. He was in state lockup for something else when investigators realized he was their suspect.
In this case, he was facing a life sentence before the plea.
His family is relieved he'll be out in a matter of years.
"God is a miracle-working God," said a woman walking with Pratt's mother.
Pratt will be on probation for 15 years when he gets out. Hamilton believes he'll violate it somehow, ending up back in prison for good.
"You never can look at me and say you're sorry, you never but God, God is alive and he's going to punish you," said Hamilton.
Thanks for reading CBS NEWS.
Create your free account or log in
for more features.