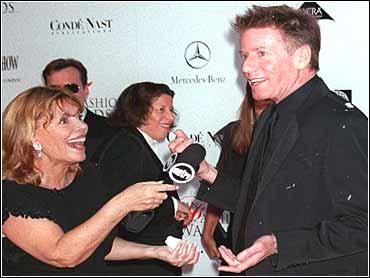 Designer Calvin Klein took it on the chin, but fur protesters who hurled tofu cream pies were aiming at Karl Lagerfeld.
Lagerfeld and Klein were walking up a red carpet at Lincoln Center on Thursday night when two animal rights activists stormed up yelling, "fur pimp" and "fur kills" as they unleashed two tofu pies. Two other protesters threw two more pies from behind a barricaded area.
Pieces of pie hit Klein, but Lagerfeld emerged relatively clean.
"Our activists won't win any prizes for their aim but they would for their compassion and devotion to animals," said Andrew Butler, a member of People for the Ethical Treatment of Animals.
Six PETA members were arrested and charged with disorderly conduct and trespassing after the incident at the 20th-annual American Fashion Awards.
Butler described the hit on Klein as "friendly fire."
"We love Calvin," said Butler. "He's a great friend to the animals. He's entirely fur free."
But he called the House of Chanel's Lagerfeld a "designer dinosaur" who continues to use fur in his collection.
Klein continued inside where he good-naturedly answered questions from the media — with bits of tofu still clinging to his black attire. He managed to get cleaned up before receiving the Council of Fashion Designers of America's Lifetime Achievement Award.
Messages left Friday for Lagerfeld and Klein were not immediately returned.
© MMI The Associated Press. All Rights Reserved. This material may not be published, broadcast, rewritten, or redistributed
Thanks for reading CBS NEWS.
Create your free account or log in
for more features.