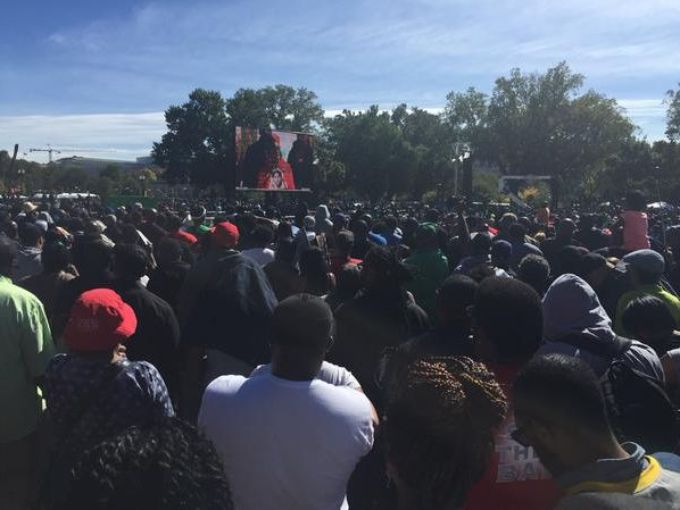 Calls for change at 20th anniversary of Million Man March
WASHINGTON -- Nation of Islam leader Louis Farrakhan said Saturday black men and women should forsake foul language and violence against each other.
At the 20th anniversary of the Million Man March on the National Mall in Washington, Farrakhan spoke out against using foul language against women, and against domestic violence and abortion.
"It is your body, you can do what you want with it," Farrakhan told the crowd. But he added it would be tragic if a scientist or leader was aborted.
Farrakhan also praised the young protesters behind Black Lives Matter. He called them the next leaders of the civil rights movement and called on older leaders to support them.
He asked: "What good are we if we don't prepare young people to carry the torch of liberation to the next step?"
The families of several unarmed African-American men and women killed in encounters with police encouraged the crowd to continue to speak out against police misconduct.
The families asked the marchers not to forget the names of Michael Brown, Trayvon Martin and Sandra Bland and not be silent about their deaths.
"We will not continue to stand by and not say anything anymore," said Martin's mother, Sybrina Fulton.
Authorities say Bland hanged herself in July in a Texas jail cell after a traffic stop, but her family disputes those findings.
Waving flags, carrying signs and listening to speeches and songs, the crowd wove their way through security barricades and souvenir vendors at the U.S. Capitol and spread down the Mall on a sunny and breezy fall day.
Three generations of the Lanier family attended the Justice or Else rally. Wendy Lanier told CBS affiliate WUSA she would've had a different perspective if her late husband, who attended the Million Man March, was there. She said she understood the significance of being in his place.
"It means the world to me. It's one of the reasons why I'm here to stand up for what he believed in. He believed in unity too and I'm here to do the same," Lanier said.
"The struggle goes on," Bilal Muhammad told WUSA. "Our children are dying in the streets. People seem like they're not concerned. The struggle goes on 20 years later."
Muhammad was one of the hundreds of thousands of people two decades ago who were filled with hope for a better future. He said a lot hasn't been realized, but he hasn't given up hope.
"We come here 20 years ago and it all sounded so good. But what we had to do was take it back home to our communities and put it too work," Muhammad said. "Talk to our children, tell them to get an education. That was what was so important, but some of us went home and forgot all about that. But hopefully this time they won't forget."
Among the attendees was Nate Smith of Oakland, California, who joined the 1963 March on Washington and the 1995 Million Man March.
"It's something that I need to do," the 70-year-old man said. "It's like a pilgrimage for me, and something I think all black people need to do."
The original march on Oct. 16, 1995, brought hundreds of thousands to Washington to pledge to improve their lives, their families and their communities. Women, whites and other minorities were not invited to the original march, but organizers welcomed all on Saturday, saying they expected hundreds of thousands of participants.
The National Park Service estimated the attendance at the original march to be around 400,000, but subsequent counts by private organizations put the number at 800,000 or higher. The National Park Service has refused to give crowd estimates on Mall activities since.
President Obama, who attended the first Million Man March, was in California on Saturday.
Life has improved in some ways for African-American men since the original march, but not in others. For example:
The unemployment rate for African-American men in October 1995 was 8.1 percent, according to the Bureau of Labor Statistics. In September 2015 it was 8.9 percent.
In 1995, 73.4 percent of African-American men had high school degrees. In 2004, 84.3 percent did, according to the Census Bureau.
Law enforcement agencies made 3.5 million arrests of blacks in 1994, which was 30.9 percent of all arrests, the FBI said. (By comparison, they made 7.6 million arrests of whites that year, which was 66 percent of all arrests.) By 2013, the latest available data, African-American arrests had decreased to 2.5 million, 28 percent of all arrests.
Thanks for reading CBS NEWS.
Create your free account or log in
for more features.