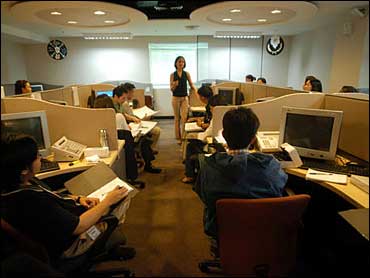 Call Center Jobs Drifting Overseas
It's 9 p.m. as Tim Lavin walks into his office, but his staff greets him with "Good morning, sir."
At Ambergris Solutions, most of the work starts long after rush hour, as lights wink out in other high-rises in Manila's Ortigas business district. On the other side of the world, the company's American clients are just beginning their day.
Behind Lavin, senior vice president for operations for one of the top Philippine call center companies, a steady stream of 20-something recent college grads scurry to work stations on six floors of the 42-story Discovery Suites hotel and office complex.
The company is among 45 Filipino and foreign players in the Philippines' booming call center business, which has generated 30,000 jobs in just five years here - new local employment at the expense of American workers.
The United States has lost 250,000 call center jobs to India and the Philippines since 2001, according to Technology Marketing Corp., a Norwalk, Conn.-based company specializing in call centers and telemarketing.
That's part of a much larger trend. Forrester Research estimated last year that 3.3 million service industry jobs, including call centers, and $136 billion in wages, will move to countries like India, Russia, China and the Philippines.
For Filipinos, the relatively good pay makes call center work attractive, despite the hours.
Trade Secretary Manuel Roxas II touted it as a growth industry in October when the world's leading billing-and-customer-service operator, Cincinnati-based Convergys Corp., opened its first two call centers in the Philippines.
From "almost unexplored territory" five years ago, Roxas projects the industry will employ 100,000 Filipinos by 2005, providing a variety of customer and employee care services to Americans: handling call-in queries and technical support; e-mail, online chat, travel and consumer services; and medical and legal transcriptions.
With so much interest, the trade and industry department is encouraging new call centers to set up shop outside Manila to disperse jobs around the country.
"I have never seen the explosiveness or dynamic growth in an industry such as the Philippine call center business, and we are just getting started," said Dave Crawford, Ambergris' vice president for information technology.
His colleague Lavin, 33, from Austin, Texas, said Ambergris' 1,400 "agents" field queries and assist customers for U.S. clients. The company is obligated not to identify its clients, but Lavin said they are Texas-based Fortune 500 companies involved in computers, utilities and telecommunications.
The Philippines' chief competitor in attracting call center business is India, but the government and industry leaders say the Philippines has some advantages: a cultural affinity with the United States, its former colonial master, and its relatively cheap labor and modern telecommunications infrastructure.
Another difference is that Filipinos speak Americanized English as a second language, "while the Indians may speak the Queen's English," Crawford said.
Just last month, Dell Inc. said that in response to complaints it would no longer route tech support calls from some U.S. corporate computing customers to India, and instead handle them in the United States. Dell would not discuss the complaints, though callers are known to have been dissatisfied with agents' inability - or lack of authority - to solve their problems.
As a hedge against such troubles, the Philippines has a Call Center Academy that focuses on teaching English proficiency, as well as American culture, call center technology and sales, telemarketing and customer service skills.
With rising unemployment - 12.7 percent in July, up from 11.2 percent the previous year - the Philippines' call centers can be picky with new hires.
Jack Tuason, a founder and director of Ambergris, said the company has been hiring about 150 to 200 people per month - only about 5 percent to 10 percent of the applicant pool in a country that produces about 385,000 college graduates a year.
While working the midnight shift isn't for everyone - a coffee maker is always ready to supply a caffeine fix - Tuason says the company does what it can to make conditions attractive.
"We are not running a sweatshop here," Tuason said.
Idle agents engage in light chatter across their workstation dividers. The company provides a room with bunk beds for those who come in early and want to take a nap before work.
Marissa Serrano, a 21-year-old agent at Ambergris who once considered becoming a lawyer, says her friends want to work for a call center.
"They ask me, `What do you do?' I just sit around, talk to the customer with my headset. That's it," she said. "They ask me, `How much do they pay?' Secret."
Is it glamorous?
"Well it is, because of the pay," she said with a laugh. "If you are not working for a call center, you're not `in.' "
The trade and industry department says a Philippine agent, with starting pay of about $218 to $273 monthly, gets only a fifth of an American counterpart but more than what a new bank teller would get here.
The department also says that Filipino call center workers stay an average of 2.5 years on the job, compared to about 8 to 9 months for Americans.
Andre Pierre Hollander, a Filipino-American and one of the top Convergys agents, taking about 100 calls a day, said he has overcome the hardest part of the job - the schedule. He leaves home around dinner and sometimes doesn't get back until breakfast. Everyone else, including his girlfriend, is on a normal schedule.
"It's hard to not be able to see your parents," he said, "but they are very supportive of me and they are very proud and happy that I'm doing well in my job."
Paula Angela Villadolid, training director for Convergys, said the company doesn't look specifically for an American accent, just one understandable to an American customer.
"It's been termed as a neutral accent," she said.
More important, she said, is understanding American culture to get a perspective on costumers' needs and the types of responses they require.
At Ambergris, workers are given USA Today and the most recent Texas travel guide to read between calls. They watch the previous day's TV news from a Texas network during breaks in case conversation with a customer veers to current events.
Operations manager Katherine Ann Fernando said it can help knowing the weather, the top stories - even how the Dallas Cowboys or Texas Rangers are doing.
"We can't afford to sound like we don't know anything about Texas," she said.
By Oliver Teves
Thanks for reading CBS NEWS.
Create your free account or log in
for more features.