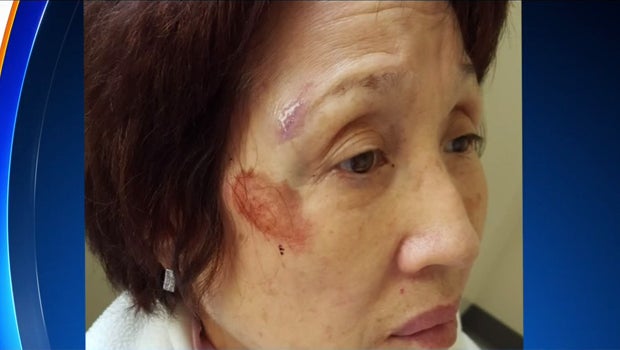 Woman, 62, accuses cops of roughing her up outside church
LOS ANGELES -- A 62-year-old woman who says the Los Angeles Police Department roughed her up in a Koreatown church parking lot has filed a lawsuit, CBS Los Angeles reports.
Ok Jin Jun is suing the LAPD, the city of Los Angeles and two police officers.
The woman's arrest was captured on surveillance video. Her attorney told the station the video is hard to watch.
"Seeing this occur, especially to a person so vulnerable like her, is very disturbing," said lawyer Antonio K. Kizzie.
Jun's car is shown pulling into church early on the morning of April 14. Behind her was an LAPD SUV. Jun said the officers followed her into the church parking lot after she honked her horn at them about a half-dozen times as they blocked the church driveway.
When Jun gets out of the car, she's confronted by the officers. She said they asked for her registration. A discussion ensues. Jun does not speak much English. Her son explains what happens next.
"From that point my mom was confused. She didn't feel like she did anything wrong," said Jun's son, David.
He said his mom tried calling 911 to get an interpreter and also tried calling her husband.
She hunches down to make a call. The argument appears to intensify. The two officers pull Jun up and push her against her car. It looks like a struggle ensues. Jun is forced to the ground, where she's handcuffed.
"They grabbed her by the wrists, twisted her into a submission position," said David.
Pictures of Jun showed how she looked after being taken to the hospital.
Before it was all over, four more LAPD cruisers had arrived on the scene.
Jun's son said his mom is deeply traumatized and questions who she can trust.
"I'm even fearful of people because police officers are the ones I'm supposed to be able to trust," she said through her son as an interpreter.
CBS Los Angeles reached out to the LAPD for a response. A source said unofficially the officers are being reviewed for a routine use-of-force report. Also, unofficially, they told him that "mental health" might have been a factor in their response.
Thanks for reading CBS NEWS.
Create your free account or log in
for more features.