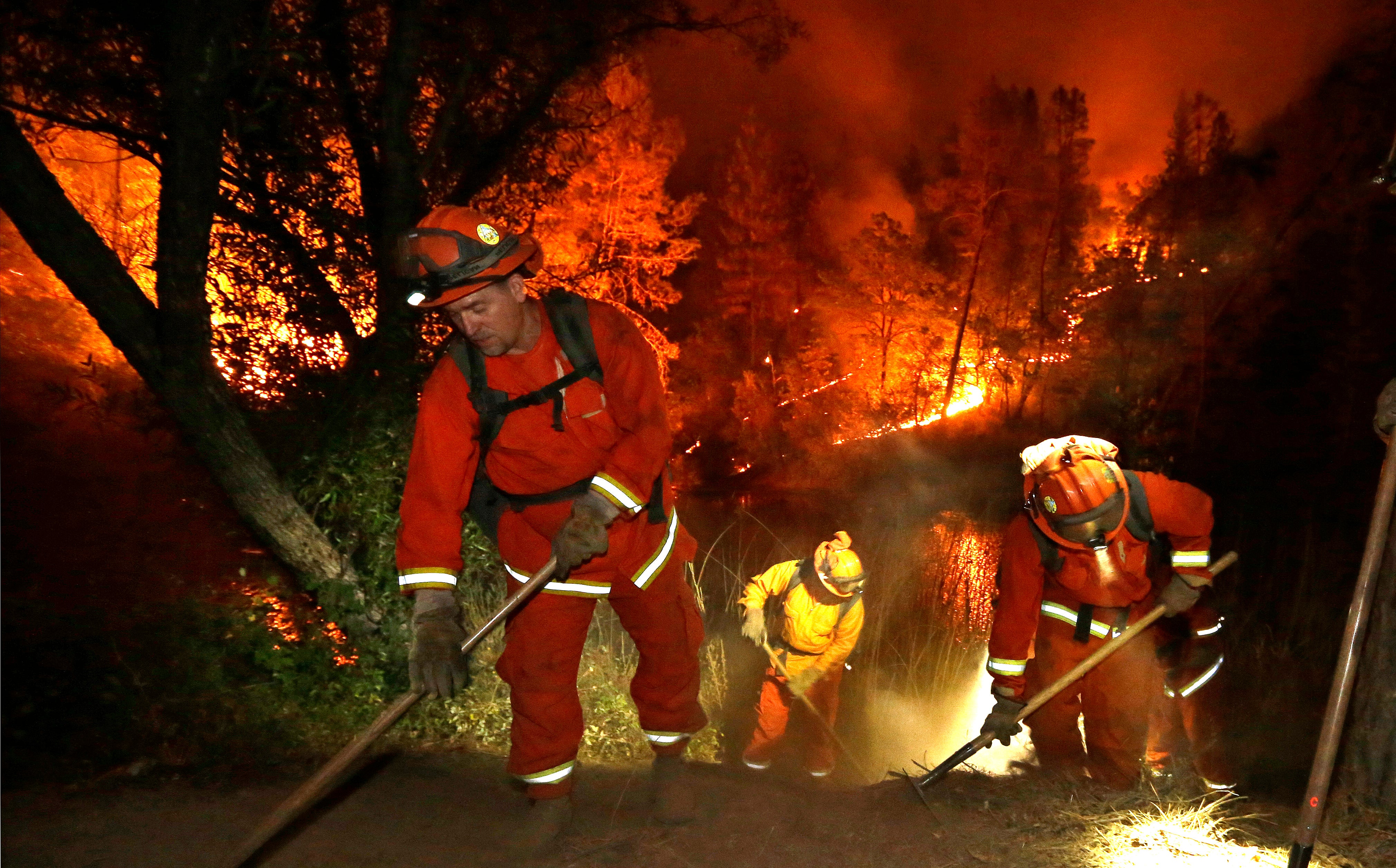 State of emergency after wildfire destroys hundreds of California homes
Parts of California are under a state of emergency and many have been forced to evacuate their homes as crews are struggling to contain a deadly wildfire that killed one person and destroyed more than 400 homes over the weekend.
The Valley fire, which is just one of dozens scorching the dry California landscape, has spread to about 78 square miles, destroying many parts of Middletown, just 30 miles north of Napa Valley. Fire officials say it is spreading at a rate they have not seen in 30 years, reports CBS News correspondent Danielle Nottingham.
Hamid Heidary returned to Middletown Sunday to find the apartment complex he lives in burned to the ground,. The remnants of his home were still smoldering.
"We saw it was coming and said, 'Okay, let's get out of here,'" he said. "It's hard to believe what's going on, cause I've never seen devastation like this."
Less than 24 hours earlier, flames engulfed the 50-unit complex as the wildfire raced into the heart of this town of 1,300.
"It was traffic for days, people just grabbing everything that they could, bags, just throwing them on their roofs of their cars," said another evacuee, Clint Barbour.
The fire erupted Saturday afternoon and moved so quickly, surprising even seasoned fire officials.
"That wind that pushed it, it was no stopping it. You couldn't get in the way, you had to get out of it," said California Fire PIO Scott McLain.
The devastation became all-too-apparent on Sunday, reducing businesses and blocks of homes to rubble.
Fire officials blame the fast-spreading fires on the drought-parched forest and strong, erratic winds that reached up to 30 miles per hour.
Many, like Duane Harper, can only wait until the evacuation is lifted to find out if their houses are still standing.
"We're fairly certain that we've lost our home," Harper said. "We'd like to know. It would be some closure."
Gov. Jerry Brown has declared a state of emergency in Lake and Napa counties due to the Valley fire.
The fire has become the state's top priority because it is burning so close to populated areas. More than 1,000 firefighters are currently battling the fire, and fire crews that are battling other fires across the state are also now being diverted to this one.
Thanks for reading CBS NEWS.
Create your free account or log in
for more features.