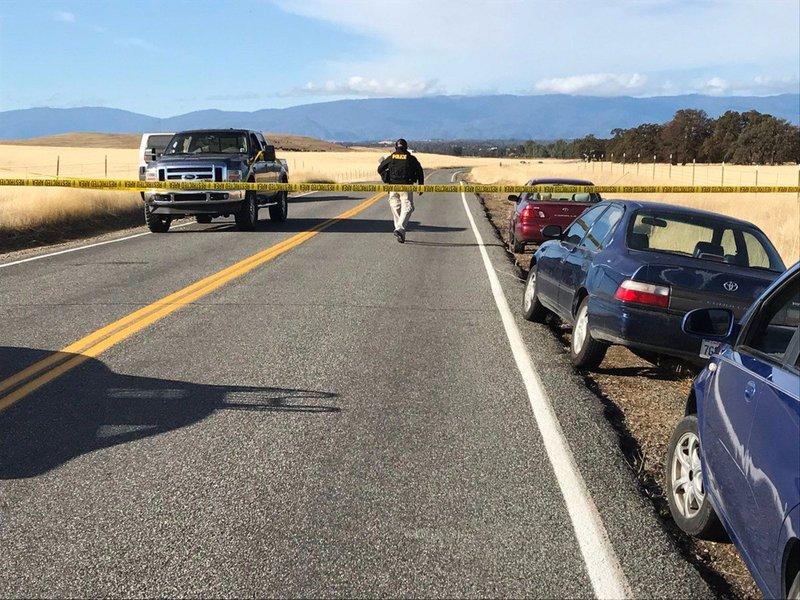 Gunman kills 4 in Calif. shooting spree; elementary students among wounded
RANCHO TEHAMA, Calif. -- A gunman choosing targets at random opened fire in a rural Northern California town Tuesday, killing four people at several sites and wounding others at an elementary school before police shot him dead, authorities said. CBS affiliate KHSL-TV reports the suspect had a semi-automatic rifle and two handguns, and no motive has been declared.
"This is a very tragic event for all of us. There are children involved. It's an emotional thing," Tehama County Assistant Sheriff Phil Johnston said at a Tuesday evening press conference.
Authorities say one of the four victims killed was a neighbor he was accused of assaulting in January, the Associated Press reports. Officials have yet to identify the gunman.
Johnston says the neighbor had a restraining order against the gunman. He says the neighbor was a woman but gave no other details.
Johnston says the number of dead could go up because it's a rural area and there may be other victims.
Officials say the gunman was wearing a load bearing vest -- similar to what soldiers wear to carry their ammo.
The gunfire began shortly before 8 a.m. in the community of Rancho Tehama Reserve, about 130 miles north of Sacramento. Officials say the gunman crashed a pickup struck, stole another car and then started shooting. The area is a homeowners association of modest houses and trailers in rolling oak woodlands dotted with grazing cattle, AP reports.
Three local hospitals have confirmed to CBS News they have received a total of 10 patients from the incident. It is not clear if patients were brought to other hospitals. Jeanine Quist, an administrative assistant with the Corning Union Elementary School District, says no one was killed at the Rancho Tehama Elementary School Monday morning but a "number" of students were shot and wounded.
Authorities say a gunman tried to get into rooms at the elementary school, AP reports, with the intent of shooting children but that workers initiated a lockdown that saved lives. Surveillance video shows the gunman, but hasn't been released publicly.
Johnson says school officials heard shots being fired and immediately locked down the school and that it was "monumental" that school workers took the action they did and that it resulted in saving the lives of countless children.
Officials from the Rancho Tehama Elementary School say that the gunman crashed his vehicle through the school's locked gate and fired dozens of shots on the campus -- he shot out windows and through walls.
The school will be closed until further notice as an investigation continues and counselors will be available.
Although police offered no immediate word on the assailant's motive, a sheriff's official said the shooter's neighbors had reported a domestic violence incident. About 100 law enforcement personnel are currently working at least seven crime scenes in the area, police said.
"It was very clear at the onset that we had an individual that was randomly picking targets," Johnston said.
The gunman's name is not being released, but CBS News has confirmed that he was fatally shot by two officers.
Johnston, who according to KHSL-TV addressed reporters near one of the scenes, said deputies were first alerted to a shooting in Rancho Tehama Reserve before "multiple victims and multiple shots" were reported at Rancho Tehama Elementary School. Witnesses reported hearing gunshots and children screaming at the school, about five miles down a road from where the shooting is believed to have started.
"I know that we have Medivaced a number of students," Johnston said, referring to the use of helicopters for the emergency transport of victims to hospitals.
At least one student was wounded at the school. Another child was shot while driving with a woman, who also was wounded, Johnston said.
Johnston said the school had been cleared by 10 a.m. and all other students have been brought to a safe location.
Gerardo Garcia works at a nearby convenience store and said it was like a war zone.
Salvador Tello said the gunman fired at a truck in front of him as he was dropping off his three children. Tello said he was about three blocks from the school when bullets made "big holes" in the truck in front of him.
He said he forced his children to duck down and slammed his truck into reverse and headed to the children's grandmother's house.
"I put my kids down and put my truck in reverse and went out," he said. "I don't believe it because I wake up, take my kids, feed them cereal and put them in the truck and says 'Let's go to school like a normal day.'"
On the way, he said, he saw an apparent gunshot victim and police at another scene.
Details were still sketchy hours after the shootings, and authorities did not have a firm count of the wounded due to the number of places the gunman attacked, Johnston said.
Five people, at least three of whom are children, were transported to Enloe Medical Center, in Chico, California. It's not clear whether all three children were students at the elementary school.
St. Elizabeth Community Hospital in Red Bluff, California, received two victims. One is continuing to receive treatment at the hospital and the other was stabilized and transferred to another facility, according to Amanda Harter, the communications manager for Dignity Health North State. The company also operates Mercy Medical Center, which received three patients, one who was stabilized and transferred, and two others who are still undergoing treatment. It is not clear if any of the patients at St. Elizabeth or Mercy are children.
Brian Flint told KHSL-TV that his roommate is among the victims and that his neighbor was the gunman. He said his neighbor, whom he knows only as Kevin, also stole his truck.
He said he and his roommate told authorities that their neighbor was acting "crazy" and threatening them.
Flint said the neighbor had been shooting "hundreds of rounds" from large magazines.
The FBI confirmed to CBS News they are sending agents from Sacramento, Redding, and Chico to assist with the investigation.
California Gov. Jerry Brown issued a statement about the shootings late Tuesday morning.
"Anne and I are saddened to hear about today's violence in Tehama County, which shockingly involved schoolchildren," Brown said. "We offer our condolences to the families who lost loved ones and unite with all Californians in grief."
Thanks for reading CBS NEWS.
Create your free account or log in
for more features.