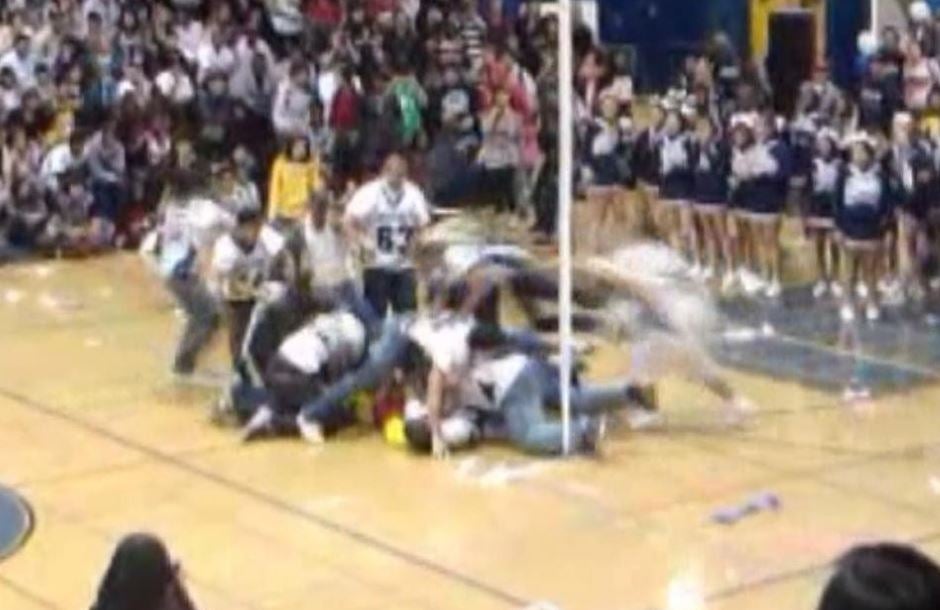 Calif. school district to pay student $10.5M over chicken suit attack
BAKERSFIELD, Calif. -- A California school district agreed Wednesday to pay $10.5 million to a former student who suffered brain damage when he was mobbed while wearing a chicken costume at a pep rally.
Kern County High School agreed to settle a negligence lawsuit brought by Mitch Carter. Jurors on Monday held the school district entirely liable for his injuries. The phase of trial where jurors consider what damages to award was underway when the settlement was announced, said Ralph Wegis, an attorney for Carter.
The former Bakersfield High School student, who was also senior class president, was wearing a chicken outfit to mock the Golden Eagle mascot of an opposing team when he was dogpiled by members of his school's football team at the pep rally in 2010.
"He's kicked, he's punched and he's got his head on the gym floor and there are 200- and 300-pound people piling on in a series of poundings," Wegis said. "It was just an out-of-control (scene), hyped-up kids."
Carter's pituitary gland was damaged and he spent six months in a brain injury treatment center, Wegis said.
"He was piled on by roughly 30 students, some pounding, some kicking and the like," Wegis previously told CBS affiliate KBAK.
Now 24, the former honor roll student is struggling with poor grades in college and suffers from anxiety, depression and memory problems, Wegis said.
The suit also claimed Carter sustained a brain injury resulting in slurred speech and disorientation, KBAK reported.
The lawsuit alleged that school officials encouraged what was supposed to be a mock fight and then failed to act quickly when things got out of hand.
The district's attorney argued that Carter was only diagnosed with a brain injury three years after the pep rally and only after he sued the district.
Carter felt vindicated by the settlement, Wegis said.
"He was put through a long and contentious ordeal to get to this end," the attorney said. "It was the view that the school's conduct was despicable. They (officials) completely failed in their job to deliver safety. Worse than that, they attempted to cover it up."
"The Kern High School District has never disputed that this incident should never have happened. The jury assigned the district with 100 percent liability and we humbly accept that responsibility," a district statement said.
The district said its insurers chose to settle and it planned to evaluate its policies and practices "to ensure that every student is educated in a safe and secure environment."
Thanks for reading CBS NEWS.
Create your free account or log in
for more features.