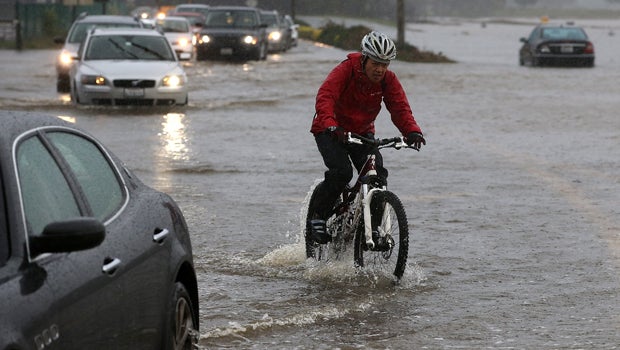 Wildfire-scarred Calif. braces for possible flooding
LOS ANGELES -- A second day of much-needed rain fell across drought-stricken California on Wednesday, but the Pacific storm so far had produced few of the problems such as flooding and mudslides that threatened areas left barren by wildfires.
Residents and authorities, however, kept a cautious watch on saturated slopes as scattered showers fell in Southern California, where the heaviest torrents fell a day earlier.
Inland areas east of Los Angeles were expected to see the strongest downpours. One location, Yucaipa Ridge in the San Bernardino Mountains, had received an exceptional 8.38 inches of rain by 4 a.m. Wednesday, the National Weather Service said.
Despite the storm's scale, meteorologists said it will take at least 10 storms this size to make an impact on the state's severe drought, CBS News correspondent Ben Tracy reports from Glendora, California.
"We need a lot of wet storm systems, above normal rainfall for the year, probably for the next two or three years," National Weather Service meteorologist Eric Boldt told CBS News.
Across California, rain snarled traffic, dropped snow in mountains key to the water supply and awakened signature waterfalls at Yosemite National Park, including the 2,425-foot Yosemite Falls that had dried to a trickle by mid-July.
"With the precipitation, they are looking good. They are flowing nicely," park spokeswoman Ashley Mayer said.
Flash flood watches were extended for wildfire burn areas, where worries about debris flows and flooding did not immediately materialize.
About 50 miles northwest of Los Angeles, gushing water and muddy debris poured from hillsides Tuesday, forcing the evacuation of about 75 homes in Camarillo Springs for much of the day. When the order was lifted, authorities urged people to stay away voluntarily. No major damage was reported.
Earlier, a handful of residents huddled at a nearby church as they waited to learn the fate of their homes and bemoaned a string of bad luck that began with a wildfire that burned the area more than a year ago.
"It'll be the locusts next," evacuee Rose Martin told the Ventura County Star. "It's that mountain. You never know what it's going to do."
In Orange County, southeast of Los Angeles, about 60 homes in rural Silverado Canyon also were under a voluntary evacuation notice. The area burned over the summer and has been the site of previous mudslides.
In San Francisco, an overnight deluge likely opened a 10-foot-wide, 8-foot-long sinkhole, but no injuries were reported.
The rain, expected to last through Thursday, has brought most of the San Francisco Bay Area within or beyond normal rainfall totals to date for the first time in years.
Just before the storm arrived, the Sierra Nevada snowpack - which counts for most of the state's water supply - was at just 24 percent of normal for this time of year. But snow was building rapidly with reports of 10 inches of snowfall at elevations of 8,000 feet.
Meanwhile, Southern California coastal residents faced another problem: a thick tangle of trash that washed from city streets into storm drains and onto beaches. Crews in the city of Long Beach were busy clearing the garbage washing ashore, lifeguard captain Scott Dixon said.
Thanks for reading CBS NEWS.
Create your free account or log in
for more features.