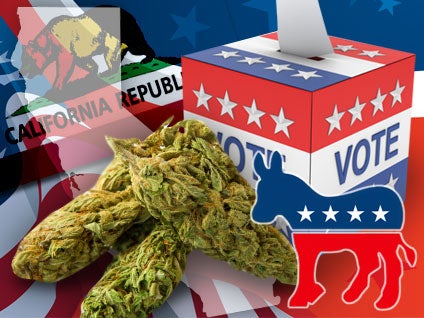 California Pot Referendum: A Political Land Mine for Democrats
SAN FRANCISCO -- As California Democrats gain ground in the polls, one of the big questions left for Californians on Election Day is whether the state will become the first in the nation to legalize marijuana (and not just medical marijuana). As voters continue to mull over the issue, officials in the state and nationally are also considering their next moves.
There's new evidence to support the theory that Proposition 19 - the ballot initiative that would legalize marijuana in California and allow it to be taxed and regulated - could help Democrats, who are facing a challenging midterm election year. However, if the measure passes, it could plague the Democrats it helps usher into office with a bundle of political and policy headaches.
The fate of Prop. 19 appears to be up in the air. In a recent Los Angeles Times poll, 49 percent of likely voters said they opposed the measure, while just 40 percent said they would vote for it. Some other recent polls have also shown support for the measure to be on the decline, but other polls suggest more people support it than oppose it.
Some pollsters argue the initiative will motivate young voters to turn out this November, which will in turn benefit Democrats. Public Policy Polling, a Democratic firm that uses automated calls, released evidence on Monday suggesting that the initiative could be making some difference. Ten percent of respondents in PPP's latest survey said that they were most excited about voting for Prop. 19 (comparied with 39 percent who were most excited about the governor's race and 26 percent who were most excited for the Senate race). Of those who said they were most excited about Prop. 19, 34 percent were under the age of 30.
PPP Director Tom Jensen contends that if the gubernatorial or Senate races become more competitive in the final week, Prop. 19 could play a vital role in helping the Democrats maintain their leads. "At 10 percent of the electorate that means the marijuana question could be worth as much as 3.4 percent for [Democratic Sen. Barbara] Boxer and 3.6 percent for [Democratic gubernatorial candidate Jerry] Brown," he writes.
Democrats, however, are keeping their distance from Prop. 19 -- Brown, Sens. Dianne Feinstein and Barbara Boxer, and the Democratic candidates for lieutenant governor and state attorney general, all oppose it. The California Democratic Party has chosen to remain neutral on the issue.
Longtime California Democratic strategist Garry South told CBSNews.com that it isn't surprising Democrats at the top of the ticket aren't willing to support Prop. 19.
"In California, as elsewhere, Democratic candidates for office like to drape the mantle of law enforcement over their shoulders so they can counter the inevitable attacks from their opponent that they're soft on crime," South said. "It's a matter of self preservation."
Is California's Pot Legalization Movement Faltering?
CBSNews.com Special Report: Marijuana Nation
Should Prop. 19 pass, however, the smoothest course of action for state lawmakers to take might be to embrace it, since state lawmakers cannot overturn a voter-approved ballot initiative. State assemblyman Tom Ammiano of San Francisco, a strong proponent for marijuana legalization, has introduced legislation that would implement statewide regulations for marijuana sales, should Prop. 19 pass. The intent of the bill, according to Ammiano's spokesperson Quintin Mecke, is to quickly create a solid legal framework around the sales and taxation of the drug.
By contrast, Mecke pointed out, the medical marijuana market in California existed in a nebulous legal space for years: Voters approved the use of medical marijuana with Prop. 215 in 1996, but the state legislature only clarified the scope and application of Prop. 215 in 2003, when it finally passed California Senate Bill 420, which established the California medical marijuana program.
Yet even if voters approved Prop. 19 and the state legislature set regulations, not all state officials may be willing to go along with the new policies. Los Angeles County Sheriff Lee Baca said earlier this month that his deputies would not change their marijuana enforcement procedures, even if Prop. 19 passed, the L.A. Times reported.
"Proposition 19 is not going to pass, even if it passes," Baca said in a news conference. "[Prop.] 19 has no effect on what we're going to do."
Los Angeles County District Attorney Steve Cooley, the Republican candidate for state attorney general, stood by Baca's side at the press conference. Cooley has been "extremely antagonistic" toward marijuana legalization efforts and medical marijuana, according to Mecke. He called Cooley's potential victory the "x-factor" that few have considered in the marijuana debate.
Hear Californians talk about Prop. 19 in the video at left.
Both Cooley and his Democratic opponent Kamala Harris, San Francisco's district attorney, are opposed to Prop. 19, and both refused to give a straight answer in a debate earlier this month as to whether they would defend the initiative in court should it pass. Cooley, however, "strongly suggested he wouldn't be carrying the banner for Proposition 19 as a defender of voter-approved recreational weed," the Sacramento Bee reported.
Cooley said, "I would be inclined to advise that it is unconstitutional and pre-empted by federal law."
The L.A. Times poll released Sunday showed Cooley leading Harris by 3 points, 37 percent to 34 percent.
The Obama administration is also already warning Californians that it would "vigorously enforce" federal marijuana laws in the state, even if Prop. 19 passes. The president's drug czar has also suggested they could try to challenge the initiative in court.
Challenging Prop. 19, however, could create its own set of challenges for the Obama administration. For one thing, a legal case against the initiative could be hard to come by. There's no constitutional mandate, for instance, for states to have the same criminal laws as the federal government. Meanwhile, "vigorously enforcing" federal law in California could be costly and impractical.
South, the Democratic strategist, said that upholding federal marijuana laws could also create a political quandary for President Obama, since the move could alienate some of young voters who were critical to his support in 2008. Under Mr. Obama, the Justice Department has chosen not to target medical marijuana dispensaries, and targeting Californians after the passage of Prop. 19 could seem to conflict with that policy.
South said challenging Prop. 19 could result in a backlash, just as gay rights activists are angered over the administration's decision to defend the military's "don't ask, don't tell" policy in court (despite their stated opposition to the policy).
"There's a lot of angst in the LGBT community" over the administration's defense of "don't ask, don't tell," South said. "This particular matter of legalization has the same potential for getting [Mr. Obama] in the same bind, particularly with young voters."
---
Stephanie Condon is a political reporter for CBSNews.com. You can read more of her posts here. Follow Hotsheet on Facebook and Twitter.
Thanks for reading CBS NEWS.
Create your free account or log in
for more features.