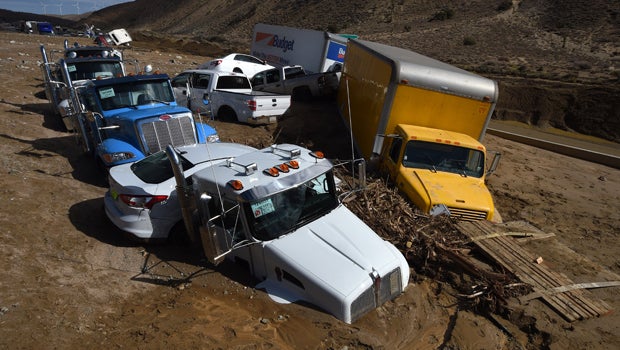 Muddy mess on Calif. highway may take days to clean up
LOS ANGELES -- A section of Southern California found itself waist-deep in mud as the weekend arrived, and a highway overtaken by flowing debris looked like a buried junkyard of hundreds of cars that would likely take days to dig up.
The worst of the thunderstorms had passed, but the continued chance of rain could dampen cleanup and relief efforts in northern Los Angeles County's Antelope Valley, where the most serious mudslides occurred.
On Friday, rescuers and those stranded in the highway debris flow described a chaotic scene that somehow left no reported injuries or deaths.
"It was terrifying," 51-year-old Rhonda Flores of Bakersfield told The Associated Press. "It was a raging river of mud. I've never experienced anything like it, ever."
Rescuers threw ladders and tarps across mud up to 6 feet deep to help the hundreds of trapped people from cars that got caught in the roiling river of mud along State Route 58 about 30 miles east of Bakersfield, a major trucking route, California Highway Patrol officials said.
They were rescued in darkness about 10 hours after the storm hit and taken to three shelters.
Flores said she, her mother and her stepfather were driving back to Bakersfield from her sister's funeral in Utah when the storm hit out of nowhere.
Trucker John Tate told CBS News correspondent Carter Evans the cars around him were no match for the mud.
"I watched the cars float by," Tate told Evans. "All them cars ... they were back there, and then they all floated by."
Trucker Bill Nissen told Evans, "One lady was like she was driving down a lake, like she was steering a boat down a lake."
Sgt. Mario Lopez, a spokesman for the California Highway Patrol, was at the scene as people were being rescued and said it was sheer chaos.
"I've never seen anything like this before," Lopez said. "The whole side of the hill just came down onto State Route 58 ... There's no highway."
The storms unleashed flash flooding and debris flows along the 58, Interstate 5 and in two small mountainside communities, where at least a dozen homes were reported damaged.
Lopez said it will take days to reopen State Route 58, a mile of which is choked with mud between 2 and 6 feet deep. About 200 cars and semi-trucks were trapped in the now-hardened mud, frozen in place at odd angles.
Emergency crews were working to dig out head-high mounds of mud from the 58 and 5, which was also shut down as hundreds of cars were trapped in the mud Thursday. All lanes were reopened by Friday night.
Lake Hughes, a tiny mountainside community in northern Los Angeles County, also was in the path of Thursday's storm.
Melissa Nuesca said she and her husband had just picked up their two children from school in the Lake Hughes area when they found themselves surrounded by mud and water. They fled their car in pelting rain and hail, climbed onto the roof, and eventually found their way to safety.
"It was really scary," said Nuesca's 11-year-old daughter, Sarah. "Me and my brother both thought we were going to die that night."
Nuesca said the family got out of the car "just in time" after she reassured the children, "We're not going to die."
The mud covered their car, solidifying inside and filling up the front seat up to the dashboard.
Authorities said more than a hundred children were among those stuck on the busy I-5 when the highway was blocked by mud, Evans reports. They continued searching through stuck vehicles Friday to confirm everyone got out safely.
Sheriff's deputies checked on the occupants of nearly 800 homes in the area to make sure everyone inside was safe, their department said in a statement.
At least a dozen homes in the area were damaged by the mud flows, said Kerjon Lee, a spokesman for Los Angeles County Department of Public Works. He said more than that could be damaged, but crews had to bust through blocked roads before they could get an exact count.
The county department was going to have to move about 300,000 cubic yards of mud and debris, the sheriff's statement said.
Bill Wells, a local rancher, was walking through the area looking for his livestock on Friday morning. "I think my livestock was swept away and penned against the fence. I think they're all dead," said Wells, who was near tears.
The thunderstorms were powered by a low pressure system pulling in moisture from the south. As much as 1.45 inches of rain fell in a quick span of time near where the most intense flooding occurred.
It's too early to say whether the storm was connected to the El Nino phenomenon that experts say has formed in the Pacific Ocean, National Weather Service meteorologist Robbie Munroe said.
Historically, he said, an El Nino brought on by a warming of Pacific Ocean waters doesn't usually bring heavy rain to Southern California before November. This El Nino has been forecast to bring above-average precipitation to Southern California during January, February and March.
Thanks for reading CBS NEWS.
Create your free account or log in
for more features.