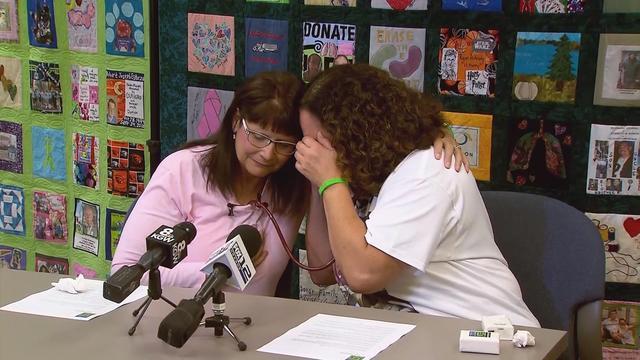 2 years after daughter's suicide, California mom hears her heart beat inside Oregon woman
For the first time in two years, Lauren Santoro heard her daughter's heartbeat. The California mother met the Oregon woman who received the 14-year-old girl's donated heart on Friday, CBS affiliate KOIN-TV reports.
Isabel Santoro died by suicide in 2016. Her family also donated her kidneys, liver and skin, which helped nine people, CBS station KOVR-TV reports.
"As we said our last goodbyes to Isabel, we knew that there were other families praying for a miracle that our Isabel would soon deliver," Lauren Santoro said at a press conference.
After Isabel's death, her family learned that she was bullied. That's added a purpose to the new lease on life for Vicky, who received Isabel's heart.
"I have a job to do," Vicky said. "I have to let word get out about bullying children and what can happen."
Vicky, 60, had been suffering from heart problems throughout her life.
"I am so grateful to have that little girl's heart," Vicky said. "My goal in life is just to make her as happy and proud of me as possible."
She described receiving Isabel's heart as a humbling experience.
"And all I could think of was - and I cried over was - someone lost their life, and that's why I get to live," Vicky said.
Lauren Santoro said she knows that her daughter has made a difference in other people's lives.
"We were always so proud of Isabel during the 14 years she was with us on Earth," she said, "and feel even more proud now."
Thanks for reading CBS NEWS.
Create your free account or log in
for more features.