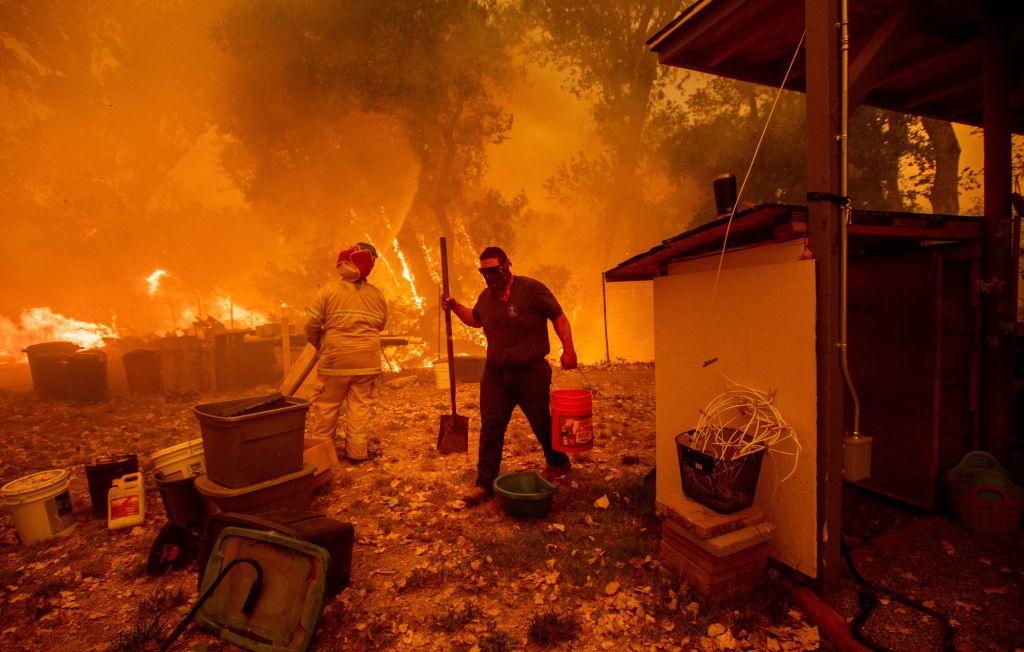 California's Mendocino Complex wildfire becomes largest in state history
CLEARLAKE, Calif. — Officials said late Monday that two fires spreading in Northern California have merged to become the state's largest wildfire in history. The fires that had been burning only a few miles apart -- known as the Mendocino Complex Fire that ignited July 27 -- encompasses an area the size of Los Angeles. It's the second straight year that California has seen a wildfire grow to record-breaking size.
Officials say flames about 100 miles north of San Francisco have grown to nearly 284,000 acres (443.4 square miles) -- that blows past last year's Thomas Fire in Southern California that burned 281,893 acres (440.5 square miles) which killed two people and destroyed more than 1,000 buildings.
Reinforcements have been called in to fight 16 large wildfires in California, with the Army sending 200 soldiers to battle the blazes from the air. The fires are being fed by strong winds and high temperatures, and parts of the Mendocino Complex Fire are proving to be unstoppable.
Firefighters in Lake and Mendocino counties ignited more back burns overnight to remove tinder-dry brush fueling this massive wildfire. But fierce, hot winds continue to whip flames into a frenzy. A Cal Fire spokesperson predicts it could become the largest in state history by Tuesday.
Will Powers, a fire prevention specialist with Cal Fire, said the heat and dryness are fueling the blaze.
"We're going back into the high 90s. It's making for some extreme fire behavior," Powers said.
The growing inferno sparked new evacuations and threatens 9,300 structures.
Farther north near Redding, the Carr Fire has claimed a seventh life. Utility worker Jairus Ayeta died in a vehicular accident while he was trying to restore power in dangerous terrain.
As large swaths of California continue to burn, President Trump is jumping into the debate over how to best fight these wildfires. The president criticized Gov. Jerry Brown on Twitter, saying he "must allow the Free Flow of the vast amounts of water coming from the North and foolishly being diverted into the Pacific Ocean."
But Cal Fire officials said there has not been a situation where crews needed water and couldn't access it.
The Mendocino Complex fire is burning close to the shoreline of Clear Lake, the largest natural freshwater lake entirely within the state of California. Throughout this busy fire season, firefighters here in Northern California have not indicated that a lack of water is hampering their efforts to fight these fires or contributing to their growth.
The Associated Press contributed to this report.
Thanks for reading CBS NEWS.
Create your free account or log in
for more features.