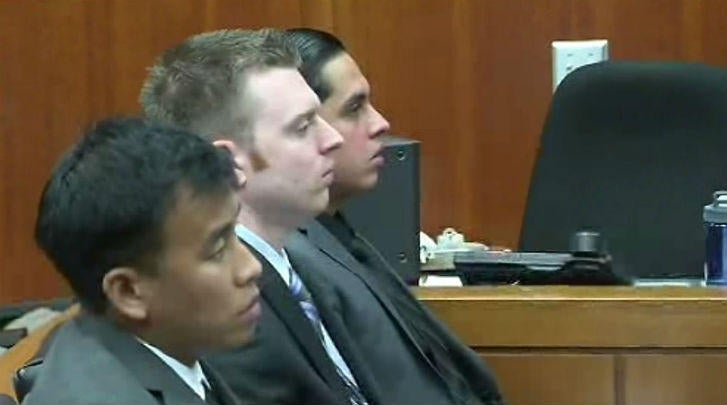 3 Calif. jail guards found guilty in death of mentally ill inmate
SAN JOSE, Calif. -- Three jail guards were found guilty by a Santa Clara County Superior Court jury Thursday afternoon of second-degree murder for the death of mentally ill inmate Michael Tyree, 31, at San Jose's Main Jail in 2015, reports CBS San Francisco.
Jereh Lubrin, 30, Rafael Rodriguez, 28, and Matthew Farris, 28, had been on trial since March for the beating of Tyree on the night of Aug. 26, 2015.
The trio was also charged with assault under color of authority of 48-year-old schizophrenic inmate Juan Villa on the same night Tyree died, and Lubrin was charged for a separate beating of Villa on July 25, 2015. However, a mistrial was declared on those charges.
Family members of the jail guards were in tears, CBS San Francisco reports, though the guards themselves were stoic and calm after the verdicts were read.
Farris, Rodriguez and Lubrin face sentences of 15 years to life in prison.
Tyree's injuries included lacerations to the liver and spleen, which was nearly severed in two, when he was found in his cell naked and covered in vomit and feces.
The defense argued that Santa Clara County medical examiner Joseph O'Hara jumped to the conclusion that Tyree had been beaten to death.
Defense attorneys alleged that O'Hara did an inadequate investigation of the cell, including a scrawled message over Tyree's doorway that attorneys for the guards claimed could have been a suicide note.
Expert witnesses for the defense testified that Tyree's injuries could be consistent with a fall off of his combination toilet-sink.
Text messages between some of the deputies, who are out on $1.5 million bail and on paid administrative leave, included boasts of beating inmates in areas of the jail without security cameras.
Rodriguez's Google search history showed search queries the morning Tyree was found dead in his cell including "can you die from punches to you," "can you die if someone punches you in the armpit" and "can you die if someone punches you in the rib."
Thanks for reading CBS NEWS.
Create your free account or log in
for more features.