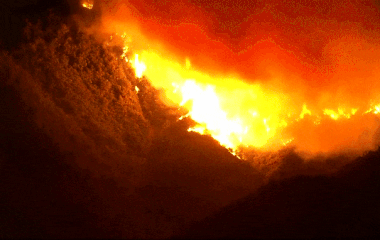 Smoke from California wildfires now covers three quarters of the state
MENDOCINO COUNTY, Calif. — Police arrested a 51-year-old man in Southern California on Wednesday, accusing him of setting the Holy Fire south of Los Angeles. Forrest Gordon Clark allegedly sent an email warning "this place will burn," before the fire broke out Monday.
It is one of 15 large fires burning statewide, and July was the hottest month on record in California.
There is little relief on the fire lines, just more pain as more land is consumed by flames. Firefighters had hoped to contain the fast-growing Holy Fire. Even when massive drops of retardant slow the spread in one area, embers ignited a new stretch of hillside.
"It could jump over a quarter mile and start a whole new fire," one resident told CBS News.
Nearby residents are facing a giant wall of flames perilously close to neighborhoods.
It is a scene played out over and over throughout California, especially in Mendocino, where the largest wildfire in state history continues to rage.
"We have areas here that have never had any type of a burn history," Cal Fire analyst Todd Hopkins said.
A nerve center at the Mendocino Complex Fire base camp has technology that helps pinpoint hotspots which helps more than 4,000 firefighters know exactly where to deploy.
"The technology has helped us out in the field a lot more," National Weather Service meteorologist Mike Smith told CBS News. "It's the kind of information I never had 30 years ago."
And there signs of progress, especially in one spot where firefighters were victorious in cutting a fire break and stopping flames before it consumed a ridge.
Until full containment, smoke now covers three quarters of California. And there's another toll for thousands of evacuees.
"Right now, it's pretty much just day by day," a Mendocino evacuee told CBS News. "Pray that ... tomorrow will bring more containment."
If there's any silver lining to the Mendocino Complex Fire, it's that the thick smoke is actually providing some shade, helping to keep the temperature down and suppress the fire. But experts warn those conditions can change at any moment.
Thanks for reading CBS NEWS.
Create your free account or log in
for more features.