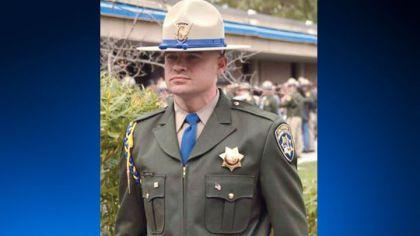 California Highway Patrol officer dies, another injured in crash
HAYWARD, Calif. — The California Highway Patrol says one of its officers died when a vehicle he was sitting in was hit on a San Francisco Bay Area highway.
Officer Andrew Camilleri, 33, was on duty and in the passenger seat of a patrol car parked on the shoulder of Interstate 880 in Hayward when the car was struck around 11:20 p.m. Sunday. The officer in the driver's seat, Jonathan Velasquez, suffered minor injuries.
Assistant Chief Ernest Sanchez said at at a Monday morning press conference that a speeding red Cadillac hit the back of the patrol car Camilleri and Velasquez were in, reports CBS San Francisco. The officers were monitoring traffic at the time of the crash, Sanchez said.
Camilleri had been officer for the California Highway Patrol for just over a year, Sanchez said. He was married with three children.
Sanchez said the driver was a 22-year-old man who was on his way home from a holiday party.
"He had too much to drink and too much to smoke," Sanchez said. "This needs to stop"
Charges have not been filed against the driver, who is in serious condition at a hospital.
Gov. Jerry Brown said in a statement that he is "deeply saddened" by Camilleri's death.
"We join his family, friends and the entire California Highway Patrol in mourning his death and honoring his sacrifice," Brown said.
Thanks for reading CBS NEWS.
Create your free account or log in
for more features.