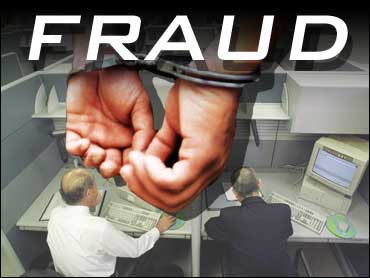 Calif. Man Charged In $814M Scam
A Southern California investment adviser authorities believe stole $814 million from thousands of clients in a nationwide scam was arrested early Thursday morning at a Houston motel, an FBI spokesman said.
James Paul Lewis Jr., 57, was expected to appear before U.S. Magistrate Frances Stacy later Thursday. He was arrested without incident, said Bob Doguim, a Houston FBI spokesman.
Lewis, who owned the Orange County firm Financial Advisory Consultants, was booked on a single felony count of mail fraud, although a spokesman for the U.S. attorney in Southern California has said more charges are possible.
An arrest warrant for Lewis was issued Jan. 14 and made public Tuesday, when the FBI couldn't immediately locate him. Lewis arrived at the Houston motel in a Mercedes, Doguim said.
"We had information that he was in Tallahassee, Florida," he said. "We just missed him there and we were able to track him to (the Houston) hotel. I think he was just passing through. I don't believe he intended to stay in Houston."
Federal authorities allege Lewis operated a giant, 20-year Ponzi-like scheme that defrauded investors across the United States.
Doguim said Lewis is accused of "stealing from Paul to pay Mary."
"That money was never invested in anything," he said. "All he was doing was finding others (investors). That is the money he used to show some kind of return."
When the FBI raided his office Dec. 22, Lewis was supposed to have $814 million on hand for the firm's clients, but bank accounts held about $2.3 million. Federal authorities have frozen those accounts.
Lewis withdrew $3 million in July even as he began telling clients they couldn't have their money — allegedly because he had been paying off early investors with funds from later clients.
At the time the firm was shut down, Lewis had 3,290 investors nationwide. Over the last 10 years, he has handled more than 5,200 accounts.
The FBI and Securities and Exchange Commission allege Lewis fabricated more than $730 million in interest payments. Even accounting for the fictitious funds, Lewis still should have $75 million more than investigators can find, the SEC said. A temporary receiver appointed to find more assets put the shortfall at $100 million.
In an affidavit, the FBI alleged that Lewis also diverted clients' investments to high-risk trading in foreign currency and to purchase luxury items. The FBI seized an October 2001 letter showing Lewis lost $6.5 million from one of several trading accounts.
The FBI has seized five automobiles, including two Mercedes and a BMW, and is attempting to seize other property.
"Barring anything unforeseen, he will be on his way back to California," Doguim said.

Thanks for reading CBS NEWS.
Create your free account or log in
for more features.