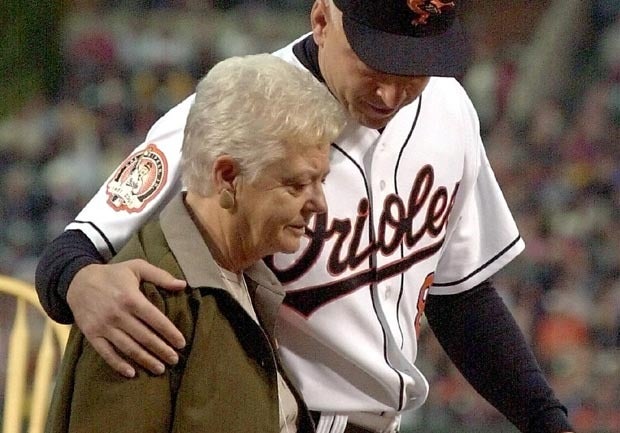 Cal Ripken's mom has brush with gunman
BALTIMORE A man with a handgun approached baseball great Cal Ripken's mother in a bank parking lot in Maryland on Tuesday and demanded her car, but she activated a key alarm and he left, police said.

Aberdeen police spokesman Lt. Frederick Budnick said 75-year-old Vi Ripken wasn't hurt in the crime and officers have a suspect in custody.

Authorities say Ripken was in the parking lot of NBRS Bank in Aberdeen, about a town about 25 miles north of Baltimore. At about 3 p.m., a man with a handgun confronted her and said he wanted her car.

Budnick said Ripken activated a key alarm and he left. Police say she went into the bank to report what happened.

Police identified a suspect after viewing an ATM photo and searched the area, Budnick said. A suspect was taken into custody about 5:15 p.m. Budnick said charges are pending against the unidentified man.

On July 24, 2012, Ripken was taken from her Aberdeen home at gunpoint and returned unharmed 24 hours later. At that time, police released a sketch, photographs and a surveillance video that were believed to show a potential suspect.

In August of this year, Cal Ripken announced a $100,000 reward for information that helps lead to the capture and conviction of the person responsible for the abduction.

No one has been charged in that case.

Budnick said Tuesday night that the two crimes do not appear to be related.

Hall of Fame infielder Cal Ripken played in 2,632 consecutive games in a 21-year career with the Baltimore Orioles.
Thanks for reading CBS NEWS.
Create your free account or log in
for more features.