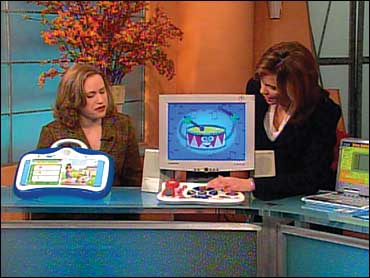 Buying Your Child's First Computer
This may be the year to put your child's first computer under the tree, and there are options out there for kids as young as 2 years old.
Diane Debrovner, an editor at Parents magazine, told The Early Show co-anchor Hannah Storm about some of the best computers for kids.
Children are seeing their parents using electronic devices and they want to act like adults, but Debrovner said that the kind of computer parents should buy for their children depends on their age and ability.
Here are some of her gift ideas:
Play & Learn Pocket Pilot: "It's simple with big, sturdy keys for 2-year-olds and 3-year-olds," she said. "It's fun and portable and a great price at $10." The big appeal for children is that the Pocket Pilot looks a lot like their parents' personal digital assistant or PDA.

The Pocket Pilot is available at Target.
LeapFrog LittleTouch LeapPad Learning System: "It's a comfortable laptop and it's an electronic book that brings stories to life," Debrovner said. "Kids touch the pictures and it tells a story about shapes and colors and letters, and there are different cartridges available."

She said the LittleTouch LeapPad is available at Toys 'R' Us and online retailers and costs around $35.
Comfy EasyPC Play and Learn Keyboard: This device plugs right into the USB port of any computer and is a personal keyboard for children to use.

It costs about $80 and is available at Faoschwarz.com
Vtech Nitro Notebook: "This is for an older group, the 4-year-olds, or 5-year-olds that are stepping up," she said. It costs about $50 and looks like a real laptop. Debrovner said the keys are big and easy for children to use, and the keyboard also has more than 80 educational games that come on CDs.

The notebook is available at Toysrus.com.
Oregon Scientific's Superman Laptop Advance & Barbie B-Book: Both laptops cost about $60, come in boy and girl versions, and can play 30 games in Spanish and 30 games in English. "It teaches spelling, phonics, music, management, memory and it's got a nice handle, great for traveling in the car," Debrover said.

She said the laptops, which are available at Toysrus.com, are good for children ages 4 through 8.
LeapFrog Leapster Learning Game System: This Gameboy-style PDA has great graphics and uses buttons and a stylus. Debrovner said it teaches older children skills such as math and phonics. It comes with game cartridges and costs about $60.

For more information, visit Parents magazine's Web site.
Thanks for reading CBS NEWS.
Create your free account or log in
for more features.