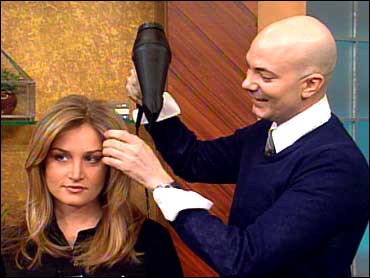 Buying The Right Hair Dryer
If you've ever gone to the store in search of the perfect hair dryer, you may have found yourself overwhelmed by all the styles, shapes and sizes that line the shelves.
So The Early Show's stylist to the stars, David Evangelista,
Evangelista says the first step is to become familiar with the different types of hair dryers so you can avoid buying something more elaborate and expensive than you need.
A few general ground rules:
Dryers with wattages above 1800 watts tend to work best (though there are exceptions, as you'll see below)

Look for a dryer with multiple heat/speed settings (4-6 is pretty standard these days), and for a cool shot button to lock hair in place after it's been heat styled

Make sure your dryer comes with a nozzle attachment, which will concentrate the air as you blow dry

If you have curly hair, make sure you find a dryer that comes with a diffuser, or make sure that you can get a diffuser that fits your dryer.

PRICES

There is a wide range of prices for new hair dryers and, while choosing a dryer because it is dirt cheap is never a good option, you can cut your costs by choosing one that has only the options that you will really use.
Inexpensive hair dryers ($5 to $20) can be found in almost any store. But while they may not be inexpensive when you first purchase them, they can cost you a great deal when it comes to hair damage.

Since most inexpensive hair dryers only come equipped with one temperature setting, you can literally blast your tresses to death with the unchecked heat from one of these models. The inexpensive dryers are best for people who rarely use them. They're also OK if your hair is extremely short or if you only use a hair dryer briefly to set your gel.

The danger in the cheaper models is that they can scorch your hair or, because they often don't have fan cages, your hair can get pulled into the fan.
Moderately expensive hair dryers ($20 to $80) come equipped with most of the settings that you will need for daily use. Most feature multiple temperature settings and a cool blast button for drying brittle hair or for setting curl. Most people with "normal" hair can do well with these dryers — and the good news is that they're becoming more sophisticated and developing some of the features more expensive models, like ionic and ceramic, already offer.
Professional hair dryers ($80 to $100-plus) can be purchased at a beauty supply store, a salon or through a professional catalogue. While these hair dryers are geared toward repeated use by professionals, they can be beneficial at home if you are willing to pay the price.

Many of these professional dryers are quiet and feature new drying technologies such as ionic and ceramic energy to cut your hair drying time in half. They infuse moisture and only cause minimal damage to the hair cuticle. They'll usually last you a lot longer than the moderately expensive dryer. Their motors are far more powerful and well-built than the moderately expensive dryers, and with the technology they use, there's less chance of blowing out the dryer completely.

The more expensive models are also better for women who straighten their hair on a regular basis. They have far more horsepower than their commercial counterparts, and will withstand prolonged high heat better than the less expensive models.

Once you choose your price point, the next step is to narrow down the different models. To do so, look for some of the bells and whistles that could be highly beneficial to your type of hair.

IONIC DRYERS

Ions are hot these days in the world of hair dryers. They are charged particles, each of which contains either a positive or negative charge.

Positive charges, from the common blow dryer, cause the cuticle covering of the hair shaft to open, causing the frizzies and a dull appearance.


Ionic hair dryers produce negatively charged ions, ostensibly causing the cuticle to remain flat, "trapping" moisture, thus eliminating the frizzies and giving hair more body. Plus, they promise to dry hair faster than regular dryers and leave it shinier and smoother. Ionic dryers are also supposed to banish the static electricity that results in a flyaway mess of hair.

These are good for everyone, especially if you have normal hair that doesn't need a tremendous amount of styling help.
Vidal Sassoon Ionic Sensor Touch 1875w ($30): Turns on when picked up, turns off when put down, and provides 8 heat/speed combinations plus a cool touch button
Solano Top Power Ion 1875w ($149): Has two speeds, five temperature settings, emits more than 2,100,000 ions per cubed centimeter each minute.

CERAMIC DRYERS

Stylists have become fans of ceramic brushes during the past several years because they style hair quickly without damaging the outer layer of the hair cuticle. Dryer manufacturers are now incorporating ceramic into their dryers, which yields many positive results.

Conventional dryers have a standard rope heater that heats the perimeter of the airflow. The addition of a ceramic heater provides even heat distribution to help prevent hot spots and hair damage when styling.

The ceramic heater is self-regulating and turns itself down as it senses the surrounding temperature. Because ceramic dryers are self-regulating, many don't come with multiple temperature controls, usually just low and high. Ceramic dryers are also said to reduce bacteria formation, resulting in a healthier scalp. They also prepare hair to resist the effects of weather conditions, help create lustrous hair that feels freshly conditioned and produce a high-heat drying effect at a lower temperature than your conventional dryer.

Pure ceramic dryers are great for women who need a little more power from their dryer than those with "normal" hair.
Chi Turbo Driver ($200): Evangelista says this one can't be beat for people who straighten their wavy hair. It uses the highest grade of ceramic coils, is the only dryer on the market with a low electromagnetic field — something to consider about an object that you're pointing at your head every day — and runs on only 1500 watts of power with all the drying benefits of a higher-speed, higher-powered dryer
Twinturbo Ceramic Ionic 3200 ($199): The combined effect of ceramics and negative ions radiates heat inside the hair shaft without drying it out. This dryer has four temperature settings plus instant cold air, two speed settings and an anti-overheating device.
Conair Ceramic Smooth ($30): Has a conventional heater and an additional ceramic heater and, despite its small size, runs at 1875 watts. It's great for travel because it folds up and runs on dual voltage.

TOURMALINE DRYERS

Several dryers are using ground tourmaline in their heating mechanisms, which boosts the ionic power of the dryer and slashes drying time and static. Some companies, such as T3, claim drying time is 70 percent faster with the tourmaline dryers.

Tourmaline-infused dryers, like those from BaByliss and T-3 Tourmaline, will cost you a bit more money than their plain-ionic counterparts, but there are bargains to be found. Conair's Infiniti Tourmaline Ionic Styler is among the less expensive models and very accessible. And some actually combine ceramic and tourmaline technologies for even faster drying time.

These are wonderful for women who put their dryers through the ringer. Steady, heavy-duty usage for straightening or blowing out hair is what these dryers were designed for.
T3 Tourmaline Hairdryer — 1800 watts ($200): Combines ionic super powers of Tourmaline, plus it uses infrared heat, which is said to help dry hair from the inside of the cuticle out, thus not frying the outer layer of the cuticle
BaByliss Pro 5000 — 1900 watts ($150): Has 6 speed/heat settings, plus a finishing cool-shot button
Infiniti by Conair Tourmaline Ionic Styler — 1875 watts ($40): Also uses full-spectrum infrared heat, and combines tourmaline and ceramic technologies for speedier drying

As with all thermal styling tools, hair dryers cause damage to the hair shaft. Incorrect or repeated, high-temperature use of a hair dryer can leave your hair looking dull and frizzy.

Evangelista recommends using a medium-sized barrel brush and pulling the hair taut from roots to ends. As you move the brush down the hair cuticle, follow it with the nozzle of the dryer with the nozzle pointing down. Pointing the nozzle up the cuticle will disrupt it and make it look frizzy.

For extra lift, with hair wrapped around the brush, blast the underside of the roots before blowing out each section. Continue to dry all the way around your head in the same fashion and just be a little patient.

Thanks for reading CBS NEWS.
Create your free account or log in
for more features.