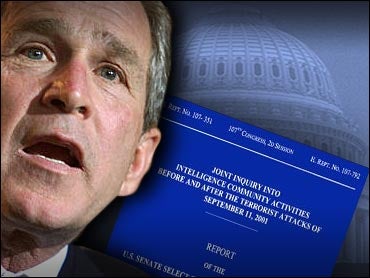 Bush Won't Reveal Saudi 9/11 Info
President Bush refused on Tuesday to release a congressional report alleging possible links between Saudi Arabian officials and the Sept. 11 hijackers. The White House sought to question a Saudi citizen who befriended two of the hijackers.
Bush said he could not comply with a request by the Saudi foreign minister for a chance to clear the Arab kingdom's name because publication of the report could hurt U.S. intelligence operations.
The foreign minister, Saud al-Faisal, said he was disappointed but understood.
The information is widely believed to center on Saudi Arabia, birthplace of Osama bin Laden and 15 of the 19 hijackers. Saudi Arabia has vehemently denied supporting the hijackers.
Sources tell CBS the redacted section lays out a money trail between Saudi Arabia and supporters of al Qaeda, reports CBS White House Chief Correspondent John Roberts.
Among others, it singles out Omar al-Bayoumi, who gave financial assistance to 9-11 hijackers Nawaf al-Hazmi and Khalid al-Midhar.
The FBI charges al-Bayoumi, an official of the Saudi civil aviation authority, never lacked for money and is believed to have received funds from a charitable trust run by the wife of the Saudi Ambassador to the U.S. The Saudis, for all their protestations of cooperating in the war on terror, still refuse to allow the FBI access to al-Bayoumi.
Saudi Arabian Foreign Minister Saud al-Faisal called suggestions of such links "an outrage to any sense of fairness" and said his country had been "wrongfully and morbidly accused of complicity in the attacks."
"Twenty-eight blank pages are now considered substantial evidence to proclaim the guilt of a country that has been a true friend and partner of the United States for over 60 years," the foreign minister said.
After the White House meeting, Saud spoke for about an hour with national security adviser Condoleezza Rice. He said later she told him U.S. authorities want to question Bayoumi.
Saud said he replied that FBI and CIA agents in Saudi Arabia could freely question Bayoumi, who was questioned already by American, British and Saudi investigators. They found "no proof" of a connection to the terror attacks, Saud told reporters at the Saudi Embassy.
The Saudis have complained that they cannot respond to a report they cannot see. But Bush made plain he has no intention of declassifying the material.
"I absolutely have no qualms at all because there's an ongoing investigation into the 9-11 attacks, and we don't want to compromise that investigation," Mr. Bush said at an earlier news conference with Israeli Prime Minister Ariel Sharon in the Rose Garden.
"If people are being investigated, it doesn't make sense for us to let them know who they are," Mr. Bush told reporters before meeting with al-Faisal.
Moreover, Mr. Bush said, "declassification of that part of a 900-page document would reveal sources and methods that would make it harder for us to win the war on terror. ... It would help the enemy if they knew our sources and methods."
The decision came against a background of controversy over whether officials in Saudi Arabia had connections with the terrorists.
Earlier, citing the Saudi ambassador's claim that his country has "nothing to hide," Sen. Bob Graham called on Mr. Bush to release the report.
Doing so "will permit the Saudi government to deal with any questions which may be raised in the currently censored pages, and allow the American people to make their own judgment about who are our true friends and allies in the war on terrorism," Graham, D-Fla., said in a letter to Mr. Bush. Graham, who co-chaired the inquiry, is a Democratic presidential candidate.
After the report was released last Thursday, Saudi Ambassador Prince Bandar bin Sultan issued a statement saying that "28 blanked-out pages are being used by some to malign our country and our people."
"Saudi Arabia has nothing to hide. We can deal with questions in public, but we cannot respond to blank pages," he said.
Citing those comments, Graham said Bandar "has joined in asking that the pages be declassified."
House and Senate members released the full, 850-page report finding a series of errors and miscommunications kept U.S. authorities from pursuing clues before the attacks. The 28-page section dealing with "sensitive national security matters" was almost entirely redacted.

Thanks for reading CBS NEWS.
Create your free account or log in
for more features.