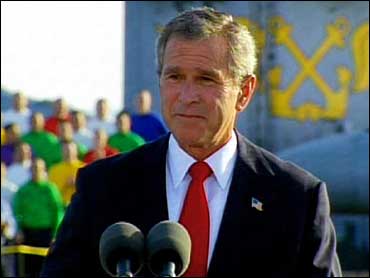 Bush: 'The Tyrant Has Fallen'
Amid cheers from the 5,000-member crew of the aircraft carrier USS Abraham Lincoln, President Bush declared the battle of Iraq had ended in victory. "Because of you, the tyrant has fallen, and Iraq is free," he told the military.
In a nationally televised address, Mr. Bush sought to cast the conflict in Iraq as one aspect of a broader war on terror. He said Saddam Hussein's defeat "is one victory in a war on terror" that still goes on.
"Major combat operations in Iraq have ended," Mr. Bush said from the deck of the carrier, which has sent thousands of jets into war. "In the battle of Iraq, the United States and our allies have prevailed."
Earlier, Mr. Bush flew to the carrier on a Navy jet and made a screeching stop as his plane was snagged by a cable stretched across the deck. He changed out of his flight suit to address thousands of cheering Navy personnel dressed in yellow, green and power blue crew shirts and crowded aboard the sun-dappled deck to hear their commander in chief.
"The liberation of Iraq is a crucial advance in the campaign against terror," the president said. "We have removed an ally of al-Qaida and cut off a source of terrorist funding. And this much is certain: No terrorist network will gain weapons of mass destruction from the Iraqi regime because that regime is no more."
Mr. Bush sought to give the nation a closure to the fighting while avoiding a sweeping claim of overall victory. He said much still needed to be done, including bringing order to the country, finding weapons of mass destruction, creating a democratic government and pursuing leaders of the fallen regime, including Saddam.
"The battle of Iraq is one victory in a war on terror that began on Sept. 11, 2001, and still goes on," he said.
"Our mission continues. Al Qaeda is wounded, not destroyed. The scattered cells of the terrorist network still operate in many nations, and we know from daily intelligence that they continue to plot against free people. The proliferation of deadly weapons remains a serious danger. The enemies of freedom are not idle, and neither are we."
Mr. Bush stopped short of declaring victory or an end to the war. Such declarations could trigger international laws requiring the speedy release of prisoners of war, limiting efforts to go after deposed Iraqi leaders and designating the United States as an occupying power.
With the shores of California in sight, Mr. Bush also said dangerous work also remains in Afghanistan. Hours earlier, Defense Secretary Donald H. Rumsfeld said major combat had ended in that country, where U.S. troops had routed the Taliban months ago.
"In the battle of Afghanistan, we destroyed the Taliban, many terrorists, and the camps where they trained," he said. "We continue to help the Afghan people lay roads, restore hospitals and educate all of their children. Yet we also have dangerous work to complete."
"And as I speak, a special operations task force, led by the 82nd Airborne, is on the trail of terrorists, and those who seek to undermine the free government of Afghanistan. America and our coalition will finish what we began," he said.
The focus on his speech was Iraq.
"We are helping to rebuild Iraq, where the dictator built palaces for himself instead of hospitals and schools for the people. The transition from dictatorship to democracy will take time, but it is worth every effort."
The image the president sought to present, with the splendor of the Lincoln all around him, was that of a commander in chief, fully in charge – an image the White House hopes will be etched in voters minds as Mr. Bush turns his sights on domestic concerns
Mr. Bush was ferried to the ship, still hundreds of miles off the California coast, by a Navy S-3B Viking, a small four-seat plane used for surveillance missions. The aircraft was dubbed Navy One because of its presidential passenger.
After touching down, Mr. Bush, dressed in a green flight suit, plunged into a crowd of service members aboard the ship, which is headed home from the Iraq war.
"Yes, I flew it!" said the president, who was apparently given a chance at the controls. "Of course I liked it!"
Mr. Bush lingered on deck, shook hands and posed for photos. He pointed a thumb toward the pilots in a tribute to "these heroes."
CBS News Correspondent Cynthia Bowers reports the president chose to fly in on a Navy jet because he wanted to experience landing on a carrier's short deck and the adrenaline rush that comes with it.
"He was like catching his breath," said Petty Officer 3rd Class Winston Banton. "He had to pause for a second then."
The president had wanted to fly in on one of the sexier fighter jets but that idea was grounded by the Secret Service. Instead, he flew in on a larger four-seat jet. But nonetheless, it was a picture perfect shot for the White House.
On the landing, a tailhook on the back of the plane caught the last of four steel arresting cables stretched across the moving carrier. The cables stop the aircraft within 350 feet, subjecting passengers to twice the force of gravity, or two G's.
Military historians said they thought it was the first time a president had landed on an aircraft carrier in such a way.
The USS Abraham Lincoln has been deployed for more than nine months. Its aircraft, including the S-3B Vikings, have flown more than 16,500 sorties and have made 12,700 takeoffs and landings without incident, said Navy spokesman Lt. Cmdr. Danny Hernandez. The S-3Bs find and attack ships and submarines and are sent on surveillance and refueling missions.
Thanks for reading CBS NEWS.
Create your free account or log in
for more features.