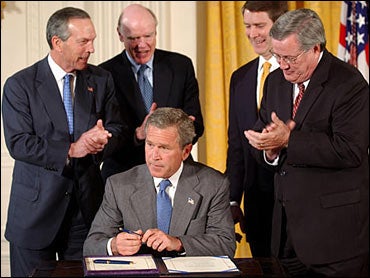 Bush Signs Tax Cuts Into Law
The president once ridiculed the tax bill he signed Wednesday as "a little-bitty tax cut" -- today, he hailed it as fuel for an economic recovery.
"By ensuring that Americans have more to spend, to save and to invest, this legislation is adding fuel to an economic recovery," Mr. Bush said. "We have taken aggressive action to strengthen the foundation of our economy so that every American who wants to work will be able to find a job."
But unless future congresses are willing to yank back benefits like the $1000 per child tax credit, the little bitty tax cut will actually cost not $350 billion, but close to a trillion dollars over the next ten years, reports CBS News White House Correspondent Bill Plante.
That's because in order to hold the cost of the cuts at $350 billion and make it sound reasonable, lawmakers had to get creative. So they made almost every one of the cuts expire over the next few years.
The 10-year legislation, which Mr. Bush signed with considerable fanfare at a White House ceremony, will within weeks start speeding refunds to parents and fattening paychecks and investor earnings.
The Internal Revenue Service is posting new withholding tax tables so employers can start leaving more money in workers' paychecks starting next month; child tax credits checks of up to $400 per child will begin arriving in the mailboxes of 25 million eligible families in July, the president noted.
The bill-signing in the East Room was for the third-largest tax cut in the nation's history. It came hours after Mr. Bush quietly signed a bill extending unemployment benefits by 13 weeks to laid-off workers who have used up their 26 weeks of regular state benefits, reports CBS News Correspondent Mark Knoller.
Unlike the tax cut, Mr. Bush signed the unemployment bill without fanfare. The White House announced it in a one-sentence statement.
It's the third such extension enacted into law and reflects the growing unemployment rate, now at an eight-year high of six percent. The extended benefit provides the unemployed with about $260 a week.
Wednesday's tax cut event also comes a day after Mr. Bush -- with no comment or ceremony -- signed a bill allowing the federal government to borrow as much as $7.4 trillion.
The $984 billion increase in the federal debt limit, which the White House announced in a 20-word statement from the press secretary, is the largest on record. It will help pay for the new tax cuts that the GOP-run Congress passed on close votes at Bush's behest.
Mr. Bush said the tax legislation will provide relief to 136 million American taxpayers.
"We are helping workers who need more take-home pay," he said. "We are helping seniors who rely on dividends. We are helping small business owners looking to grow and create more jobs. We are helping families with children who will receive immediate relief."
Democrats have sought to draw attention to the federal IOUs that have resumed piling up under Mr. Bush, and which are projected to balloon further with the new tax cuts.
After running annual surpluses during the last four years of the Clinton administration, huge federal deficits have returned with no end in sight. This year's is expected to exceed $300 billion -- a record in dollars, albeit not as a percentage of the national economy.
Senate Majority Leader Bill Frist countered that spending the money now will create a healthy economy that will help the nation eliminate shortfalls later on.
"I don't like the fact that we are having to borrow money today," Frist, R-Tenn., said on PBS. "But ... by giving individuals more money to spend and also creating more jobs in the economy, we will be able to grow that economy, which over time will make that deficit disappear."
Democrats also have criticized the package as a giveaway to the wealthy, stressing its cuts on taxes on capital gains and corporate dividends rather than its lower income tax rates and increases in the federal child credit. Frist dismissed that emphasis as "the old, worn-out, tired, class warfare issue."
As Mr. Bush traveled widely to sell his package, he portrayed the ailing economy as something he inherited, taking care to mention that the recession took place in 2001's first three quarters -- the beginning of his presidency. That period of negative growth was then exacerbated by that fall's terrorist attacks and corporate corruption scandals, he often said.
The intent was to place the problems' creation outside the president's control, while positioning him to gain credit for trying to fix them.
But after a $1.35 trillion tax cut in 2001, a $96 billion stimulus last fall and the new $350 billion package, it is widely agreed that Mr. Bush now has ownership of the economy for better or for worse.
Democrats hope the economy will help them score politically. They repeatedly highlight the job losses over Mr. Bush's term -- 2.7 million private sector jobs. White House press secretary Ari Fleischer said Tuesday the new measure would create "more than one million jobs," but even that figure would amount to a net loss without other developments.
The bill accelerates several income tax cuts previously scheduled to take effect later in the decade, including rate cuts and the federal child credit; lowers taxes on many married couples; eases levies on investors; and allows bigger write-offs for small businesses.
Mr. Bush first forwarded his tax-cutting blueprint in January -- a $726 billion tax cut that exposed divisions among Republicans and drew skepticism from Federal Reserve Chairman Alan Greenspan.
The GOP-controlled Congress then scaled it back, with the House setting a $550 billion maximum and the Senate backing no more than $350 billion.
With three tax cuts in three years, President Bush has now put his personal stamp on economic policy -- reducing the size of government and attempting to stimulate the economy. If it doesn't respond before next year's election, he may find it hard to blame anyone else.
Thanks for reading CBS NEWS.
Create your free account or log in
for more features.