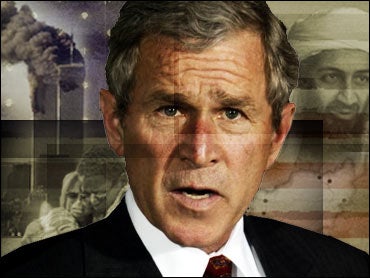 Bush Opposes 9/11 Query Panel
President Bush took a few minutes during his trip to Europe Thursday to voice his opposition to establishing a special commission to probe how the government dealt with terror warnings before Sept. 11.
Mr. Bush said the matter should be dealt with by congressional intelligence committees.
CBS News Correspondent Bill Plante reports that Mr. Bush said the investigation should be confined to Congress because it deals with sensitive information that could reveal sources and methods of intelligence. Therefore, he said, the congressional investigation is "the best place" to probe the events leading up to the terrorist attacks.
"I have great confidence in our FBI and CIA," the President said in Berlin, adding that he feels the agencies are already improving their information sharing practices.
Mr. Bush's comments come after a two-day hearing on Capitol Hill with FBI director Robert Mueller and the agent who wrote the so-called "Phoenix memo" last summer warning about that Arab students training at U.S. aviation schools were linked to a militant Muslim group.
The agent, Ken Williams, was concerned by the flight students' affiliation with Sheik Omar Bakri Mohammed's group because the sheik had been involved with a fatwa — an Islamic call to action — that suggested airports as one of several legitimate attack targets in the United States, officials told The Associated Press.
In addition, Williams' memo had identified another Muslim figure in Arizona — who was not training at aviation schools but was linked through phone communications to one of bin Laden's top lieutenants, Abu Zubaydah, the officials said, speaking only on condition of anonymity.
The agent spent extensive time trying to link that man to one of the students, but never succeeded, officials said.
The officials declined to further describe the communications or the man who contacted Abu Zubaydah, citing concerns about protecting intelligence-gathering methods.
Abu Zubaydah is believed to be bin Laden's operational chief, who ran al-Qaida's terrorist training camps and is suspected of helping organize the Sept. 11 hijackings, U.S. officials have said previously.
Abu Zubaydah was captured by the FBI and Pakistani officials during a raid in March and remains in U.S. custody. During interrogations, Abu Zubaydah has alleged several threats against U.S. targets that have prompted protective warnings, officials say.
Current and former government officials, who are familiar with Williams' memo and debriefings, told the AP the counterterrorism agent from Phoenix had ascertained that several Arab students training at Arizona flight school held anti-American views.
And through an interview with one of the students and other intelligence, Williams linked several of the Middle Easterners to the Al-Muhajiroun, an Islamic extremist group in London, the officials said.
Bakri, the group's leader also known as Omar Bakri Fostok, has been connected by U.S. and British intelligence to bin Laden and has openly supported bin Laden's calls for jihad, or holy war, against the United States, the officials said.
Williams' memo mentioned one fatwa involving Bakri that identified several possible targets, including airports, the officials said.
Not mentioned in Williams' memo were several other links between the London sheik, who is of Syrian descent, and bin Laden.
Bakri was one of several Muslim leaders to receive a letter faxed from Afghanistan in the summer of 1998 from bin Laden that laid out four objectives for a jihad against the United States, including downing airliners.
"Bring down their airliners. Prevent the safe passage of their ships. Occupy their embassies. Force the closure of their companies and banks," the bin Laden letter to Bakri read.
Bakri also is quoted as calling himself "the mouth, eyes and ears" of bin Laden and his group recruits young Muslims to participate in a jihad across the globe.
Shortly after the USS Cole bombing in Yemen in October 2000, Bakri received an international call claiming responsibility for the attack on the American ship from "Muhammad's Army," an extremist group previously known to be active only in the Russian regions of Chechnya and Dagestan. U.S. officials believe bin Laden was behind that attack as well.
Bakri has issued other fatwas against British leaders and Pakistani President Pervez Musharraf — some since Sept. 11, officials said.
The sources' description of Williams' evidence provides the most extensive disclosure to date of what prompted the veteran counterterrorism agent from Phoenix to send an electronic communication to FBI headquarters in Washington asking that the FBI canvass all U.S. flight schools to identify other Middle Eastern students who might be training.
He also asked that a system be set up to allow federal immigration officials to warn local FBI offices when new students came to train at aviation schools. The FBI had not acted on his suggestions before Sept. 11.
Williams identified several Arab students at Arizona aviation schools, including one school in Prescott, who were seeking training in aviation engineering, flight lessons and airport operations. He had ascertained that at least one of the students had also made inquiries about airport security operations, the officials said.
Williams' July 10 memo — which he marked "routine," indicating there was no imminent threat — was sent to about 10 officials who worked in the Radical Fundamentalist Unit, the research unit and the bin Laden desk in FBI headquarters in Washington and for the anti-terrorism squad at the FBI's office in New York, officials said.
Williams has told congressional investigators he subsequently received a message from headquarters indicating terrorism experts were evaluating his intelligence and his request for a canvass of all U.S. flight schools and that it might be referred to the FBI's office in Portland, Ore., officials said.
Sen. Richard Shelby, R-Ala., vice chairman of the Senate Intelligence Committee, called the memo "highly embarrassing to the bureau" and called for its public release after a briefing Wednesday from FBI Director Robert Mueller and Williams.
He said the FBI agents in Arizona, as well as those investigating Zacarias Moussaoui in Minnesota, had sniffed out aspects of the plot — "they were on the ball" — but their warnings went unheard by higher headquarters.
"I'm not satisfied with the response by the FBI today, or their performance," Shelby said.
Another member of the intelligence committee, Sen. Arlen Specter, R-Penn., agreed, telling CBS News it was hard to understand why no action was taken on the memo.
As the political battle waged on over what information the government had before Sept. 11, Vice President Dick Cheney denied Wednesday that a flurry of public terror warnings was prompted by criticism over how the Bush administration handled pre-Sept. 11 warnings of an attack.
Cheney said "irresponsible" comments by Democrats did not influence the administration's warnings to the public this week.
"The fact is there is reason to believe that the threat level has increased somewhat," Cheney said on CNN's "Larry King Live."
"We see more noise in the system, more reporting that leads us to be cautious here," Cheney said. "We haven't changed our practices at all in terms of when we decide to go public and caution people."
Authorities continued to tighten security Thursday around New York City landmarks after the FBI disclosed uncorroborated information from detainees that sites such as the Statue of Liberty and Brooklyn Bridge might be attacked.
A celebration marking the 119th birthday of the Brooklyn Bridge was canceled Thursday because of the recent warnings of a potential attack against the city landmark.

Thanks for reading CBS NEWS.
Create your free account or log in
for more features.