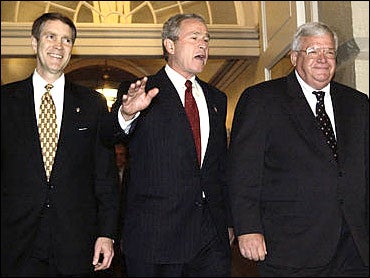 Bush Holds GOP Pep Rally On Iraq
President Bush sought to rally Republican lawmakers around his Iraq plan Thursday, saying Iraqis are ready to "take the training wheels off" by assuming some political power.
He warned that violence is likely to worsen as that transfer approaches, and after it passes.
The president made the rare visit to Capitol Hill as lawmakers prepare to head to their home states for the Memorial Day holiday at the end of the month.
The presidential pep rally of sorts came as a small but growing number of Republicans are expressing doubts about the policy in Iraq, reports CBS News Correspondent Bob Fuss.
"This has been a rough couple of months for the president, particularly on the issues of Iraq, and I think he was here to remind folks that we do have a policy and this policy is going to be tough," said Sen. Rick Santorum. "Things, as I think he commented, are very likely to get worse before they get better."
Several members of Congress said Mr. Bush expressed his determination to stick to a June 30 date for handing partial governing authority to Iraqis.
"He talked about 'time to take the training wheels off,'" said Rep. Deborah Pryce. "The Iraqi people have been in training, and now it's time for them to take the bike and go forward."
It was the second year in a row that Mr. Bush met privately with his fellow Republicans just ahead of the congressional break. The stakes were especially high this year: Mr. Bush and most lawmakers face re-election in November, and Iraq is still plagued by chaos and violence six weeks before the handover.
Several Republican lawmakers who attended the meeting said Mr. Bush told his audience to brace for more violence after June 30 and he predicted insurgents would try to disrupt subsequent elections.
The lawmakers, who spoke on condition of anonymity, said Mr. Bush sought to reassure them that despite his sagging poll numbers, he is eager for the re-election fight. They said the president defended his record on the economy, education and health care, all of which are targets for Democratic attacks.
Some in Congress, including Republicans, have criticized the Bush administration for not keeping Congress abreast of the cost of the Iraq war and reconstruction, the abuse of Iraqi detainees and the transfer of power.
House Democratic leader Nancy Pelosi declared that Mr. Bush's Iraq policies show incompetence and the only conclusion to draw is that "the emperor has no clothes."
"I believe that the president's leadership and the actions taken in Iraq demonstrate an incompetence in terms of knowledge, judgment and experience," the California Democrat said at a news conference.
On Wednesday, Gen. John Abizaid predicted that the violence likely would continue and perhaps get worse in the second half of the year.
"It could very well be more violent than we are seeing today, so it's possible that we might need more forces," Abizaid told the Senate Armed Services Committee. He said he hoped more countries would contribute troops.
There now are about 155,000 coalition troops in Iraq, of which about 135,000 are American.
The Army is struggling to find enough forces to maintain the 135,000 level. If Abizaid decides more are needed, the strain would be enormous.
On Monday, Mr. Bush visits the Army War College at Carlisle Barracks, Pennsylvania, to give the first in a series of speeches laying out the details of the handover of political power, a senior administration official said.
Secretary of State Colin Powell said Thursday he is confident that the United States can win approval of a U.N. resolution that will endorse the interim government being assembled by U.N. envoy Lakhdar Brahimi.
Powell said a Security Council endorsement will bring legitimacy to that government.
"We have a lot of work to do in the next 42 days" before the transfer, Powell told diplomats whose countries are part of the U.S.-led coalition in Iraq. "We have to put in place an Iraqi government," the secretary said at a daylong conference to discuss the next steps in Iraq.
The U.S. and other key Security Council nations have agreed that an arrangement must be made for Iraq's interim government to consult regularly with the U.S.-led force that will remain in Iraq the June 30 transfer of power.
But exactly what the arrangement will entail remains a subject of debate.
Pakistan's U.N. Ambassador Munir Akram, the current council president, said one idea being discussed is to create a committee that would include representatives from the Iraqi government and the multinational force.
"The actual security policy would be coordinated through such a mechanism," he said.
Last week, France told U.N. diplomats it wants the interim government to control the Iraqi police and the national army and have the right to decide whether Iraqi soldiers go into combat.
Thanks for reading CBS NEWS.
Create your free account or log in
for more features.