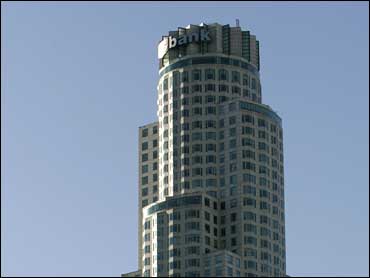 Bush Gives New Details On Terror Plot
More than three years after a terrorist plot to attack the West Coast was foiled, President Bush offered details of the plan and how it was stopped.
"We now know in October 2001, Khalid Sheik Mohammed, the mastermind of the 9/11 attacks, had already set in motion a plan to have terrorist operatives hijack an airplane using shoe bombs to breach the cockpit door," Mr. Bush said Thursday.
And just like the World Trade Center attack, the West Coast plot would have used hijacked commercial airliners to strike a building, this time the tallest building in Los Angeles, then known as Library Tower, and now called U.S. Bank Tower.
Rather than use Arab hijackers as he had on Sept. 11, Mohammad sought out young men from southeast Asia, whom he believed would not arouse as much suspicion. The president said this plot was broken up by intelligence from a southeast Asian nation he wouldn't identify, CBS News correspondent Jim Axelrod reports.
But Los Angeles Mayor Antonio Villaraigosa said he was blindsided by Mr. Bush's Thursday announcement of new details on the purported hijacking plot. He described communication with the White House as "nonexistent."
"I'm amazed that the president would make this (announcement) on national TV and not inform us of these details through the appropriate channels," the mayor told The Associated Press. "I don't expect a call from the president — but somebody."
Sen. Dianne Feinstein, D-Calif., said rumors of those attacks in Los Angeles had been known to officials for some time.
"What he spoke about was, what was a rumored second wave attack which would include attacks on the West Coast."
In his remarks, Mr. Bush inadvertently referred to the site as "Liberty Tower," and immediately afterward, the White House corrected him.
"The plot was foiled in early 2002 when a Southeast Asian nation arrested a key al Qaeda operative," Mr. Bush said in a speech at the National Guard Memorial Building.
Mr. Bush credited multinational cooperation with heading off the attack.
"It took the combined efforts of several countries to break up this plot," the president said. "By working together, we took dangerous terrorists off the streets. By working together, we stopped a catastrophic attack on our homeland."
CBS News correspondent Jim Stewart reports that Osama bin Laden had personally set aside $50,000 of his dwindling fortune to bankroll the attack, and one of the men recruited to carry it out was already a professionally trained pilot.
Still, whether this was a plot close to fruition or just a bin Laden pipe dream isn't clear, Stewart reports.

Mr. Bush said the terrorists "are weakened and fractured, yet they're still lethal. We cannot let the fact that America hasn't been attacked in 4 1/2 years since September the 11th lull us into the illusion that the threats to our nation have disappeared. They have not."
The president has referred to the 2002 plot before. In an address last October, he said the United States and its allies had foiled at least 10 serious plots by al Qaeda in the last four years, including plans for Sept. 11-like attacks on both U.S. coasts.
The White House initially would not give details of the plots but later released a fact sheet with a brief, and vague, description of each.
"I go to work every day knowing that we are a target," Villaraigosa said.
The mayor said homeland security needs better funding, including for the protection of high-risk targets in Los Angeles. He said some funding could be redirected from the war in Iraq, but he did not advocate an immediate withdrawal of troops.
The president said one of Mohammed's key planners was Hambali, the alleged operations chief of the al Qaeda-related terrorist group Jemaah Islamiyah. Instead of recruiting Arab hijackers, Hambali found Southeast Asian men who would be less likely to arouse suspicion and who were sent to meet with Osama bin Laden, Mr. Bush said.
The president outlined the foiled attack on the same day his administration, facing growing pressure, gave Congress more details on his controversial domestic eavesdropping program.
Axelrod reports that the White House won't go anywhere near the question of whether eavesdropping — the controversy consuming Washington — had anything to do with foiling the West Coast bomb plot. And CBS News couldn't find a single official who would say there was any connection.
Mr. Bush said only that "subsequent debriefings and other intelligence operations" after the arrest of the unnamed operative led to information about the plot, and to the capture of other ringleaders and operatives involved in it. Hambali, for instance, was captured in Thailand in 2003 and handed over to the United States.
Mr. Bush's speech in October cited two other attacks inside the United States that were foiled, including one to use hijacked planes to attack the East Coast in mid-2003.
The third was the case of Jose Padilla, a former Chicago gang member who converted to Islam and allegedly plotted with top al Qaeda commanders to detonate a radioactive "dirty bomb" in a U.S. city. Padilla, whose plot never materialized, now is being held without bail in civilian custody on charges that he was part of a secret network that supported Muslim terrorists.
He was arrested in May 2002 and had been held as an enemy combatant without criminal charge at a Navy brig in South Carolina until last month.

Thanks for reading CBS NEWS.
Create your free account or log in
for more features.