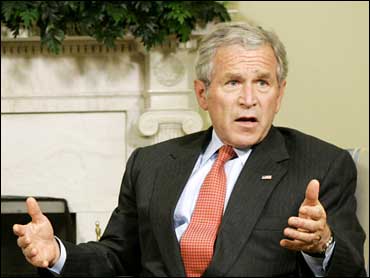 Bush Defends U.S. Missile System In Europe
President George W. Bush defended his plan to build a missile defense system in Russia's backyard, even though it has sparked fresh tensions in the badly-frayed Washington-Moscow relationship.
Mr. Bush suggested that Russian President Vladimir Putin needs to get over it. Russia has reacted to the new system by unleashing several rounds of harsh rhetoric against the United States and by announcing missile tests.
"The Cold War is over," Mr. Bush told foreign reporters in an interview on Thursday that previewed an eight-day trip to Europe next week. "We're now into the 21st century, where we need to deal with the true threats, which are threats of radical extremists who will kill to advance an ideology, and the threats of proliferation."
Mr. Bush's trip, which begins Monday, will include meetings with Putin during and on the sidelines of a summit in Germany of leading industrialized nations. Hoping to smooth over relations, the president also this week invited Putin to come to the Bush family's summer compound on the Maine coast July 1-2, a month after the Group of Eight meeting.
Mr. Bush also is making stops before and after the summit that could infuriate further his Russian counterpart. Mr. Bush is visiting Poland and the Czech Republic, former Soviet satellite states that are now NATO members where the president wants to base segments of the missile defense system.
The president said part of the reason for his trip was "to allay people's fears" about the system. "He thinks it's aimed at him. It's not," Mr. Bush said, speaking of Putin.
Instead, Bush said, the system is meant to protect NATO allies against hostile regimes. "Russia is not hostile. Russia is a friend," he said.
Officials including Defense Secretary Robert Gates and Secretary of State Condoleezza Rice have insisted to Russian officials that the real target for the system is Iran and Western suspicions that its nuclear program is aimed at producing not energy but atomic bombs.
"I'm deeply concerned about Iran having a nuclear weapon that could fly toward Europe, or, for that matter, toward any other allies," Mr. Bush said. "And we don't want to ever have ourselves in a position where the world could become blackmailed. And, therefore, one way to deal with this issue is through a missile defense system."
The president voiced no regrets about sparking the fracas with Russia over his decision. "We think it's the right thing to do," he said.
Putin said Thursday that tests of new Russian missiles were a response to the planned deployment of U.S. missile defense installations and other forces in Europe.
In a clear reference to the United States, he harshly criticized "imperialism" in global affairs and warned that Russia will strengthen its military potential to maintain a global strategic balance.
"It wasn't us who initiated a new round of arms race," Putin said Thursday when asked about Russia's missile tests at a news conference after talks in the Kremlin with Greek President Karolos Papoulias.
Mr. Bush said in an interview Friday with BNT of Bulgaria that he wants to diffuse what he called "the latest flare-up" and is "working hard to .... prevent any escalation of rhetoric."
But he also said that he reserves the right to take Russia to task when needed and is "not afraid to do so."

A case in point is another recent dispute — over Kosovo's desire for independence.
A phone conversation earlier in the week between Mr. Bush and Putin led some in the region to believe the U.S. president had promised "to rediscuss Kosovo's future." Mr. Bush sought to lay that to rest in an interview with Vision Plus TV of Albania. He said he told Putin that "we feel strongly that the Ahtisaari plan is the right way to go," referring to a U.N. resolution supporting independence for Kosovo under international supervision. Russia has hinted it would veto the measure supported by the U.S. and Europe.
On his trip, the president also is traveling to Albania, where the discussion involving neighboring Kosovo is of great interest, and Bulgaria. He is stopping in Rome, where he will meet Pope Benedict XVI for the first time. And at the G-8, the president has scheduled separate sit-downs with outgoing British Prime Minister Tony Blair and with France's new president, Nicolas Sarkozy, in addition to Putin.
Relations between the United States and Russia — good in the wake of the Sept. 11, 2001, terrorist attacks — have been deteriorating for years.
Washington has become increasingly worried about backsliding on democracy and human rights in Russia under Putin's leadership and about worries that Russia uses its vast energy wealth for political purposes. The countries also have differed recently over Kosovo's desire for independence.
Moscow, meanwhile, views U.S. activity in its former sphere of influence with growing suspicion.
Notably, Mr. Bush referred in the interview to Washington-Moscow ties as "a complex relationship," the same term he repeatedly uses to describe the status of the United States' tricky relations with China. "We've got some areas of agreement and some areas of disagreement."
Under "areas of disagreement," he listed Putin's claims of democratic advances in Russia ("we have got some questions about that"); Moscow's harsh reaction to Estonia's decision to move a memorial to Soviet soldiers killed during World War II ("it sent a confusing signal to us"); and Kosovo. Under the common ground heading, he listed cooperation on Iran, North Korea and weapons proliferation generally.
On lower levels, the discourse between the two countries has been more biting.
David Kramer, deputy assistant secretary of state for European and Eurasian affairs, said that Russia prefers "unhelpful rhetoric" to actual collaboration with the United States. He also described Russia's harassment of opposition forces as "ham-fisted behavior."
Kramer said Thursday in a speech in Baltimore: "The Russian government must simply realize that it does itself no favors when it uses these strong-arm tactics."
The State Department on Friday played down Kramer's comments, saying they did not signal a policy change.
In a trip to Moscow last month, Secretary of State Condoleezza Rice and Putin agreed to tone down tough talk in an effort to improve strained ties.
However, Putin said Wednesday that Russia was testing missiles to counter the U.S. missile defense plan and spoke of Russia facing "diktat and imperialism" in global affairs.
"Some members of the international community are nursing a desire to dictate their will to all and everyone on any issue, without coordinating their actions with common norms of international law," Putin said.
Speaking in Germany on Thursday, Rice said Russian attitudes are locked in the Cold War past.
"We want a 21st Century partnership with Russia, but at times, Russia seems to think and act in the zero-sum terms of another era," Rice said.

Thanks for reading CBS NEWS.
Create your free account or log in
for more features.