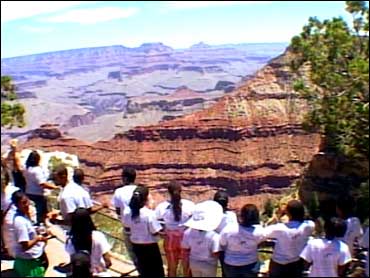 Bus Driver A "Hero Among Us"
Tanya Walters has made it her mission in life to help kids find their way by showing them the world. Unlike other youth organizers, Walters takes her own unique approach: she travels with kids in a bus.
The Early Show continued its' series with People magazine (www.people.com), "Heroes Among Us," by saluting Walters' commitment to inspire teenagers.
Walters, a bus driver in the Los Angeles Unified School District, founded the Godparents Youth Organization in 2002. Her religion and her dreams motivate her, she says, to open the eyes of deserving young people who she meets on her bus route. She takes them on cross-country mentoring trips to let them see all the natural wonders the United States has to offer.
The lack of interest being shown to the academically-weak and underprivileged teens that Walters encountered appalled her. She said, "So who is it that's going to take the time to sit down with not your A and B students, but your C, D, and F students? The students that are most often left behind. Nobody was doing it."
Walters' goals have not been met without sacrifice. She has had to move back with the women who took her in as a 7-year-old, and she drives the same van from her first long distance mentoring trip five years ago.
But Walters knows that her work is paying off. "Giving them an opportunity, birthing a dream in then, I'm investing in the future," she said.
Thanks to Walters and other bus drivers who share a similar vision, 22 teens who rarely leave their L.A. neighborhood are taking a road trip to places such as the Grand Canyon, Birmingham, Ala., Washington, D.C., and Niagara Falls.
With an itinerary that traces the history of the Civil Rights Movement, Walters and her fellow GYO mentors can have more of an educational impact than a classroom.
One trip participant, Selesta Shurney, appreciates the fact that Walters has given her the chance to see the U.S. She said, "It made me realize that it's more than California; it's more than Pomona. It's so historical (with) Martin Luther Kind, Rosa Parks, Emmett Till and stuff like that."
Teenagers also get the valuable experience of being able to visit colleges. They visit prominent schools like Clark Atlanta University and Morehouse College.
Walters emphasizes the importance of giving during her trips as students reach out to charities such as the Boys & Girls Club.
Walters trip have produced results. Seven of her students have gone on to college. Meanwhile, Walters continues to raise money for this year's trip.
Thanks for reading CBS NEWS.
Create your free account or log in
for more features.