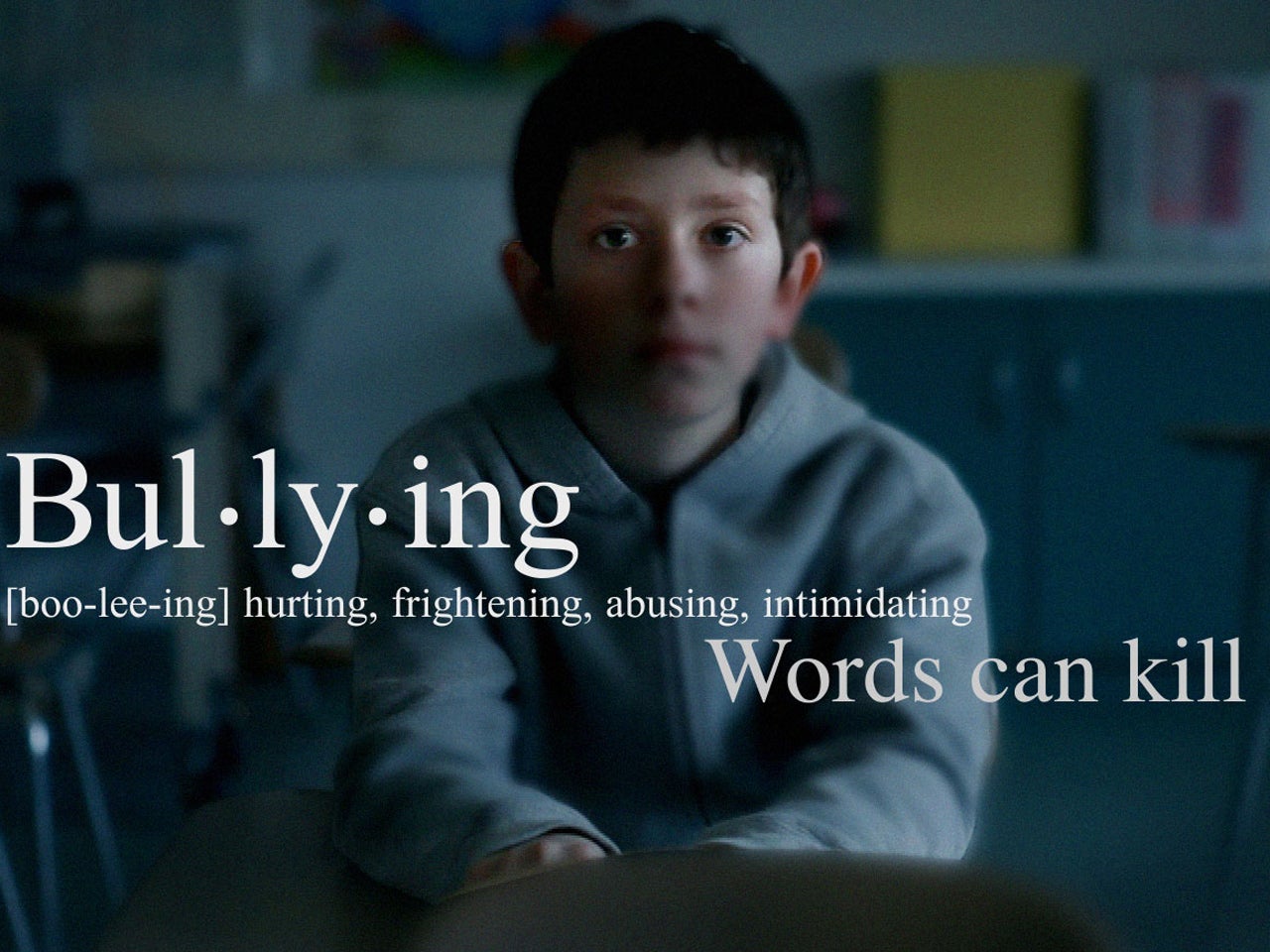 Produced by Deborah Grau and Judy Rybak

Middle school can be a place for learning, discovery and friendships. But for some kids, it can also be a place of cruelty, loneliness and fear.

Aislyn Doeur: "You're supposed to feel comfortable. And like you're scared to walk in the hallways. ...I was scared that I wasn't going to have any friends."

Jacob Kaufman: "It just got to that feeling of desperation, and pretty much hopelessness."

Genesis Johnson: "I was so scared I didn't know what to do. I didn't know who to go to."

Johnny Cagno: I wasn't accepted at school. I couldn't be who I am. ...I was very, very scared to go to school every day.

Johnny Cagno is an eighth grader at Birchwood Middle School in North Providence, Rhode Island. The school opened its doors last winter and gave "48 Hours" unprecedented access.

"48 Hours" spent six months at Johnny's school because middle school is often ground zero for bullying.

Special bullying section: Resources and more

"You're judged constantly," Johnny told CBS News correspondent Tracy Smith. "Whether it's your orientation, your clothing, your -- well, how you look, you know, everything."

Since he can remember, Johnny has always been made to feel different.

"Growing up, you play sports. If you don't play sports, then you're weird or, you know, you just don't fit in," he explained. "And all through my life, that's how it's been. I don't fit in."

For most of his life, Lisa Cagno says her son was interested in things most boys weren't.

"Kids would call him a girl because he was hanging with the girls, or say that he was weird," she told Smith. "He wanted to be home makin' a costume or a prop for a play. ...The boys were all playin' ball and runnin' around and he would say, 'Ma, why -- you know, why don't I like doin' this? Why don't I like playin' ball?' I said, 'I don't know, honey. It's just not your thing and, you know, do what you wanna do, what makes you happy."

Video: Hear more from Lisa Cagno

But what made Johnny happy also brought out the bullies.

"Oh,' you're gay. You're a fag,' you know, just constant remarks and rumors," he said.

"Why do kids like to use that word?" Smith asked.

"'Cause it hurts. They know it hurts," he replied.

Already pushed out of two other schools because of bullying, Johnny was nearing his breaking point by the time he began seventh grade at Birchwood in the fall of 2009.

Asked what was going through his head, Johnny said, "A lot of self-hatred. ... Like I hated myself. I thought it was me. I thought that it was just the way I am and nobody likes me 'cause of it."

"That somehow you brought this on yourself?" Smith asked.

"Yes."

Lisa Cagno says Johnny was hurting himself. "He was cutting himself...

and he would just [say], 'I hate myself, I don't wanna live anymore. I hate my life. Nobody likes me, no one cares about me.' And I just -- I would just have to constantly just reassure him. I couldn't get those feelings out of his head."

"And you can't fix it," said Smith.

"No."

"And not only you can't fix it, but you're driving him to school every day, dropping him off... What was that like?" Smith asked Lisa.

"Horrible. Just so horrible," she replied. "I felt like everyday I was sending him off to war."

Lisa knew Birchwood could be her son's last chance. If Johnny was going to survive, she needed the school's help.

For school social worker Liz Vachon, Johnny's case was a wake-up call.

"His case was the case that changed everything," Vachon said. "That was the point when I recognized that this is really serious. ... It's the first time, really, I had parents coming in asking for help on their child's behalf."

"I said we have to do something system wide," Vachon told Smith. And once she started speaking out about bullying, she suddenly saw the true scope of the problem. "It went from 30 percent of bullying to about 70 percent of bullying cases coming forward."

"All my friends didn't like me," said Aislyn, "like, I was nothing anymore."

Aislyn, Alexa, Jacob, Tyree and Genesis were among those who came forward. They had countless stories about bullying.

Video: Meet the kids
Video: "I was a bully"

"You've been called names, right?" Smith asked Genesis Johnson.

"Oh boy" she replied. "Every name in the book, basically. ...Like stupid, fat, ugly."

Aislyn: "They took all my best friends. ...They would just come on the computer and throw words at me."

Alexa Papgiotis: "She just started, like, calling me names. ...Like, 'You're so fat. You're so ugly.'"

Jacob: "He ran up to me, and pushed my books on the ground. And then started kicking my friend in the leg.

Tyree Berdecia: "I felt that if I bullied people, that they wouldn't bully me."

Aislyn: "They just like completely like kicked me down to the point where I was like crying in my room because I had no friends."

Alexa: "She did threaten me once that her cousin or someone was going to kill me."

Jacob: "It got to the point where I was afraid to come to school."

Aislyn: "And you just start to believe it. And you just are so convinced, 'Why am I living?' And, like, especially when people say, 'Go drop dead.'"

The stories these kids tell are all too common. Research shows one out of four children is bullied.

"There are still people out there who say this is just middle school drama. This isn't so serious. How serious is this?" Smith asked Vachon.

"Well, it's serious enough if parents are coming in and students want to hurt themselves and not come to school," she said. "I would say that's very serious."

"You can't have a student achieve when they're going through something like this," according to assistant principal Tonianne Moniz. "They don't realize how much kids internalize this bullying. And the negative impact it has. ...How a mean word, whether it's spoken or in cyberspace, can feel, you know, as powerful as a gunshot."

"They got inside my head," Johnny told Smith. "I would say, 'If I kill myself, I don't have to deal with this, you know. I won't have deal with the bullies every day.'"

If you have any doubt that bullying is taking a deadly toll...buy a ticket to a play called "The Bullycide Project." It tells the stories of 10 of the more than 150 children estimated to have taken their lives since 1983, rather than face another day of bullying.

The parents of these children are often in the audience... reliving their children's suicides over and over again, for one reason:

"We belong to a terrible club, and we don't want any more parents in this club," said Kevin Epling.

Kevin and Tammy Epling lost their son, Matt, to bullycide after a brutal high school hazing in 2002.

"We were those parents who didn't know that this was going on," Kevin explained. "Nobody was telling us that this was a problem, so we couldn't act. That's why we do it now."

For 10 years, the Eplings have made it their mission to keep schools, parents and lawmakers informed about the fatal epidemic. But despite their efforts, another 122 children have committed bullycide since they lost their son.

"I think we've done a really good job as a society of protecting our kids from online predators," said Kevin. "But we not have done a good job of protecting them from each other online."

Special bullying section: Resources and more

The most recent story added to this tragic play is Jessica Logan's.

Cynthia Logan says her daughter was cyberbullied to death and still can't make sense of the devastating loss.

"Her friends failed her. The school failed her. And the law failed her," Logan told Tracy Smith. "I did as much as I could do as a parent, knowing as little as I did."

Video: Hear more from Cynthia Logan

Cynthia describes her only child as "fun loving -- quirky, silly. She loved to make people laugh. ... She was my everything. I did everything with her."

But for as long as her best friend, Samantha [Sami] Bruce, can remember, little Jessie was a target. "People called her dwarf and midget and all sorts of stuff like that," she said.

Things got worse in high school. As a sophomore at Sycamore High in suburban Cincinnati, she was mercilessly tormented by a group of boys.

"Telling her that she was really not, like, worth a piece of s--t," Cynthia told Smith. "And ugly and troll-like. And if you go -- "Go hang yourself. Because no one really cares about you.'"

By Jessie's senior year, Sami had graduated. Jessie had few friends at Sycamore, so she focused on friends at nearby Loveland High. Sarah Ramsey was one of them.

"We were extremely close," Sarah told Smith. "From the first day I met her we were unseparable."

But Sami claims Sarah and her friends also tormented Jessie.

"Jessie was terrified of the dark," she explained. "And they locked her in a closet that was just pitch black ... and left her in there."

But Jessie was so desperate to fit in, she put up with the abuse.

"She wanted to be friends with them, and they just didn't accept her for who she was," said Sami.

Then, weeks before graduation, Jessie took a risk that made her a huge target. She reportedly texted a nude photo of herself to a boy she was dating at Loveland High, Ryan Salyers. Soon after, a friend at Sycamore noticed three girls in a classroom huddled around a cell phone.

"She told me that she heard the next table over laughing and giggling," Cynthia said. "So she walked over to see and she saw Jessica's photo on the phone."

Jessie immediately suspected Ryan, but he denied sharing the photo. So she turned to Sycamore High's resource officer, Paul Payne, who visited Loveland High. He told Jessie that Sarah and two other girls -- Amy Reiber and Courtney Richardson -- admitted to taking the photo from her phone and that he asked the girls to delete it from their phones.

"Officer Paine says that you admitted that you took the photo from Jessie's phone. Is that true?" Smith asked Sarah.

"No," she replied. "I've never even heard that before."

"Why would he say that?"

"That's a good question."

"How did you find out about the photo?" Smith continued.

"I received it," Sarah replied.

"And how'd you receive it?"

"Through a text message," she said.

"Who gave it to you?"

"I'm not gonna -"

"You don't wanna say who sent it to you."

"No," Sarah replied. "I mean, I don't wanna, like, point fingers at anybody."

Whoever sent it, once the nude photo surfaced at Sycamore it had gone viral, circulating through three more local high schools.

"On Facebook she was being attacked," Cynthia said. "But, mostly on her cell phone. ...texting her messages -- like filthy messages. 'You're a pig. You're a whore.'"

In a deposition, Officer Payne said he referred Jessie to a school counselor and talked with the local prosecutor about filing charged, but was told that wouldn't be possible. Payne then told Jessie that because she was 18, there was nothing more he could do for her.

But Payne did offer her another suggestion.

"He said it would be very good for you to go public with this, because not only would you be helping yourself, to get the message out there, but you would be helping other peers and other students," Cynthia told Smith.

Payne gave Jessie the business card of a local TV news reporter looking for teens willing to talk about sexting... but says he didn't encourage her, and was surprised when Jessie agreed. Cynthia says she objected, but went with Jessie to make sure her identity was disguised.

Officer Payne was also interviewed. Cynthia says after the story aired, the bullying got even worse. "They were spitting on her. ... in Sycamore High School, the guys were sp-- you know [spitting on her head]."

"48 Hours" made several attempts to talk with Officer Payne, but he refused.

Things got so bad that Jessie started skipping school, but she still managed to graduate. Then, on July 3, 2008, she attended the funeral of a boy who had hung himself after a fight with his parents.

Cynthia says Jessie was inconsolable. "I tried everything I could to tell her that sometimes tragedies like this happen in life, and nobody has answers for it."

The night of the funeral, Jessie went up to her room to shower. About 10 minutes later, Cynthia went to check on her.

"And in the middle of the floor is her phone that's open, and her closet doors are open. And I scan the room quickly ...And I panic, you know. So I walk into the room, and I turn to the closet," Cynthia recalled - her voice breaking, "and there is my baby hanging..."

There was no suicide note. "... and I have no idea why she left me."

Last year, Cynthia and her husband filed lawsuits against Ryan and four girls accused of sharing the nude photo. They also sued the City of Montgomery, Officer Payne and Sycamore High School.

"I wanted accountability. I wanted them to know that they didn't do enough to save my child," Cynthia told Smith. "And you need to do something about it so it never happens to another child."

Ryan and the girls settled out of court. The cases against the city and Officer Payne were dismissed; the judge said Payne did not act unreasonably. The case against Sycamore is still in litigation and the school has refused "48 Hours" requests for an interview.

In honor of Jessie, Cynthia is fighting for legislation to protect children and teens who are bullied. "I can't save my daughter. She's gone. So I'm trying to save other kids. Jessie would want me to do that..."

Video: Hear more from Cynthia Logan

Meanwhile, Kevin Epling believes that because cyberbullying has turned up the heat on peer-to-peer abuse, we haven't seen the worst of it.

"Kids are just getting bombarded 24/7," he said. "I've talked with law enforcement. ...in certain cities we're probably sitting on some powder kegs. Something's gonna happen. ...We need to diffuse a lot of the tense situations in our schools, and we have to do it today."

Determined that something positive come from her daughter's death, Cynthia Logan appeared last May before the Ohio state senate to fight for passage of the "Jessica Logan Act," a bill calling for stronger protections against cyberbullying.

"This must pass. It has to pass," Cynthia told lawmakers as she held up a photo of her daughter. "She was 18 years old when she took her own life.... It's not going to help my child but our youth are our future. We have to teach them to respect one another."

By her side was another mother who understood exactly what Cynthia had been through.

Toni Genovese says her 13-year-old daughter, Dara, has been bullied in school and online for years.

"First, second, third, fourth, fifth, sixth, seventh grade. Her first seven years of education, of socializing, has been negative, cruel, violent, harassing," Toni told Smith.

"If you have ever been bullied, harassed, tortured, which I hope you haven't, let me tell you, it is the worst. And I mean worst feeling ever," said Dara, reading from her journal.

Growing up in Boardman, a small Ohio suburb, Dara says the bullying started when she was 6.

Special bullying section: Resources and more

"They would just like constantly say stuff at the lunch table," Dara told Smith. "'Nobody likes you.' Or 'you're ugly...' 'We don't want you at this school.' Just stuff like that. ...When people would tell you those things you're, like, 'Oh, is that what really people think about you?' So then you start to believe it."

It was in fourth grade when Toni first realized how much Dara was suffering. "She wrote down a two-page report that, when I read it, I was like 'Oh my. Oh, Dara, I am so sorry. I had no idea,'" she said.

"I would walk into class late ... And, like, when we had time to talk or sit down, they're, like, 'Oh, yeah, we hoped you were dead,'" said Dara.

"I couldn't imagine a fourth grade child could form this sentence of hate, anger, violence," said Toni, who emphasized, "this was a Catholic school."

Toni says the school took little action to end the bullying, so she had to take action of her own. "I said, 'Dara ...I think it's time for us to move on. And she was like -- she was ready to go."

In fifth grade, Dara transferred to Boardman Glenwood Middle School.

Dara says she was hoping for a new start. "I'll have friends and -- it'll be a normal -- normal childhood."

Within months, her hopes faded.

"The people from my old school ... were friends with my friends at my new school. ...And so they told them lies and stuff," Dara explained. "Like, 'Oh, no one liked her at her last school. She was -- she's really bad. She's a problem.'"

And the girls from both schools found something in common: hating Dara.

I HAVE A FEELING WE WOULD BE GOOD FRIENDS. HAHA, ESPECIALLY SINCE WE ALL HATE DARA. HAHA

Dara says the group of bullies even had a name for themselves: "The Dara Haters." The girls posted cruel messages on Dara's Facebook page for all to see.

"I would just log on and go to my profile, and look at other people's and I would see comments about me, or referring to me," said Dara.

QUESTION: IF YOU COULD BE DARA GENOVESE FOR A DAY, WHAT WOULD YOU DO? ANSWER: "I HAVE A LOT TO SAY I'M NOT GOING TO SAY IT BUT A HINT SHE WOULDN'T BE ALIVE...IF I WAS YOU, I KILL MYSELF."

"Do you understand why all of these kids have committed suicide because they've been bullied?" Smith asked Dara.

"Yes. Like, I'm in their shoes," she said.

"Is it that painful?

"Uh-huh," Dara affirmed.

"That it sometimes -- the thought is it's better not to be around?"

"Uh-huh."

Toni says she has talked with Dara about suicide and hurting herself.

"She told me that, 'Mom, I would never do that,'" she told Smith.

But then Toni spoke to Jessica Logan's mother, Cynthia.

"I said how Dara has told me she would never hurt herself," said Toni. She said her daughter, Jessie, had told her that, too.

Back at Birchwood Middle School in Rhode Island, assistant principal Tonianne Moniz decided to face the bullying problem head-on.

"Even though it did happen out of school, the problems trickle into school," she explained. "It's impairing the student's ability to function during the school day. And then that's our responsibility, to deal with it."

To get a handle on how much bullying goes on in and out of school, Tonianne surveyed all the students. The results of the anonymous survey revealed one staggering fact: "At least 90 percent of middle school students do have cell phones, laptops, home computers."

"I really don't know many people who don't have a cell phone or Facebook," said student Aislyn Doeur.

The survey also reinforced what the kids already knew: that bullying is everywhere.

"There's the locker rooms right there, there's lots of bullying in there because the gym teachers aren't allowed in like in to the locker rooms," Jacob Kaufman told Smith as they walked the halls of Birchwood.

Jacob knew firsthand where the bullying hot spots were.

"Everyone's bullied in the gym," he said.

"Have you been bullied in the gym?" Smith asked.

"Oh yeah, all the time," he replied. "In dodge ball, they'll single you out and a bunch of people will just try and hit you with the ball like over and over and over again."

Jacob and the other kids say much of the bullying goes unreported.

"You know, you tell on someone, and you're snitch," he explained. "And that's pretty much the bubonic plague of middle school."

Johnny Cagno says reporting the bullying only brings on more bullying.

"The bullies retaliate when you go and tell on them," he told Smith. "It'd be my fault, you know, because they got in trouble. So they would be even more mad at me."

"You know, there are a lot of schools who would say we don't have a bullying problem. Or if we do, we certainly don't want to talk about that. That wasn't the attitude here?" Smith asked school social worker Liz Vachon.

"No. Every school has a bullying problem and every school has to learn to deal with it," she said. "Let's fix it. Let's try to fix it. Will bullying ever end? I doubt it. But there's ways the kids can cope and learn how to deal with it."

Learning how to cope with it became Liz Vachon's mission. And finally, Johnny had someone to turn to.

"So if I had a problem, I would go and talk to her. If I needed a few minutes, a break, I would go to her," he told Smith.

Liz was also hearing story after story from other kids as well. She had them turn their bullying experience into a play and they performed it in front of other students.

"I think it was almost healing for them because it gave them a voice to say 'this is happening to us.' And it made people listen to what was really going on," she said.

"Since we did the bullying play, the bullying seemed to cease a little bit," said student Tyree Berdecia.

After the play, Birchwood's bullying program took off. Kids made boxes to make it safer to report cases of bullying. They also posted anti-bullying messages around school, created a mentoring program and formed a support group for kids to talk it out with one another.

"The support groups are really not only talking about bullying," Liz explained. "It's kind of talking about middle school is tough. And how do we get through it?"

Without a budget, Tonianne Moniz and the entire school district came together to work on solutions. Birchwood's efforts appeared to pay off... even for Johnny.

Asked if he thinks Birchwood changed his life, Johnny says "Yes. The bullies aren't getting away with it, you know. ... And they know what it's doing to students and how it's destroying them and it's not OK."

But as we found out months later... it's not that simple.

"Every day when I walk into school, I never know what's gonna go on that day. I just hope maybe -- maybe things will change."

Those words, from 13-year-old Dara Genovese's writings, reflect how she feels, every single day.

"You wrote in your journal that you felt like you were drowning. What do you mean by that?" Tracy Smith asked Dara.

"Like it feels ... like, gasping for help and air and you want to be saved. It's kind of like the same, it's kind of like the same thing with bullying," she explained. "You want help, you want someone to be there, you want -- you want to be saved from it. You don't want to go through it."

Once Toni Genovese realized how much her daughter was being bullied, she knew it needed to end and turned to school principal Anthony Alvino for help.

With over 35 pages of documented hateful messages and death threats, Toni thought she had enough to prove Dara was not just being bullied online at home, but at school as well.

"He read the documents and he said, 'Well, this is bad, but you know, I've gotta have proof of it happening here at school. This is on the home computer,'" Toni told Smith. "I said this is happening in your school as well."

Toni says the principal talked to the girls who harassed Dara, but nothing was done to punish them.

"Is it the school's responsibility if it happens off school time, away from school property?" Smith asked Toni.

"I feel it absolutely is because if the kids are going to school ... at the same school, somethin' that happened off school property guaranteed is happening at school," she replied.

Frustrated no one was helping her daughter, Toni took matters into her own hands. She hit the phones, the books and the Internet. Toni says she became obsessed with finding out everything she could.

What she learned was eye-opening. In response to a federal law, many social networking sites require kids to be 13 to join; Dara was only 12.

"Mostly every person lies about their age on there just to get on," Dara told Smith. "And so I told my mom ... that everyone had one and she thought it was OK."

Dara is right. According to a recent survey, 7.5 million Facebook users are under the age of 13.

I've talked to hundreds of moms ... asked each one, 'Did you know that you had to be 13 to be?' None of them. I haven't found one person yet that has that knowledge," said Toni.

By far the leading social networking site, Facebook says there's no way for them to currently enforce the age limit... it's up to the parents to help. But they have taken steps to make it easier for either a parent or a kid to report any online abuse.

What Facebook wants parents to know about its website

And when reported, Facebook takes down the harassing words or photos and keeps them as a digital record for the proper authorities.

Toni immediately took Dara off Facebook, but the bullies continued to find ways to send hurtful messages; this time to Dara's cell phone:

"DARA! READ MY WORDS. ...NO ONE LIKES YOU AND EVERYONE I TALK TO HATES YOU."

This text, received in March, reads:

"L-L GOT MAD AT ME BECAUSE SHE SAW ME BEING NICE TO YOU."

"They'll pull my friends away," Dara explained. "When I have a friend they'll tell them lies and-- and then that friend goes with them."

Asked if she feels like the school's failed her, Toni replied, "Totally. Absolutely, 100 percent, and then some."

"48 Hours" made interview requests to Principal Anthony Alvino, Boardman's school board, the alleged bullies and their parents. They all refused to talk. And that may be because, this past June, Toni filed a $12 million lawsuit against the school, 11 children and their parents. The suit alleges threats of violence, infliction of emotional distress and negligence.

Along with Cynthia Logan, Toni is fighting hard for passage of the Jessica Logan Act.

"The bullies bully because they can," she said addressing the Ohio state senate. "Everyday it passes without this law in effect, we are at risk of losing our children."

The bill will give schools in Ohio the power to punish children who bully, even when it happens off school property.

"Had that been in place, and I went to that principal with a packet, he would not have been able to say, 'Oh, I can't do anything.' Coulda made a huge difference in the last year of our life," said Toni.

"You're laying in bed and you're just thinking, like ...like what would it be like if you're not here? Like -- would it be better? Or, like, would people be happier or just -- just you wonder, you think a lot of questions," Dara told Smith.

"If these children had knives in their hands, and did to her with the knives that they're doing with the words, she woulda been dead a long time ago," said Toni.

After six months of documenting life at Birchwood Middle School, "48 Hours" thought we had our story -- a success story. But what happened next shocked everyone.

"A week ago yesterday, Johnny took some cold tablets to try to hurt himself -- or end his life," Lisa Cagno told Tracy Smith.

The school that was doing all it could to combat bullying, had a bullycide attempt.

"I knew that mom would be at work, and I would be at home, and I knew that I was gonna do it," said Johnny.

Johnny was home alone and took an overdose of cold pills. But minutes later he panicked and called his father, who rushed him to the hospital.

"I couldn't believe ... he actually went that far," Lisa said. "I didn't think he would."

Special bullying section: resources and more

After 10 hours at the hospital, doctors determined that Johnny was no longer a danger to himself, and released him into a daily outpatient program. But why did this happen...

Johnny says he was still being harassed in the hallways... and just couldn't take it anymore. "I don't think it's ever gonna stop," he told Smith. "I thought that it's the only way that it would stop.

Lisa had no idea that her son was still being bullied.

"Last time we talked, you said you still were kind of being bullied a little, but it wasn't bad. You weren't tellin' me the whole story, right?" Smith asked Johnny.

"Cause I felt that, like, it's just better if I don't tell anybody. ...I felt like it was pointless to go and tell the teacher again that, you know, 'I'm being bullied again.'"

Liz Vachon and Tonianne Moriz say they were "shocked, sad and upset," when they heard what happened, having no idea Johnny was still being bullied.

"Communication is key," said Liz. "When it's not reported, we can't address it," added Tonianne.

"I felt like nobody could help me," Johnny told Smith.

"He's just tired of the whole process," Lisa explained. "He'd just as soon bottle it up and not get everybody worried about him again."

While Johnny attended his daily therapy program, Lisa and Birchwood tried to come up with a plan after his cry for help.

But after a month of treatment, Johnny decided he was too afraid to go back and would finish middle school from home. Birchwood Middle School is forever grateful to him for opening their eyes... and probably saving lives.

"I shudder to think how many more cases there would have been like John had we not been doing anything," said Tonianne.

Kevin Epling, who knows first hand that words can kill, says schools, parents and legislators must work together to save lives.

"160,000 kids stay home every day because they're afraid," said Epling. "So, I tell a parent if they think their child is going through a bullying -- episode at school ... contact the school. Get the school's policy. Check against your state model policy and see if you have a state law. ...Let's change the culture within our schools that this is not acceptable."

"'I have a dream,' Martin Luther King Jr. stated. Well, I have a dream also. A dream where children don't have to be afraid to go to school every morning. A dream where everyone works together to make it so. What if bullying could be stopped? Can you begin to imagine how much better that would make so many people's lives?" - Jacob Kaufman

Epilogue:

Johnny started high school last week at an alternative school for the arts. "I hope that the school that I go to will ... accept me."

Aislyn, Alexa, Tyree and Genesis have all moved on to eighth grade at Birchwood Middle School.

Aislyn says she feels better about herself. Alexa says, "So far so good." Tyree has declared that he will never bully again and Genesis finally feels like she fits in. Jacob has started high school this year and wants to start a bullying program there.

Video: Jacob address lawmakers

Dara has moved to a new school, in a new state. "I want people to like me and realize that I'm a really great girl." I want people to understand me, to be there for me and trust me. "

Video: Dara's web diary

"I'm tryin' to get her back to my original Dara," her mother Toni, said. "It is so painful. I don't know if she'll ever come back all the way. I don't know."

For more resources and tips, please visit https://www.cbsnews.com/bullying
Thanks for reading CBS NEWS.
Create your free account or log in
for more features.