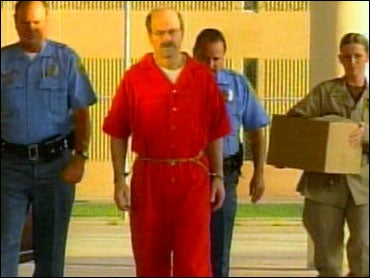 BTK Killer Gets Extra Jail Perks
Good behavior has earned the BTK serial killer the privilege to watch television, listen to the radio, read and draw in his prison cell.
Prosecutors had sought restrictions on such activities, saying images of women and children and news accounts of his murders would allow Dennis Rader to relive his grisly, sex-fueled fantasies. But Rader earned the privileges through a system designed to encourage good behavior, said Bill Miskell, a Department of Corrections spokesman.
The eased restrictions aren't sitting well with some family members of Rader's 10 victims and prosecutors who helped put him behind bars.
"We're having a hard time understanding why somebody like this is allowed to earn privileges when all the evidence was presented as to how he can turn what most people would consider to be innocent into something that is evil," said Kevin O'Connor, a Sedgwick County deputy district attorney.
Georgia Mason, the mother of Nancy Fox, who was killed by Rader in 1977, also was displeased with Rader's new status.
"I just don't think he needs anything in that little cell," she said.
Miskell said he couldn't disclose what items Rader has obtained for his good behavior. The spokesman did say that sexually explicit materials would not be allowed.
Miskell said the Department of Corrections allows privileges to encourage good behavior, and they can be taken away for infractions.
Even with the new privileges, Rader remains in the prison's most restrictive environment. He is let out of his 8-foot-by-10-foot cell only one hour a day, five days a week, to shower and exercise.
Rader also has to purchase equipment and materials, such as television sets — $103.20 for a 13-inch color set, $80.49 for a black-and-white one, reports the Wichita Eagle.
He does have one infraction on his record, when earlier this month he attempted to ask a person to whom he was writing to mail a second letter to a third person.
Rader, who called himself BTK for his method to "bind, torture and kill," would have to serve a minimum of 175 years to be eligible for parole. Kansas had no death penalty at the time of the murders.
District Judge Greg Waller had recommended that Rader not be allowed to "possess, receive or create any visual images of human beings or animals, including drawings."
His chief public defender, Steve Osburn, said denying his client written and visual materials could push him further into a fantasy world.
"I don't know how he can possibly be a danger to anybody, no matter what he has," Osburn said.

Thanks for reading CBS NEWS.
Create your free account or log in
for more features.