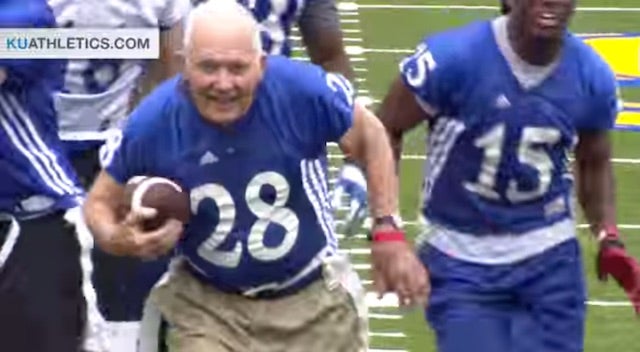 "I hadn't run in years": Ex-Kansas player, 89, scores in scrimmage
LAWRENCE, Kan. -- An 89-year-old former University of Kansas football player has gained fresh fame after making a touchdown run during an alumni scrimmage.
Bryan Sperry was all grins Saturday as he jogged toward the Memorial Stadium end zone during the scrimmage before Kansas' annual spring football game, The Kansas City Star reported. His decades-younger opponents intentionally missed repeated tackles before showering him with congratulatory hugs and pats on the back.
"I had planned on trying to get in maybe, catch a pass. He threw me a few balls to see if I could catch a ball, and I could," Sperry said, according to CBS affiliate WIBW. "I hadn't figured on running, in fact I hadn't run in years. I just wanted to get in for a couple of plays and maybe catch a ball."
Sperry was 17 years old when he first left home to play football at Kansas State, but World War II interrupted his schooling. The process of returning soldiers home by boat after the war took months, so the military sent Sperry to a university in England to wait. While there, he says, he played 13 games on a team that was a mix of professionals, college players and high school graduates with limited football experience.
Upon returning home in February 1946, he headed for a tryout, mostly for veterans, held by then-Kansas football coach George Sauer. He played "end" while at Kansas - offense and defense, Sperry said: "Well, we played both ways in those days."
The Jayhawks finished 7-2-1 in 1946 and in 1947, with a team captained by KU legends Otto Schnellbacher and Don Fambrough, the Jayhawks went 8-1-2, their only loss coming to Georgia Tech in the Orange Bowl. Sperry finished his career in 1948.
"There aren't many people that are lettermen of both KU and K-State," Sperry said.
With his playing days behind him, he spent decades as a high school football coach and math instructor at Pittsburg State.
"That was fun," the Pittsburg resident said. "I didn't know if I could run."
Thanks for reading CBS NEWS.
Create your free account or log in
for more features.