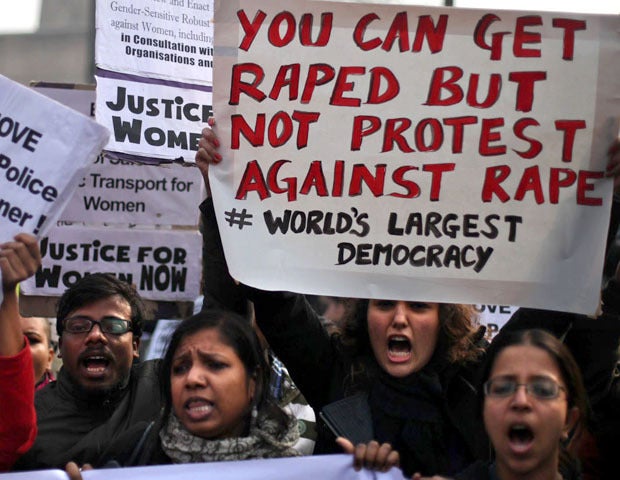 Brutal gang-rape sparks culture crisis in India
(CBS News) NEW DELHI -- India is having a cultural crisis after a brutal attack that made news all over the world. In December, a young woman was gang-raped and later died. The crime has unleashed a wave of protests over the treatment of women in Indian society.

(Watch: Indian prosecutors to push for death penalty in gang rape case, below)

Badri Nath Singh is grieving for his daughter. She was a college student, just 23 years old when she died after being viciously gang-raped.

Police say her ordeal began when she boarded a bus with her boyfriend at night. A small group of men on board seemed to have planned their attack.

The pair were beaten, the young woman was raped and violated with an iron rod and then, both of them were thrown from the moving bus - naked and bleeding.
"My love for my daughter was as deep as the ocean," Mr. Singh told CBS. "I want the men who did this to her to be hanged."
Mr. Singh worked double shifts as an airport baggage handler to buy a home in a poor neighborhood, and to educate his children. Now his wife Asha sits alone in a darkened room of their home. Since her daughter's death two months ago, she hasn't left the house.
The crime sparked an outpouring of rage in India. Thousands of protestors have taken to the streets, angry over what they say is an epidemic of harassment and violence against women.
Garima Shrivastara organized some of the protests. She says that Indian women live with fear every day.
"I feel angry because I am a citizen of this country," Shrivastara said. "I have the right to live as safely as a man, I would say. So why me? Why a woman? What have I done?"
India gang-rape case now in fast-track court, hoping to avoid usual delays in Indian justice
India gang-rape: Can suspects get fair trial in fast track court for woman's brutal murder on bus?
India rape victim's friend recalls brutal attack
Activists like Garima Shrivastara say the violence is a clash between traditional values and a new generation of educated, modern women whose independence is threatening for some Indian men.
And now another taboo is being broken -- survivors of rape are daring to speak out.
A 16-year-old girl, who preferred not to use her name, told CBS how she was gang raped last year by eight of her neighbors, who filmed the attack on a cell phone. Her father was so ashamed he committed suicide.
How did she find the courage to speak out?
"I come from an educated family and I understand these things," she said. "Many other girls are too frightened, but I went to the police."
The men accused of raping and killing the Singhs' daughter are already on trial, though a verdict could be months away. Her terrible death has seen more and more Indian women finding their voice and using it to shout out in anger.
Thanks for reading CBS NEWS.
Create your free account or log in
for more features.