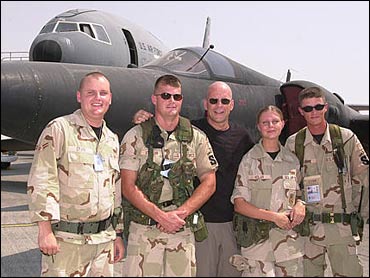 Bruce Willis Sings For The Troops
Bob Hope is gone, but the spirit that he brought to entertaining U.S. troops - wherever they are in the world - lives on.
Strains of rock and roll and the blues spread out through the desert Thursday at a U.S. airfield in Iraq, about 36 miles from the Syrian border, as Bruce Willis and his band held what was most likely the first rock concert ever at that location.
Hundreds of soldiers - some sitting atop helicopters, others lounging in Humvees - sent cheers and whistles into the night air as the actor and his band, The Accelerators, added a little more steam to the already hot night air.
Most soldiers here said they didn't know Willis was a singer, but they approved of what they heard.
"Somebody that supports the military like he has and that comes to visit soldiers - that's important to us," said Spc. Greg Pagan, a bus driver and a postal officer with the 3rd Brigade of the 101st's Airborne Division in northern Iraq.
"It's awesome," said Col. Michael Linnington, commander of the brigade's Rakkasan -187th Infantry Regiment. "It's great for morale.
"He's my favorite actor and my age," said Linnington, who turns 45 next week. "He's a macho actor. Soldiers identify with action movies and action actors. He's a guy's guy."
Willis, sometimes wearing a military hat or a military jacket over his sweat pants, sang mostly oldies Thursday night as he and his band - the Accelerator - stood atop two flatbed trailer trucks.
"We're here to support you," Willis told the soldiers. "If you catch him, just give me four seconds with Saddam Hussein."
The crowd cheered as it was reminded of the million dollar reward that is to go to whoever captures the deposed Iraqi president.
Willis also took a moment to comment on the war itself.
"Peculiar thing back home is that the liberal media was trying to portray it as a bad war," said Willis, noting that with elections coming up, "obviously they (politicians) are trying to grind their axes, get elected and trying to portray the war as unpopular."
"But being over here just a couple of days, seeing how well our troops and the allied troops are being received here, (I) think the Iraqi people are happy we're here. Children are being taken care of, starting being inoculated, starting being looked after," said Willis. "Wherever these guys go they get thumbs up. They no longer have to contend with the terrorist leader."
Willis hasn't so far had the opportunity to see or meet any Iraqis during his visit, since he has been traveling by helicopter.
"I have seen a lot of photographs, I talked to a lot of these guys (soldiers). They (Iraqis) all come out wherever they are and support American troops, wave, thumbs up," said Willis, who is to fly south to Saddam Hussein's hometown of Tikrit to visit 4th Infantry Division soldiers. Then he's off to neighboring Kuwait for two concerts for American soldiers based there.
Willis is just one of many American entertainers pitching in to entertain the troops involved in the war in Iraq and the continuing military presence in Afghanistan.
Other celebrities on the USO roster lately have included: the rock band New Found Glory; Yankees pitcher Roger Clemens; Drew Carey; John Ratzenberger, with a show based on the sitcom "Cheers"; Arnold Schwarzenegger; Gary Sinese; Wayne Newton; Paul Rodriguez; Alyssa Milano; Kid Rock; Brittany Murphy; Nappy Roots; and Rebecca Romijn-Stamos.
Thanks for reading CBS NEWS.
Create your free account or log in
for more features.