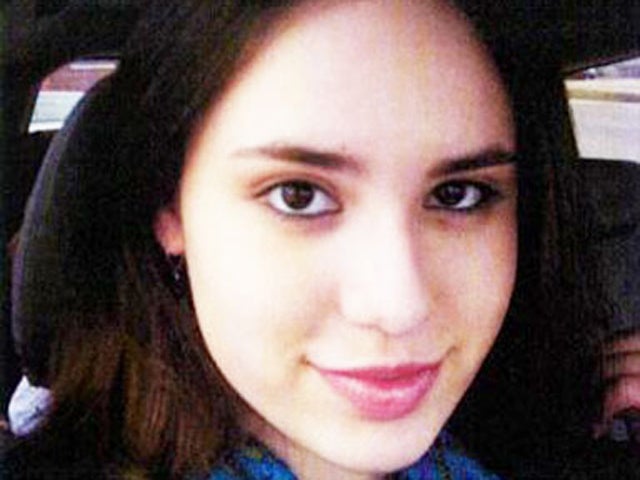 Brittany Killgore murder suspects killed to satisfy sexual fetishes, documents say
(CBS/AP) SAN DIEGO - Search warrants unsealed Wednesday suggest that Brittany Kilgore may have died as the three roommates accused in her murder tried to satisfy their sexual fetishes, CBS Los Angeles reports.
Pictures: Body of Marine's wife found, woman arrested
Detectives found a "sex dungeon" containing "bondage type sex appratuses, toys and tools" at the home of the two women and man who have been charged with murder in the April death of 22-year-old Killgore. Her body was found near a Southern California lake.
Investigators believe all three suspects were with Killgore at their home in Fallbrook, north of San Diego, shortly after the victim sent a desperate text message to a friend: "Help."
Killgore was last seen April 13 in a borrowed purple evening gown, three days after she filed for divorce from Lance Cpl. Cory Killgore, who was serving in Afghanistan at the time. The documents say her body was found with neck injuries consistent with strangulation and marks on her wrist and leg that suggested someone tried to use a saw or other tool to dismember her.
A San Diego County sheriff's detective said in one affidavit that the trio may have targeted Killgore for their "unusual sexual fetishes." Louis Ray Perez and Dorothy Maraglino told authorities they were involved in "master, servant and slave role playing."
The third suspect, Jessica Lopez, said she strangled the victim, fearing Killgore would upend a kinky sex ring by seducing her "Master," according to the warrants. Lopez wrote in a seven-page letter that she believed Killgore was trying to come between her, Perez and Maraglino. All three have pleaded not guilty.
In her letter Lopez, who calls Perez her "Master," shoulders full blame for the killing. She writes that she acted after the victim told her that she had a "whole night planned" with Perez, comments suggesting jealousy was a motive.
Lopez, 25, said she shot the victim with a stun gun, wrapped a rope around a neck, buried her face in a pillow and strangled her.
Lopez said she made "a few attempts to chop her up" with Perez's power tools and doused Killgore's body in bleach to get rid of evidence before dumping the nude body near Lake Skinner, near Riverside.
The documents give no indication that Killgore knew about the sex ring and prosecutors call her an innocent victim. Detectives said she accepted Perez's invitation to a San Diego dinner cruise after Perez helped her move that afternoon. The warrants do not say how Killgore met the suspects.
Sloan Ostbye, Lopez's attorney, didn't immediately respond to a phone message Wednesday. She joined the San Diego County district attorney's office in an appeal to keep the documents sealed, calling much of her client's letter "false or at least misleading and possibly delusional."
In her letter, Lopez called Perez the "Master" and told police he wasn't responsible for the killing. Detectives found the letter in a San Diego hotel where Lopez was discovered with self-inflicted cuts four days after Killgore disappeared.
The letter indicates where the body was dumped, telling police they would likely find handcuff marks on the wrists. It says the handcuffs and a knife were disposed of at a beach restroom in Oceanside.
Three days after Killgore vanished, detectives searched Perez's mud-caked Ford Explorer and found a plastic bag with a stun gun, latex gloves and Killgore's blood. Perez's DNA was found on the stun gun.
The documents describe an elaborate ruse for Perez to conceal his whereabouts on the night Killgore vanished.
The Marine told detectives he picked up Killgore for the dinner cruise but instead dropped her off at a downtown San Diego nightclub. He said he couldn't find her at the club after parking and returned home.
Killgore's and Perez's cell phones remained in Fallbrook that night, contradicting his statement that he was in San Diego, according to authorities.
Killgore sent a text message to a friend that said, "Help," at 7:50 p.m., about 13 minutes after Perez picked her up. The friend asked if she was OK and insisted she call. About two hours later, the friend got a response, "Yes I love this party," which fueled suspicions because Killgore always texted `yeah' instead of `yes' and had said nothing about going to a party.
A transient found Killgore's phone at his feet when he woke up in the doorway of a downtown San Diego hotel that night. A San Diego County sheriff's detective said he believed Perez drove downtown to get rid of the phone.
All three defendants are being held on $3 million bail. A preliminary hearing is scheduled for Aug. 21.
Complete coverage of Brittany Killgore on Crimesider
Thanks for reading CBS NEWS.
Create your free account or log in
for more features.