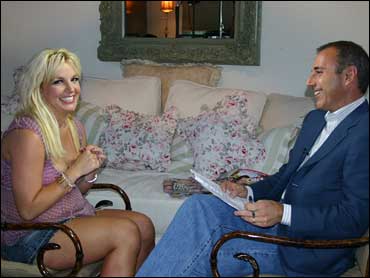 Britney: 'I'm Not Perfect. I'm Human'
In an interview airing last night on "Dateline NBC," Britney Spears spoke with Matt Lauer about paparazzi and addressed reports that her marriage to aspiring rapper Kevin Federline is on the rocks.
During the interview, which took place at Spears' home, the pregnant singer cried when Lauer asked her what she would say to the paparazzi who hound her constantly.
"I would just say, 'You have babies at home, and you have a wife, and if you don't, you have to realize that we're people and we just need privacy and we need our respect and these are just things you have to have as a human being.' "
Spears' parenting skills came into question in recent months when photos showed her driving on the Pacific Coast Highway with her 9-month-old son, Sean Preston, in her lap. When Lauer asked her about the incident she said it was only for a few minutes and chalked it up to her rural roots. "I did it with my dad ... We're country."
Photos also surfaced of the singer almost dropping the baby when she tripped past a group of paparazzi in New York.
"Accidents happen!" she told Lauer of that incident. "There will be an 'Oops number 100.' There'll be plenty more oopses. I'm not perfect. I'm human."
Lauer asked her if she cried about all of the attention paid to her parenting. "Oh, I've wept, yeah," she said. "I've definitely wept, with the world — how judgmental they are. But I know what kind of mom I am."
Spears, whose second child is due in September, told Lauer that she's an emotional wreck. "Not in a bad way," she said. "Just, you know, I'll start laughing hysterically, and then I'll just start crying. It's my hormones, so it's nice to have my husband there to keep me company."
In the interview, Lauer showed Spears some magazine covers that screamed tabloid headlines like "Brit's New Man." To which Spears responded, "Oh, no. That's my security guard."
Perry Easton, 28, was hired by the singer recently. Supermarket tabloids have dubbed him a "manny" short for male nanny.
Lauer showed her other magazines that claim there's trouble in Britney's paradise, like " 'The Final Days,' fed up with Kevin's lies, he's sleeping in the basement."
Spears responded: "You know what? I need to create my own magazine. These people … I mean they want stories to sell and they're very good ... I need to come up with my own magazine and say the real deal."
She added that her marriage to Federline is happy and denied reports that he's living in the basement of her house.
Lauer mentioned incidents that may have influenced the public's perception of her, like her much publicized quickie Vegas wedding to old friend Jason Alexander which was annulled 55 hours later.
"I have no regrets for anything I've ever done," Spears said, adding that she was rebelling at that point in her life.
Lauer also asked about the beginning of her relationship with Federline, which began when his then-girlfriend, Shar Jackson, was pregnant with his child.
"I didn't know until two months later," she responded. "But I don't blame him. … They weren't technically together when he came to me anyways. They were, you know, apart. But that happened with Julia Roberts, too."
Roberts began her relationship with cameraman Danny Moder while he was still married to Vera Steimberg. They divorced in 2002.
"But it's more talked about and more of an issue with me," Spears said, comparing herself to Roberts. "Like, her husband was married and had kids when they first got together. But for some reason it's like, boom! In your face when it happens with me, and it's really none of anybody's business."
Spears, it turns out, got her facts wrong, Moder and Steimberg didn't have any children.
Lauer asked her what she sees in Federline, who at one time was her backup dancer.
"It's very simple," she said. "Women complicate everything. He's so simple. His simplicity and, just, he's like a boy. He just, you know, and he cares. He cares so much and his heart is awesome. He has a really big heart and I love that."
The domesticated pop star, who admits that she does her own laundry, cleans and cooks, says she's not going to let the paparazzi or anyone else rule her life. "I still walk out of my house in rollers," she said. "I do not care what people think."
Spears said she wants the sex of her baby to be a surprise when she delivers in the fall. Motherhood, she said, has changed her life and she wants to give her son the "most normal life for him that's possible."
By Amy Bonawitz
Thanks for reading CBS NEWS.
Create your free account or log in
for more features.