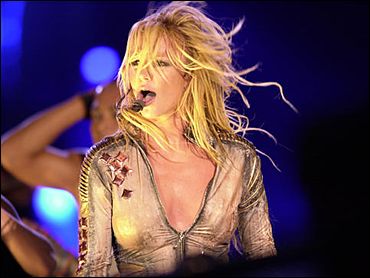 Britney-Bashing Gov's Wife Sorry
The wife of Gov. Robert Ehrlich apologized for saying she would shoot pop singer Britney Spears, but reiterated her message about the difficulty of raising girls in a society saturated with sexually provocative images.
Kendel Ehrlich uttered the statement Oct. 3 while speaking in Frederick at a conference on domestic violence.
Ehrlich, 42, talked about the need for "educating our women to get as much schooling as possible, to not become dependent on anyone else."
"It is incredibly important to get that message to young women. You know, really, if I had an opportunity to shoot Britney Spears, I think I would," Ehrlich said, laughing. "I hate to say that, but you know, like I said, I'm raising a boy…and I think, 'Oh my goodness, what would I do if I had a daughter who is seeing these images and having peer pressure?'"
After the story broke this week, a spokeswoman for Ehrlich said she "inadvertently used a figure of speech." A day later, Ehrlich apologized to Spears.
"It was off-the-cuff and in jest, and that's stupid when you're in public life, and I should know better," she said Wednesday.
However, Ehrlich said that while she regrets her remarks, she stands by her message that sensational images in popular culture make it difficult to raise confident young women who will stand up against domestic violence.
Parenting is on Ehrlich's mind. While hosting a fashion show Thursday night in Baltimore to raise money for her husband's campaign, the couple announced they're expecting their second child. Erlich and the governor have a 4-year-old son, Drew.
Spears, 21, has gone from singing songs such as the relatively tame "…Baby, One More Time" and saying sex should be saved for marriage to recording "I'm a Slave 4 U," kissing Madonna during the MTV Video Music Awards and posing nearly nude for magazine covers.
Ehrlich said she'd like to apologize personally to Spears and suggested the singer give a concert in Maryland to raise money for domestic violence awareness.
"As of yet we have not heard from Britney Spears or her publicists," a spokeswoman for Ehrlich said Thursday.
Jive Records, the New York-based label that represents Spears, issued a statement earlier in the week saying Ehrlich "shot her own self in the foot." A spokeswoman for the company, asked Thursday for comment on Ehrlich's latest remarks, declined to comment.
By Julie Halenar
Thanks for reading CBS NEWS.
Create your free account or log in
for more features.