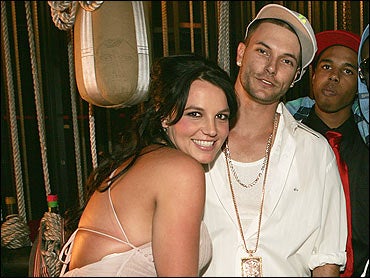 Brit Drops K-Boom On K-Fed In Text Message
According to Canadian music channel MuchMusic, pop singer Britney Spears told her husband Kevin Federline that she was divorcing him via text message while he was taping an episode of the MuchMusic documentary show "Exposed" on Monday night.
Before receiving the text messages, Federline told MuchMusic that Spears is his biggest supporter but said that when they get into an argument, he blows off steam by going out to party.
"He talked about Britney throughout the day and never said anything and never let on in any way," said MuchMusic VJ Matte Babel. "Everything seemed to be fine from what I gathered from his demeanor and how he acted. But then at dinner, it was really weird because we were in conversation and everything was good and then all of a sudden ... He had just ordered a big steak, and an expensive one at that. Then he said he didn't want to eat it, pushed it away (and said) he wasn't hungry. Then (he) went out and when he came back he looked like he'd seen a ghost."
Spears seems poised for a comeback now that she filed for divorce following a tumultuous two-year marriage with Federline, her former backup dancer.
The marriage, which produced two sons, Sean Preston, 1, and Jayden James, 2 months, also produced many rumors. Federline, 28, has a reputation as partier and spent many nights out while Spears, 24, stayed home with the children.
Two months after she gave birth to her second son, the pregnancy weight is gone. On Monday, she appeared on "The Late Show with David Letterman" with her new thin body and bob hair cut. She filed for divorce the next day.
"There's been a stir that any time Britney appeared on Letterman, something big will happen," Katrina Zisch of Us Weekly told The Early Show co-anchor Hannah Storm. "Last time she did, she announced she was pregnant for the second time so people were suspicious she was going to be on soon."
Zisch said Spears will offer Federline, who has two other children with actress Shar Jackson, visitation rights, but she wants sole custody of the children.
"I think she realizes Kevin is not a good influence for her kids and he's lucky to get those rights," Zisch said.
Before the two were married, Spears' attorney made sure she had a prenuptial agreement to protect her and the estimated $32 million she is worth. The agreement states that Federline will be given $300,000 per year equal to half the time they were married, Zisch said.
"That marriage is done, done, done. Stick a fork in him, he's done," said Harvey Levin, managing editor of TMZ, the Web site that broke the story.
The legal papers were filed by celebrity divorce attorney Laura Wasser who handled divorces for such stars as Angelina Jolie and Nick Lachey.
Spears married hometown pal Jason Alexander in a late-night Vegas ceremony in January 2004 that lasted 55 hours before it was annulled. In the divorce papers she filed earlier this week, Spears is citing irreconcilable differences with Federline.
"They had a huge fight about the babies," said Linda Massarella, the West Coast editor of In Touch Weekly. "She has threatened to file for divorce maybe every week for the last two years since they've been married."
Zisch said the couple had an argument at Federline's album launch party in Los Angeles on Halloween night.
"Britney was there, but she stayed in her dressing room," Zisch said. "Then they were sighted having an explosive argument and she was spotted taking off down the back staircase in her dress and bare feet."
According to Zisch, the problems continued in New York when the couple stayed in separate hotels and Spears was seen crying while out to dinner with a friend.
The celebrity marriage had been a boon to Federline's career. He recently had a guest spot on "CSI" and put out his own album. But insiders say it was always tough going. Their time together included many public missteps, including a literal one when Spears almost dropped Sean Preston while she was in New York. She was also seen driving with her oldest son on her lap, prompting a public outcry.
Spears seems poised for a comeback, but Federline, whose concert tour has not been doing well, is "toast" Zisch said.

Thanks for reading CBS NEWS.
Create your free account or log in
for more features.