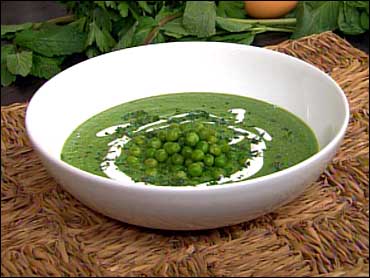 Bringing Out The Best In Spring Peas
For dedicated cooks, nothing says spring like spring peas for sale in grocery stores.
If you've only had canned peas, you might think, "Peas — yuck!" But really, there's nothing better than spring peas. The color alone can make you realize warmer weather is on its way.
And on The Early Show Friday, one of New York's best chefs, Bill Telepan, proved it.
Telepan, executive chef and owner of the Telepan restaurant, wrapped up the latest "Culinary Inspirations" series by preparing a succulent dish made with spring peas.
Since Bill Telepan opened Telepan in the late fall of 2005, his food has earned him rave reviews.
His restaurant and food truly reflect his personal style. He once said he believes in the idea that "we are what we cook."
Telepan wrote in "Inspired by Ingredients," his 2004 cookbook, that the dishes he and his fellow chefs serve at restaurants or prepare for friends and family sum up who they are.
He wrote, "Our palates are formed in childhood, refined in cooking school, honed, and personalized as we work for other chefs and dine in other restaurants, and finally shared with the public when we begin composing menus in our own restaurants."
Neither the food nor the setting at Telepan is flashy, but the flavors are pure, elegant and creative. He truly allows the flavors of his ingredients to come through.
Telepan buys locally and cooks seasonally-creating honest, robust dishes that have been hailed by Gael Greene as "bravura food" in New York Magazine. He delivers "a grade of American cooking to which all other restaurants aspire," according to Gourmet.
RECIPES
Pea Pancakes
For the pancake:
4 ounces sugar snap peas-strings removed
1/2 cups shelled peas (or substitute frozen peas, thaw but do not cook)
2 tablespoons milk
1 tablespoons cream
1 egg
1/4 cup flour
1/8 to 1/4 teaspoon sugar (more if using frozen peas)
1/4 teaspoon salt
1/2 teaspoon baking powder
1. Preheat oven to 450ºF.
2. Prepare an ice water bath. In lightly salted boiling water, add sugar snap peas and cook 2 minutes. Add to ice water until chilled, about 2 minutes. Strain and set aside.
3. If using fresh peas, add to same boiling water and cook until just tender, about 2 to 4 minutes depending on size. Transfer to ice water and chill for 2 minutes. Strain and set aside.
4. In a blender, purée sugar snaps with milk and cream. Transfer to a mixing bowl. Mix in the egg. Add flour, sugar, salt and baking powder. Purée the shell peas in food processor and mix into batter.
5. Melt 1/2 teaspoon butter, in a medium ovenproof non-stick pan over high heat. Swirl butter around pan. Use 2 tablespoons of batter to form a pancake 3 inches in diameter. Cook two at a time. When the edges start to lightly brown, about 1 to 2 minutes place in oven for 2 minutes. Flip the pancakes and return to oven until lightly brown, about 4 minutes. Repeat with remaining batter. Keep pancakes warm.
For the topping:
1 pound fresh peas, shell on (1 1/2 cups shelled)
1/2 pound sugar snap peas, strings removed and cut into 3 pieces on the bias (1 1/2 cups)
3 tablespoons butter
4 ounces vegetable stock or water (1/2 cup)
1 ounce pea leaves (difficult to find)
2 teaspoons finely sliced mint
Salt
1. To prepare the peas, cook for 30 seconds in lightly salted boiling water, remove and place in ice water to chill for 2 minutes. Drain and set aside.
2. Place snap peas, butter, stock and a pinch of salt in a pot and bring to a boil over high heat. Add the peas and pea leaves and reduce to glaze, about 3 to 5 minutes. Salt to taste and spoon over pancakes. Sprinkle with sliced mint.
Serves 4
For more of Telepan's pea recipes, go to Page 2.Pea Ravioli with Mascarpone Cheese and Basil-Mint Pesto
For the Filling:
2 cups peas (fresh, shelled or frozen, thawed)
2 egg yolks
1/2 cup mascarpone (5 oz.)
1/2 cup parmesan (2 oz.)
For the Pasta Dough:
(makes just under 2# leaving extra for mistakes)
3 3/4 cups flour
1 teaspoon salt
6 large eggs
1 tablespoon plus 2 teaspoons extra-virgin olive oil
1/2 teaspoon water
Cornmeal to prevent sticking
For the Garlic Broth:
2 tablespoons extra-virgin olive oil
1/4 onion, sliced thin
2 cloves garlic, sliced thin
8 ounces vegetable stock or water
1/2 cup cooked fresh peas
Salt and pepper to taste
For the Basil-Mint Pesto:
1/2 cup basil leaves, packed
1/4 cups mint leaves, packed
1/4 cup parsley leaves, packed
1/4 cup extra-virgin olive oil
For the Garnish:
2 teaspoons thinly sliced basil
1 teaspoon thinly sliced mint
Salt
1. If using fresh peas blanch in lightly salted boiling water until tender, about 4 minutes. Transfer to an ice-water bath, chill for 2 minutes and drain. Purée peas (fresh or frozen) in a food processor until smooth. In a separate bowl whisk the egg yolks. Mix the cheese and pea purée into yolks. Season generously with salt and chill.
3. To prepare the pasta dough, place the flour and salt in a large bowl. In a separate bowl beat the eggs with the olive oil and water. Form a well in the middle of the flour mixture and pour the eggs into the well. Incorporate the eggs stirring the flour mixture from the sides of the well a little at a time. (If dough is too dry add another 1/4 teaspoon water.) When the dough begins to come together in clumps, transfer to a clean flat surface and knead for 10 minutes. Cover and let rest in refrigerator for 1 hour.
4. Assemble one quarter of the ravioli at a time to prevent drying out and keep the filling refrigerated to prevent it from softening. Use a pasta machine to roll out the pasta to the second from thinnest setting (number 6) and as wide as possible. Transfer to a lightly floured work surface and cut the pasta into 2 1/2 to 3-inch wide strips. Place 1 scant tablespoon of filling at regular intervals, 2 inches apart down the strip. With a damp pastry brush, moisten around the filling with a little water. Lay another strip of pasta over the top, working down the strip one mound at a time gently pressing in between the mounds. Then press the air out the sides. Cut into squares with a pastry cutter or knife. Transfer to a baking sheet generously sprinkled with cornmeal and place in the freezer for at least 1 hour.
5. To prepare the broth, heat oil over a medium-low flame. Add onion and garlic with a pinch of salt. Sweat slowly until tender, about 7 minutes. Add stock and bring to a boil. Simmer 5 minutes. Remove from heat, season and reserve.
6. To prepare the pesto, bring a pot of lightly salted water to a boil. Plunge the herbs into boiling water for 20 seconds. Then shock in ice water for 2 minutes. Drain, place on a towel and squeeze excess water from herbs. Place herbs and oil in a food processor (note: not enough to purée in a blender double) with a pinch of salt, purée until smooth. Reserve.
7. Bring a large pot of lightly salted water to a rolling boil. Add ravioli and cook until tender, about 4 minutes. Warm the broth with the peas. Add the pesto to broth and spoon onto bottom of the plate. Divide the ravioli between the plates and sprinkle with thinly sliced basil and mint.
Serves 4 to 6
(Makes 48 ravioli)
Thanks for reading CBS NEWS.
Create your free account or log in
for more features.