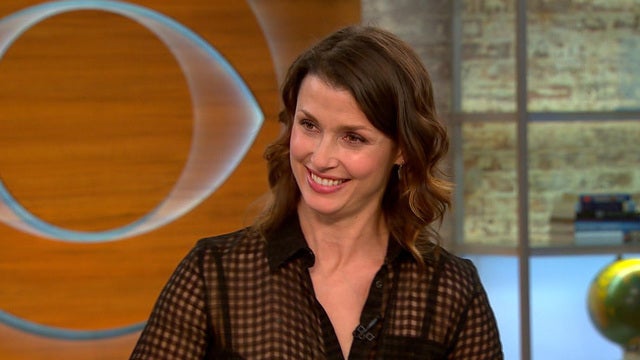 Bridget Moynahan dishes on "Blue Bloods," cookbook and family
The hit CBS drama "Blue Bloods" is back for its sixth season, and fans can cook up delicious show-inspired recipes with a new cookbook, co-authored by actress Bridget Moynahan.
Moynahan plays Assistant District Attorney Erin Reagan, who isn't afraid to stand up for her principles - or against her police commissioner father, played by Tom Selleck.
One of the signatures of the show is the dinner scene in every episode, where the family sits down and reconnects over a meal.
"I think it's the moment that people get to see the characters as real humans and the most vulnerable because you're with your family," Moynahan told "CBS This Morning" Wednesday. "But I also think it's a moment that they reflect and think, 'gosh, I wish we were able to do that' or looking back on memories."
Moynahan also described how the cast had each developed a "technique" for filming the dinner scenes.
"Tom butters his bread -- and that's kind of really good because you could think and talk and you could butter that bread for as long as you want and there's no issues with food getting in your teeth," Moynahan said. "I cut it up for a long time -- now my thing is eating mash potatoes."
Those gatherings have become the inspiration for "The Blue Bloods Cookbook." Moynahan said by the time the book was published, the cast had had 111 dinners together on set.
The cookbook contains dishes inspired by the show's scenes, as well as personal recipes from Moynahan's childhood and other cast members.
Moynahan described one of her personal favorites, Swedish meatballs, which she said was a traditional food for her family every Christmas Eve, something her son craved on a weekly basis.
The actress, who says she tries to cook every day for her family, also talked about her recent secret wedding.
"I was in the limelight for things I didn't really want to be in the limelight for, so very private," she said about her decision to tie the knots under the radar. "And so if I want something out, I just like to do it on my terms."
"The Blue Bloods Cookbook" is now available, and you can catch the show Fridays, 10/9c.
Thanks for reading CBS NEWS.
Create your free account or log in
for more features.