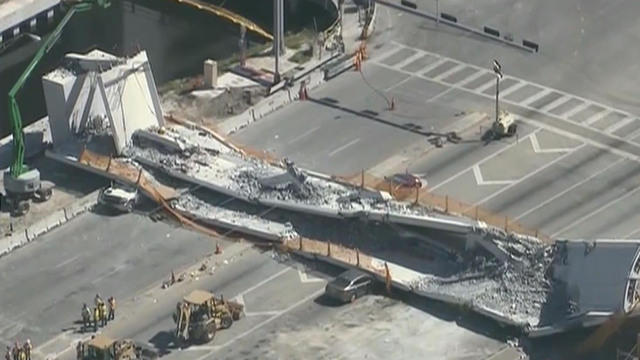 Engineer flagged "cracking" in Miami bridge 2 days before deadly collapse
A lead engineer with one of the firms behind a , killing at least six people, left a voicemail with the Florida Department of Transportation about "some cracking" in the structure two days before the incident. Nobody listened to that voicemail until Friday, reports CBS News' David Begnaud.
FIGG Bridge Group's Denney Pate said in the voicemail that although cracking in the bridge was observed, there did not seem to be any issues "from a safety perspective." He also said, "obviously the cracking is not good and something's going to have to be, ya know, done to repair that."
The bridge was intended to help Florida International University students safely cross a busy Miami highway. Despite the voicemail, the FDOT says at no point did FIGG engineers or the FIU build team communicate that there was a life-safety issue. The department also said had it been notified of stress testing, it may have issued a permit for partial or full road closure if FIU had asked for it.
There have been reports that a stress-test was being conducted on the bridge -- over moving traffic -- when the walkway collapsed.
"If this is the case, why was the road underneath open during the stress test," State Rep. Carlos Curbelo asked on Friday.
In a statement released late Friday night, FIGG bridge engineers said they were "carefully examining the steps that our team has taken in the interest of our overarching concern for public safety."
They also say the latest evaluation did not indicate safety issues, but that they are working to find out what factors led to "this tragic situation."
Stunning new dashcam video shows the 950-ton bridge collapsing across eight lanes of moving traffic on Thursday. National Transportation Safety Board investigators have been trying to figure out what went wrong.
"I would have to say that a crack in a bridge does not necessarily mean that it's unsafe. I don't know if that was related to the cracks that they discovered. That's still too early in the investigation for us to determine," said NTSB investigator Robert Squire on Friday.
The collapse killed at least six people, including 18-year-old Alexa Duran. On Friday, crews started to remove debris but several vehicles were still pinned Saturday morning. After people saw the bridge crumble, they jumped out of cars and ran out of offices to help.
"The moment that I just won't ever forget is just the look on people's faces," said medical student Omar Viqar. Viqar and Dr. Rebecca Martinez were two of the first people to respond on the scene.
"One man kept saying, 'My chest hurts, my chest hurts'….The man that was bleeding from the face kept holding our hand and saying, 'Please don't leave. Please don't leave me,'" Martinez said.
There is still a possibility that there will be more victims as crews continue the painstaking process of removing the rubble.
Thanks for reading CBS NEWS.
Create your free account or log in
for more features.